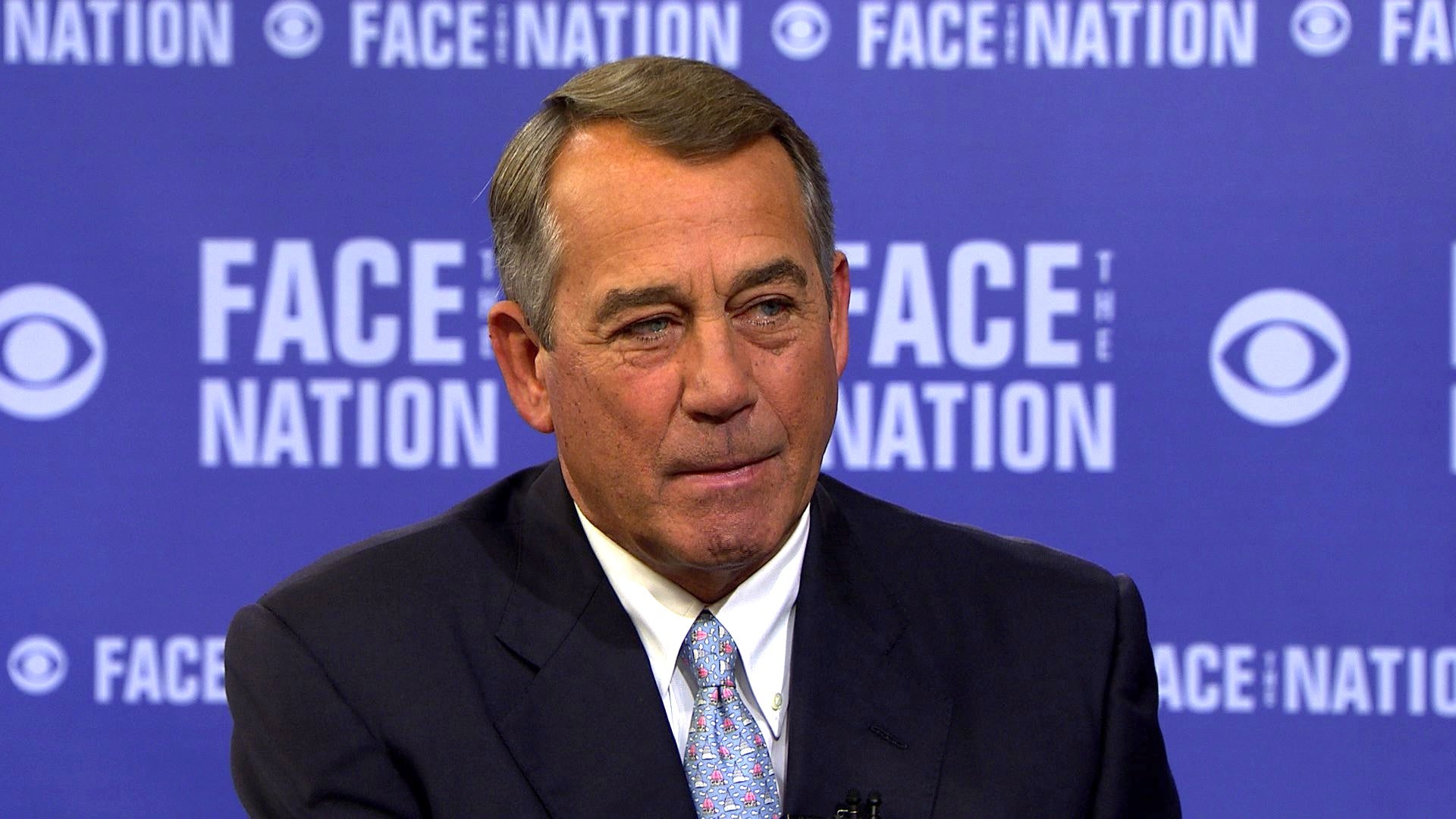 John Boehner warns of GOP's "false prophets" in D.C.
Days after abruptly announcing that he would resign from the House at the end of October, Speaker John Boehner reflected on some of the "unrealistic" promises made by his colleagues.
"Absolutely they're unrealistic," he said in response to a question from "Face the Nation" moderator John Dickerson.
"The Bible says beware of false prophets. And there are people out there spreading noise about how much can get done," Boehner said.
He specifically referenced promises by his GOP colleagues in 2013 that they would be able to get rid of Obamacare through the process of funding the government - a tactic which ultimately led to the 16-day government shutdown that fall.
"This plan never had a chance. But over the course of the August recess in 2013 and the course of September, a lot of my Republican colleagues who knew it was a fool's errand, they were getting a lot of pressure at home to do this. And so we got groups here in town, members, the House and Senate here in town who whipped people into a frenzy believing they could accomplish things that they know, they know are never going to happen," he said.
Asked whether those "false prophets" include Ted Cruz, the presidential candidate and Texas senator who helped encourage the promises to end Obamacare in 2013, Boehner was a little coyer.
"You can pick a lot of names out, I'll let you chose them," he told Dickerson. But then he referred him to comments he made at an August fundraiser, where he reportedly called Cruz a "jackass."
Although Congress is once against facing internal battles over funding the government, Boehner told Dickerson the government will remain open this year.
Asked by Dickerson whether there would be a shutdown, Boehner responded with an unequivocal "no."
"The Senate is expected to pass a continuing resolution next week...we'll also take up a select committee to investigate these horrific videos that we've seen from abortion clinics that we've seen in several states," Boehner said.
The Senate is working on a bill that would fund the government, including Planned Parenthood, through Dec. 11. A vote on that measure is scheduled for Monday. Republicans have pledged to defund Planned Parenthood after anti-abortion activists recorded undercover footage some of the group's officials discussing the use of fetal parts for medical research.
The speaker also reflected on the timing of his resignation announcement, which came just a day after Pope Francis concluded the Washington, D.C. portion of his trip to the United States. It was an very meaningful visit for Boehner, a practicing Catholic.
"I think it helped clear the picture," Boehner said. "I never related one of those instances with the other, but clearly by Friday night it was pretty obvious to me."
He said he had planned to leave at the end of last year, but had to push back his departure after former House Majority Leader Eric Cantor lost the Republican primary in 2014. He had planned to announce his retirement on Nov. 17 of this year, but said he decided late last week that he shouldn't delay the news.
"I looked up and went, 'Why do I want put my colleagues through this when I'm going to make the same announcement six weeks from now. Why do I want to put the institution through this?'" Boehner said. "It was the right decision and frankly I thought we handled it the right way."
Many political insiders said some of the more conservative members of the party were planning on trying to oust him as speaker before he made the announcement.
Boehner told Dickerson, "winning that vote was never an issue" and said he would have gotten "the overwhelming number" of votes. But, he added, "Why do I want to make my members, Republican members, walk the plank? Because they're going to get criticized by home by some who think we ought to be more aggressive."
He pushed back against some of the critiques he has faced from his colleagues that he wasn't conservative enough. Boehner ticked off what he sees as accomplishments: A major deficit-reduction deal, averting a tax increase on the American people and making the biggest major entitlement reforms in 20 years.
"All done over the last four and a half years with a Democrat president and all voted against by my most conservative members because it wasn't good enough," Boehner said. "Really? You know this is the part that I really don't understand...Our founders didn't want some parliamentary system where if you won the majority you got to do whatever you wanted to do. They wanted this long, slow press. So change comes slowly, and obviously too slowly for some."
Despite some of the frustrations, however, Boehner said, "I love my colleagues, even the ones that may disagree with me."
He said that in his next 30 days as speaker, he'll make decisions the same way he has since assuming the position in 2011.
"I expect that I might have a little more cooperation from some around town to try to get as much finished as possible. I don't want to leave my successor a dirty barn. So I want to clean the barn up a little bit before the next person gets there," he said.
That successor will not be named for several weeks, and it is still unclear which of the Republicans vying for the job will be the next speaker.
"Just do the right things for the right reasons," Boehner advised. "If you keep the country's best interests in mind and have the courage to do what you can do, then it's easy to have the courage to do what you can't do."
"It's not about Hail Mary passes. It's the Woody Hayes school of football. Three yards and a cloud of dust. Three yards and a cloud of dust. It's a slow and methodical process," he said.
When his portrait is unveiled in a year, Boehner said he hopes to hear just one thing said about him: "That he was a good man."
The speaker also revealed a bit of personal information at the end of the show: He does yoga, although he said his practice hasn't been as "diligent" lately.
"It's great for my back. I've had back problems for 50 years, but you know the older it get, all those tendons and muscles want to tighten up. Good to stretch them out," he said.
Thanks for reading CBS NEWS.
Create your free account or log in
for more features.