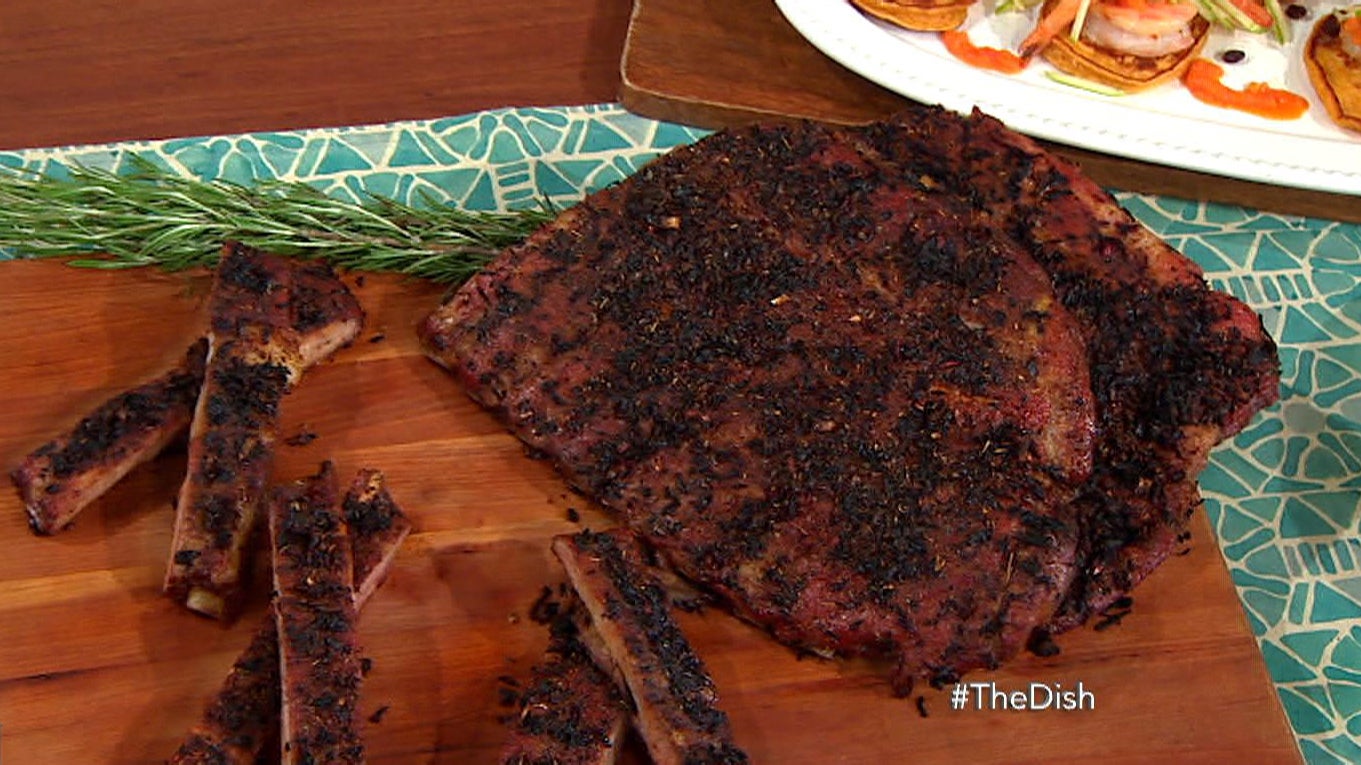 JJ Johnson brings glazed ribs to The Dish
Chef "JJ" Johnson discovered cooking at a young age from his grandmother, who brought Caribbean influences into the kitchen and sparked a lifelong affair with food.
In 2013, Chef JJ helped open The Cecil in Harlem, New York's first Afro-Asian-American restaurant, and its sister restaurant, Minton's, right around the corner. In 2014, he was named one of Forbes' 30-under-30, and in 2015 he received a nomination from the James Beard Foundation as a rising star chef.
Here is how to make some of his signature dishes: St. Louis hibiscus glazed ribs, mac & cheese casserole, piri piri prawns, okra fries, collard green salad with coconut dressing, nyangbo mousse and a jet lag cocktail to drink!
St. Louis Hibiscus Glazed Ribs
10 racks of St. Louis Cut Ribs
Wet/Dry Rub
4 qts Dried Hibiscus Flowers
1 qt Peeled Chopped Ginger
2C Brown Sugar
2C Onion Powder
3C Garlic Powder
1C Oregano
½C Thyme
¼ Cayenne Pepper
1C Smoked Paprika
1C Kosher Salt
½C Coriander
¼C Ground Black Pepper
2 Cups Grapeseed oil
Add all of the wet ingredients into a large mixing bowl and whisk together completely.
Rub the glaze onto ribs vigorously.
Roast the ribs on a rack in a roasting pan at 225 degrees for four hours, or until the rib meat is tender and/or pulls easily from the bone.
Mac & Cheese Casserole
6 cups garganelli pasta
1 quart pepper ham, chopped
1 Bunch Rosemary
4qts Heavy Cream
2# Grated White Cheddar Cheese
4# Grated Smoked Gouda Cheese
1 jar of peeled shallots
1 Bunch Thyme
1# Unsalted Butter
Salt TT
Pepper TT
Cheese Sauce for Mac & Cheese
1 Bunch Rosemary
4qts Heavy Cream
2# Grated White Cheddar Cheese
4# Grated Smoked Gouda Cheese
In a pot, reduce the cream with fresh rosemary sprigs for about 15 minutes.
Once reduced, strain out the rosemary. While still very hot, add the grated cheeses and stir in vigorously.
Bring it all together until smooth.
Caramelized Onions
1 jar of peeled shallots
1 Bunch Thyme
1# Unsalted Butter
Salt TT
Pepper TT
Saute in the saute pan until deep golden brown, season to taste with salt and Pepper.
Pasta
Boil water and follow directions in cooking 6 cups of garganelli pasta.
Assembling the Mac and cheese
Mix cooked pasta with cheese sauce, 1 quart of pepper ham, and the caramelized onions.
Bake in the oven at 300 degrees for 20 minutes. A golden brown top is a plus!
Piri Piri Prawns
20-30 large prawns (head on, shell off)
Prawn Marinade:
10 Lemons Zested
2cups Red Chili Flakes
3 Quarts Blend Oil 90/10
Mix all Ingredients together in a large mixing vessel. Do not add salt. Pour marinade over prawns and refrigerate for about an hour.
Once your prawns have been marinated, salt to order. Pan roast the prawns for 5 mins at 350 degrees or until they are cooked through.
Plating: 2 Prawns per order cooked and placed over a mini Yam pancake (See recipe), Piri Piri Sauce spooned over prawns (see recipe) and garnished with a crisp apple slaw (see Recipe)
Piri Piri Sauce
40 Plum Tomatoes
8 Yellow Onions
4 large pieces of peeled ginger
20 Bird's Eye Chilis
2 Oranges, Zested
2 Cups Oil
12 cloves of Garlic
Salt and Pepper to taste
1 Habanero Pepper
½ C Tomatoes Paste
4 cups Orange Juice
1qt Blended Oil
Rough chop tomatoes, onions, chilies, ginger, habanero and garlic.
In a pan, sweat onions, garlic, ginger, orange zest and Bird's Eye Chilis.
Add tomatoes, tomato paste and orange juice to the pan, cook all together for 25 minutes. Salt and pepper to taste.
Blend together, adding the oil slowly to emulsify.
Yam Flapjack Batter
5 cups all-purpose flour
7 Teaspoons Baking Powder
1 Teaspoon salt
1 Cup Packed Dark Brown Sugar
4 Cup Butter Milk
4 Tablespoon oil
4 teaspoon vanilla extract
8 large eggs, lightly beaten
3 large unpeeled yams, Cooked and Mashed (for a total of 3 cups)
* Mix all ingredients together until well incorporated.
First, roast Yams until they are soft to the touch.
In a large mixing bowl add all of your dry ingredients. In a separate container add all of your wet ingredients and mix well.
Slowly add your mixed wet ingredients to your dry ingredients, whisking well. Once mixture has come together, it may be quite think and that is ok.
Stir in your roasted yams with rubber spatula.
Note: it does not have to be smooth -- it is ok if the yams have a few chunky bits still visible after mixing
To cook: Place non-stick pan on a low heat and spoon out small medallion sized pan cakes about 1 ½ -2inches in diameter. And flip when golden brown.
Note: Heat must be low to prevent batter from burning because of the high sugar content in the batter and the yams
Green Apple Slaw (Garnish for Prawns)
3 Green Apples Julienne
1pc Ginger Julienne Fine
¼ Cup Currants Soaked in Bourbon ahead of time (1qt currants 1 cups Bourbon 1 Cup Hot Water) Micro Cilantro TT Sesame Oil TT
Lemon Juice TT
Salt TT
Add all of the Julienned Apples and Ginger to a bowl with lemon Juice to prevent discoloring.
Add the Soaked Currants. Sesame Oil, Micro Cilantro and Salt TT then toss everything together.
Okra Fries
4 cups of okra, cut lengthwise
Batter ingredients:
2 Eggs
2bgs Rice Flour
1Box Corn Starch
1/2C Smoke Paprika Cold Water (add as needed)
1tsp Salt
Mix all the ingredients together in a large bowl adding the cold water as needed a little at a time until you have a SLIGHTLY thick batter that coats your fingers.
Dip Okra in the batter and drain off excess batter. Drop fry at 350 degrees for 3-4 minutes - you should get light crispy okra fries with not too much color.
Collard Greens Salad
2-4 Bundles of Collard
2 Red Onions
2 Cucumbers
2 Cups Cooked Beans (Red Preferred)
1 Cup Spiced Candy Cashews (crushed)
Cut the collard greens width wise after removing all of the thick stems very thin and rise clean.
Slice red onions in half and slice finely in the shape of a half-moons.
Cut the cucumbers in half lengthwise using a spoon remove the seeded center. Once cored, slice thinly.
Beans of the red variety preferred, can be cooked from dry or from a can. But any bean of your choice will do.
***Spiced Candy cashews see recipe***
Mix all the pre-cut Items along with the shaved and washed greens into a large mixing bowl and toss with the coconut dressing seasoning as you go with salt and pepper to your desired taste.
Finish with a healthy topping of the crushed cashews for added crunch.
Spiced Cashews
1 Can Raw Cashews
4C White Sugar
½ Cayenne Pepper
¼ C Salt
In a hotel pan combine the sugar salt and cayenne pepper and set aside for later use.
Cook the Cashews until they come to a boil for about 5 minutes or so.
Strain the cooked cashews thoroughly, add them while they are still somewhat wet and hot to the sugar, salt and cayenne mixture and toss to coat evenly.
Using a spider, remove the coated cashew onto a rack-lined sheet tray and let stand until the cashews have cooled and the mixture has set in (cool about 10-15 minutes in the fridge).
Deep fry the coated nuts at 350-365 degrees F, until golden brown and let stand on a rack until completely cooled through. Once cool, pulse until course.
Coconut Dressing for Collard Green Salad
2 Tbsp. Toasted Cumin Seed
Large Piece of Ginger
4 EA Shallot
1/4 Can Chipotle
1 (#10 Can) Coconut Milk
1/2 cup Lime Juice
1/2 cup Dijon Mustard
1/4 cup Champagne Vinegar
Salt & pepper TT
*Toast cumin seeds and place in blender with all ingredients until smooth. Salt to taste.
Nyangbo Mousse
5 sheets gelatin
8 oz Nyangbo chocolate or any dark chocolate (Nyangbo is our favorite dark chocolate to use, it's a special chocolate sourced from Ghana)
3 oz butter
5 eggs
3/4 cup sugar
1/4 cup water
1 1/2 cups heavy cream whipped to medium peaks.
Soak gelatin sheets in ice water until soft.
Melt chocolate pieces and butter over a double boiler.
Place eggs into mixer with whip attachment and whip slowly.
Cook sugar and water to soft ball stage at 250f.
Slowly add into eggs and whip until cool and triple in volume.
Squeeze out gelatin sheets and melt with 3T of heavy cream.
Add into egg mixture and mix well.
Fold into chocolate mixture. Cool down a bit and fold in whipped cream.
Serve cold with whipped cream and your favorite ice cream or cookie - or both.
Makes 6-8 servings.
Jet Lag Cocktail
2oz Yamazaki 12yr / or Hibiki
.5oz Cynar
.25 Grand Marnier/Cointreau
1 dash orange bitters
1 dash angostora
1-2 kaffir lime leaves
Build in a rocks glass. Muddle Kaffir lime leaves with bitters and Grand Marnier. Add Ice, Yamazaki and Cynar, stir 40 turns and enjoy.
Thanks for reading CBS NEWS.
Create your free account or log in
for more features.