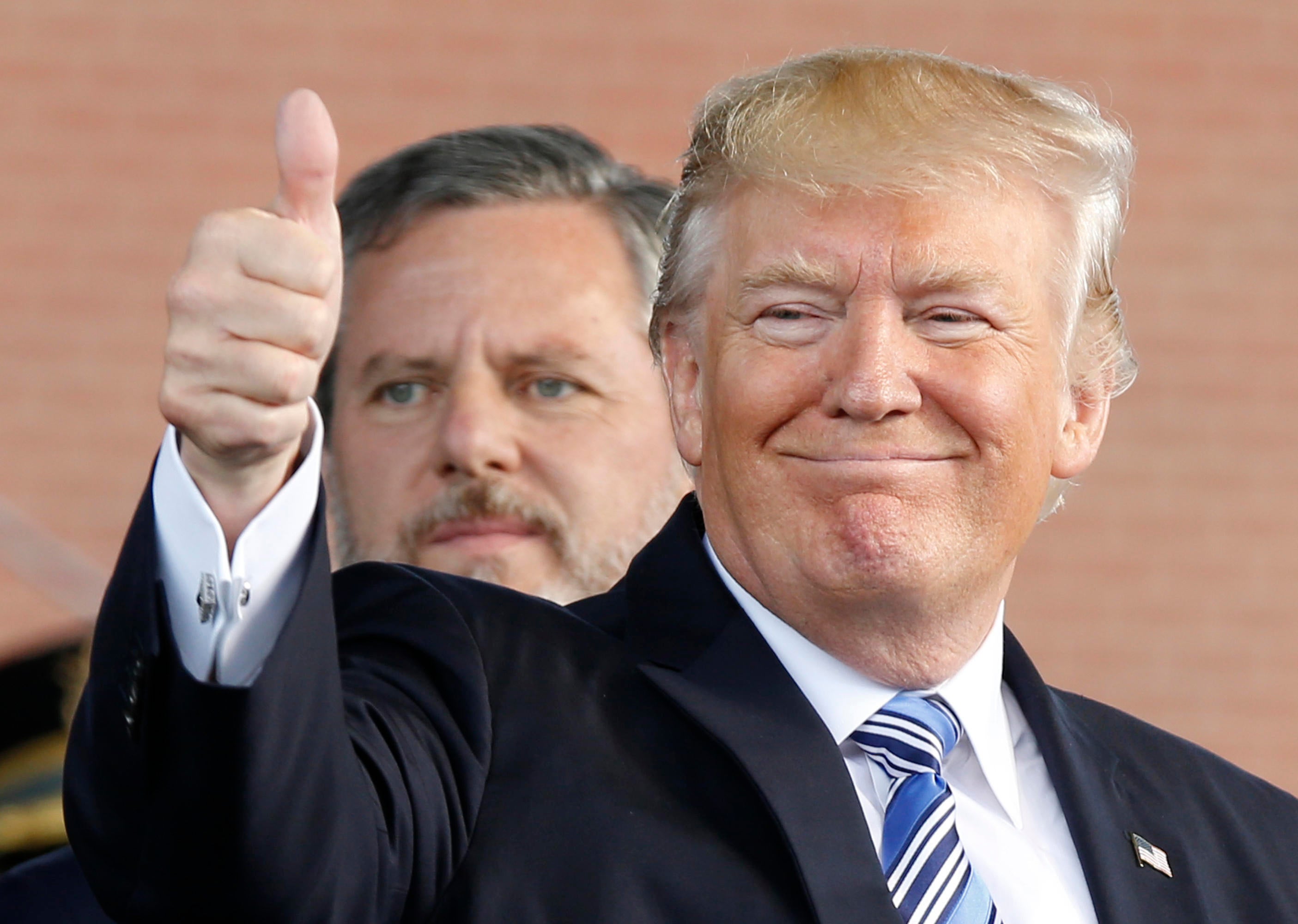 Jerry Falwell Jr. defends Trump over report he took credit for repealing law still on the books
Liberty University President Jerry Falwell Jr. is defending President Trump in the wake of a report saying Mr. Trump incorrectly told evangelical Christian leaders he repealed a law limiting political activity by churches. NBC News reported Tuesday that Mr. Trump told evangelical leaders in a closed-door meeting on Monday that he got "rid of" the Johnson Amendment, a law prohibiting churches and charitable organizations from making political endorsements.
The Johnson Amendment remains intact, despite recents efforts in Congress to repeal it. Mr. Trump did sign an executive order shortly after taking office allowing the IRS to exercise more discretion in enforcing the law.
"Now one of the things I'm most proud of is getting rid of the Johnson Amendment," the president said Monday evening, according to NBC News, citing recordings of the gathering. "That was a disaster for you."
In an interview Wednesday, Falwell, who attended the meeting, did not dispute the accuracy of the quotes in the NBC News story, but said the president's words were being misinterpreted.
"Everybody in the room knew exactly what he was talking about. He signed an executive order that gave leaders of nonprofits the right of free speech on political matters," Falwell told CBS News. Religious organizations are not forbidden from expressing political views under the Johnson Amendment.
Falwell claimed the story was "another example of fake news." He also responded to NBC News' report that Mr. Trump said evangelicals were "one election away from losing everything that you've got" if Congress changed hands, and that their opponents were "violent people" who would "violently" seek to reverse gains for evangelicals made during the Trump presidency.
Falwell said he couldn't recall if Mr. Trump used the word "violently," but that the president was "making it clear that they will be very diligent and they will act very comprehensively and quickly to undo everything he's accomplished in the past two years. Another speaker made the point they would try to impeach him."
He reiterated that "if he used the word 'violently,' he was referring to their attempts to impeach him."
Falwell also responded to a Politico report that he encouraged Mr. Trump to fire Attorney General Jeff Sessions last week. He told CBS News that Mr. Trump "didn't say anything one way or the other" in response to Falwell's suggestion.
Falwell had harsh words for Sessions, saying that the former senator always had ambitions to become attorney general.
"That's why he supported him so early. He was gambling on the fact Trump would win," Falwell said about Sessions' early support for Mr. Trump. "It was a calculated move by a politician. That's all he cares about, the status of becoming attorney general. In my mind that's the only way I can make any sense of why he's done nothing to carry out the duties of attorney general except recuse himself and let the other side go after him."
CBS News reached out to the DOJ for comment on Falwell's comments about Sessions, and the DOJ referred CBS News to a couple evangelical leaders who have been supportive of, if not every decision Sessions has made, of his character.
"I've known Jeff Sessions for I guess 15, 15 years, since I came to Washington and have worked with him on a number of issues, and I can say without hesitation, he's a man of impeccable character and integrity," Tony Perkins, president of the Family Research Council, told CBS News.
Perkins said he "may not agree with every decision he's made" as attorney general, but that Sessions has served in a "selfless manner" and with the best interest of the country at heart.
"I would take issue with those that would challenge his character and motivation," Perkins said.
"I'm not at his vantage point, I'm not the attorney general. I don't know all the facts that he knows," Perkins added. "I think when everybody looks at it, they probably prefer that he had not recused himself and we hadn't unleashed this special counsel, but that aside, I have confidence that he made that decision based upon what he thought was right and I don't question his motivation at all."
Asked if the president should fire Sessions, Perkins said, "I don't know how that fixes the problem ... I don't see anybody in the lineup there that I think is going to do a better job."
Thanks for reading CBS NEWS.
Create your free account or log in
for more features.