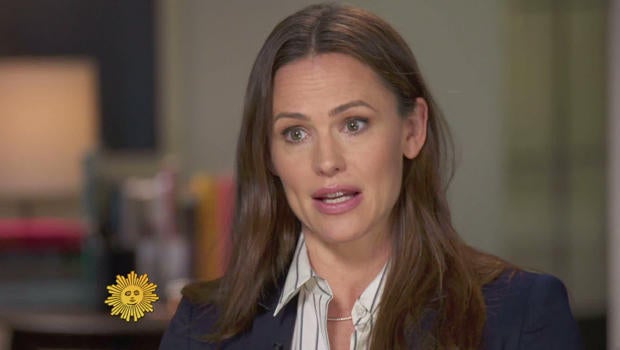 Jennifer Garner opens up about tabloid scrutiny of marriage and separation
Much of actress Jennifer Garner's adult life – especially her marriage, and then breakup, with actor-director Ben Affleck – has played out in the tabloid gossip columns. That intense scrutiny puts intense pressure on the private lives of those being covered, Garner tells Conor Knighton, in an interview to be aired on CBS' "Sunday Morning" July 15.
Garner tells Knighton that for a solid decade there were five or six cars – sometimes as many as 15 to 20 on weekends – parked outside of her home, their occupants all looking for some information on the family.
"And looking back on that," she said, "I really feel the stress of it. I really, I could cry talking about it."
Garner and Affleck were married for a decade before they separated in 2015. Yet even now, three years later, the coverage continues.
"What I think I've learned is that the scrutiny in your private life puts a pressure to make something happen," Garner said. "You feel a pressure to hurry up and get married, 'cause you think that'll end the Are they engaged? Are they not? [talk].
"And that's true in the reverse, as well. If there is any inkling of trouble, or if the tabloids decide there's trouble, it can create trouble.
"But to be honest, public scrutiny, everyone says, 'Oh, you've had to go through this in public.' The public isn't what's hard. What's hard is going through it."
These days, besides acting, Garner is focused on her children, being a mother, and her family farm in Oklahoma, which is being used to create ingredients for Once Upon a Farm, an organic, fresh baby food company she co-founded. She tells Knighton her goal is to get quality food into the homes of busy parents. In the process, she's bringing new life to the farm where her mother grew up and her uncle still lives.
"Well, first of all, if I had any idea how happy it would make my mom to be part of bringing this little farm back to life, I would have done it ten times over," she said. "But your family just has a connection to the land that has raised them. And I just wanted to be connected. I wanted the business to be connected to my family."
The Emmy Award-winning program, hosted by Jane Pauley, is broadcast on CBS Sundays beginning at 9:00 a.m. ET. Executive producer is Rand Morrison.
"Sunday Morning" also streams on CBSN beginning at 9:30 a.m. ET and repeated at 1 p.m. ET, and is available on cbs.com, CBS All Access, and On Demand. You can also download the free "Sunday Morning" audio podcast at iTunes and at Play.it.
Be sure to follow us at cbssundaymorning.com, and on Twitter (@CBSSunday), Facebook, and Instagram (#CBSSundayMorning).

For more info:
Thanks for reading CBS NEWS.
Create your free account or log in
for more features.