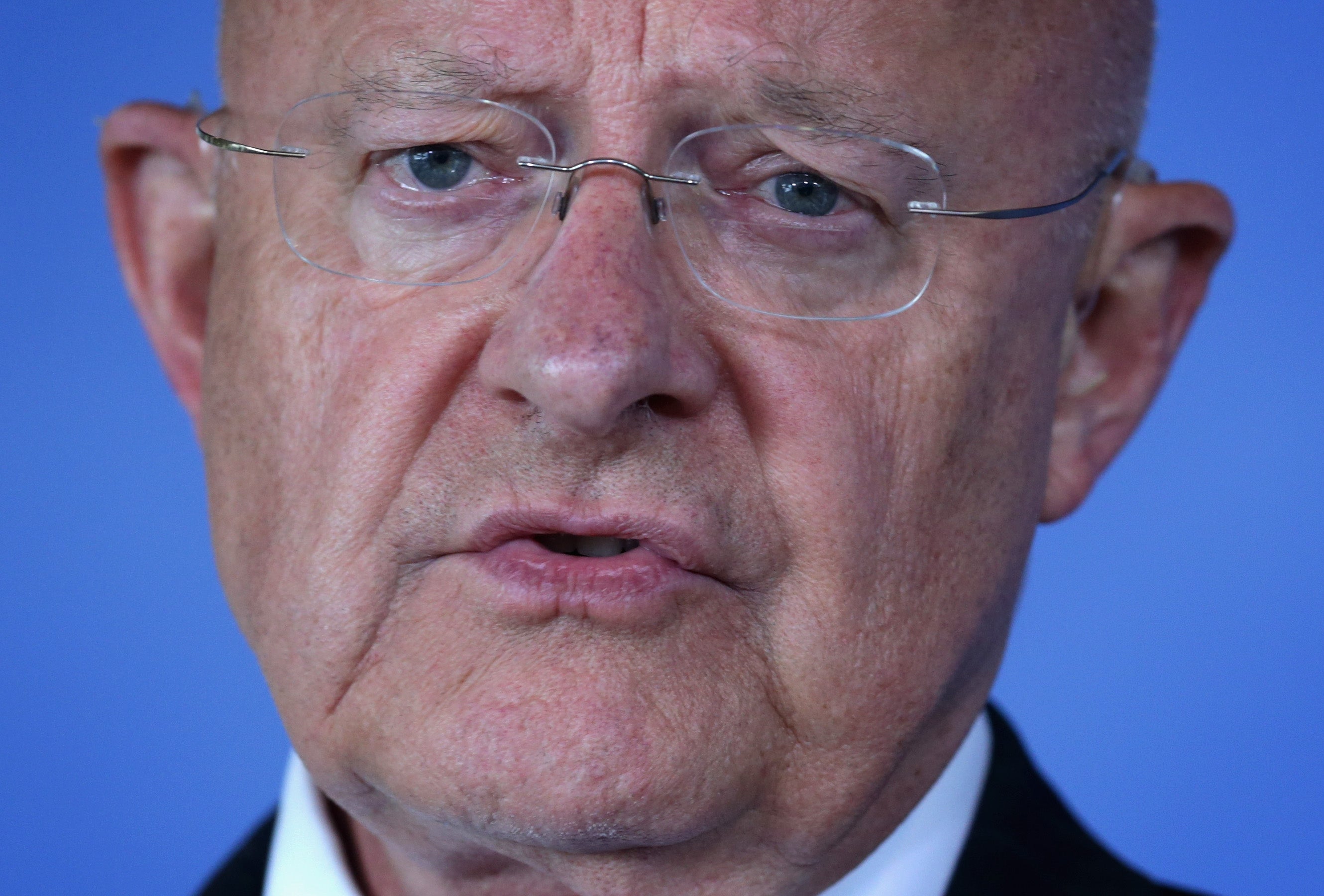 James Clapper says he misspoke, didn't lie about NSA surveillance
WASHINGTON - James Clapper, the director of national intelligence, said Thursday that he did not lie to them about government surveillance last year when denied the U.S. was collecting data on millions of Americans in a hearing last year.
"It has been very disappointing to have my integrity questioned because of a mistake," Clapper told government officials and contractors at an intelligence summit in Washington sponsored by two major industry groups.
Clapper said he misspoke in the Senate hearing last year when he said the U.S. was not collecting Americans' data. But documents leaked by Edward Snowden, a former contractor for the National Security Agency (NSA), later showed that the agency had been gathering and storing phone records for years.
Clapper's explanations for his answer have shifted over time. At first he defended his comments and said he meant the say the NSA was not going through Americans' email. Later, he said that his response was "the least untruthful" he could give Congress. Finally, he wrote a letter to Congress last June saying his answer was "clearly erroneous" and said that he had been thinking about the substance of the phone calls rather than the "to" and "from" information, which is known as metadata.
The revelation offended Sen. Rand Paul, R-Kentucky, enough that he called on Clapper to resign his post last December and even suggested he might be guilty of perjury. Paul named Clapper in a lawsuit he filed in February that accuses the Obama administration of violating the Fourth Amendment.
Clapper was also rolling out a new intelligence strategy that includes ethics principles for intelligence officers. One of the seven is "truth."
Clapper was asked about the denial by Sen. Ron Wyden, D-Oregon, who was aware from classified briefings that the director of national intelligence had answered incorrectly. Wyden has said before that his staff not only provided Clapper with the question in advance, but also a chance to change it afterward, which did not happen.
"With all due respect for Director Clapper's feelings, the rights of the American people and constitutional oversight of our intelligence programs are more important," Wyden spokesman Keith Chu told the Associated Press by email Thursday.
The administration defended Clapper after his testimony and said he has been aggressive about providing information to the public.
Clapper's tone at conference was downbeat at times and occasionally peppered with the sarcastic humor for which he is known. He complained of budgets cuts, leaks to the news media, and an expectation that, as he put it, intelligence can be collected with no risk of embarrassment upon discovery and no threat to anyone's civil liberties.
"We call this immaculate collection," he said to chuckles from the audience.
Clapper also lamented the fact that government officials who set U.S. policy and the public sometimes seem to expect their intelligence agencies to have clairvoyant powers.
On a serious note, Clapper warned that "a perfect storm ... is degrading" U.S. intelligence capabilities in a statement that accompanied the new strategy. The storm includes "the theft and leak" of NSA documents and "the associated loss of collection capabilities," Clapper said, and "the resulting damaged relationships with foreign and corporate stakeholders."
He said that "the conscious decision to stop collecting on specific targets," as a result of the leaks from Snowden adds risk to the American public.
In a question and answer session afterward, Clapper said the disruption of a plot to behead people by supporters of the Islamic State of Iraq and Syria (ISIS) group in Australia underscored the threat posed by homegrown sympathizers of the group, which he said is adept at motivating and recruiting followers.
He also became the first U.S. intelligence official to publicly use the name of a group of al Qaeda fighters in Syria that he said poses a potential threat to the U.S. equal to that of the ISIS militants.
The AP reported Saturday that the Khorasan Group is working from Syria with al Qaeda's Yemen affiliate to plot attacks on American aviation. U.S. intelligence officials say it is a cell of veteran al Qaeda fighters from Afghanistan and Pakistan who are trying to recruit Western extremists to attack Europe and the U.S.
American officials told the AP it posed a more imminent threat than ISIS.
Thanks for reading CBS NEWS.
Create your free account or log in
for more features.