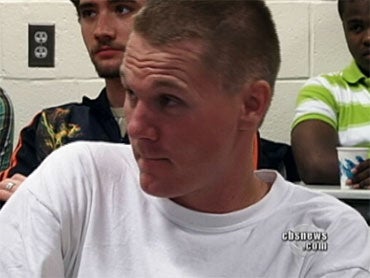 Iraq Photo Tugs At Hearts
A moment in time.
A photo taken in Iraq this week captures U.S. Army Maj. Mark Bieger choking back tears as he cradles a bloodied Iraqi girl caught in the crossfire in Mosul, one of the country's hotspots.
According to the Army, she was an innocent bystander as an Iraqi car bomber plowed through a group of children to target a passing American patrol. Later, the girl succumbed to her wounds.
Bieger's wife, Amy,
"Right away," she says, "I saw the soldier in uniform, and I was drawn to his left shoulder that has the patch of First Brigade, which is here in Fort Lewis (Washington state). So right away, I knew it was one of our soldiers. And…when I saw it was one of our soldiers, it hit my heart, and it took me probably about 90 seconds to realize, once I could make out the rank and part of the name, that it was my husband."
Maj. Bieger, 35, a West Point graduate from Phoenix, has been in Iraq since October. He is the operations officer of a unit that conducts search-and-destroy missions targeting Iraqi insurgents, as part of a Stryker brigade.
As she gazed at the photo of her husband clutching the little girl, "My heart melted," Amy says. "I saw the compassion. You could tell by his body language that he was taking as good care of her as he could, and it was amazing. It was amazing."
The couple's eldest son, Addison, 10, tells Smith seeing the photo "makes me feel happy that he's over there, helping the people of Iraq from war."
Addison's brother, Joshua, 9, says, "I feel proud of him for just helping all the good Iraqis."
The Biegers have another son, Owen, 4.
Amy says she spoke to her husband about the photo but, "He actually hasn't gone into depth at all about the picture. He has just, when he sees it and thinks of it, he thinks of a very, very sad day, and there were numerous soldiers there helping people, and doing first aid and pulling security. And so…he was at the right time at the right moment when the little girl was there. And he said it just... he grabbed her and took her as fast as he could to a (military) hospital."
Thanks for reading CBS NEWS.
Create your free account or log in
for more features.