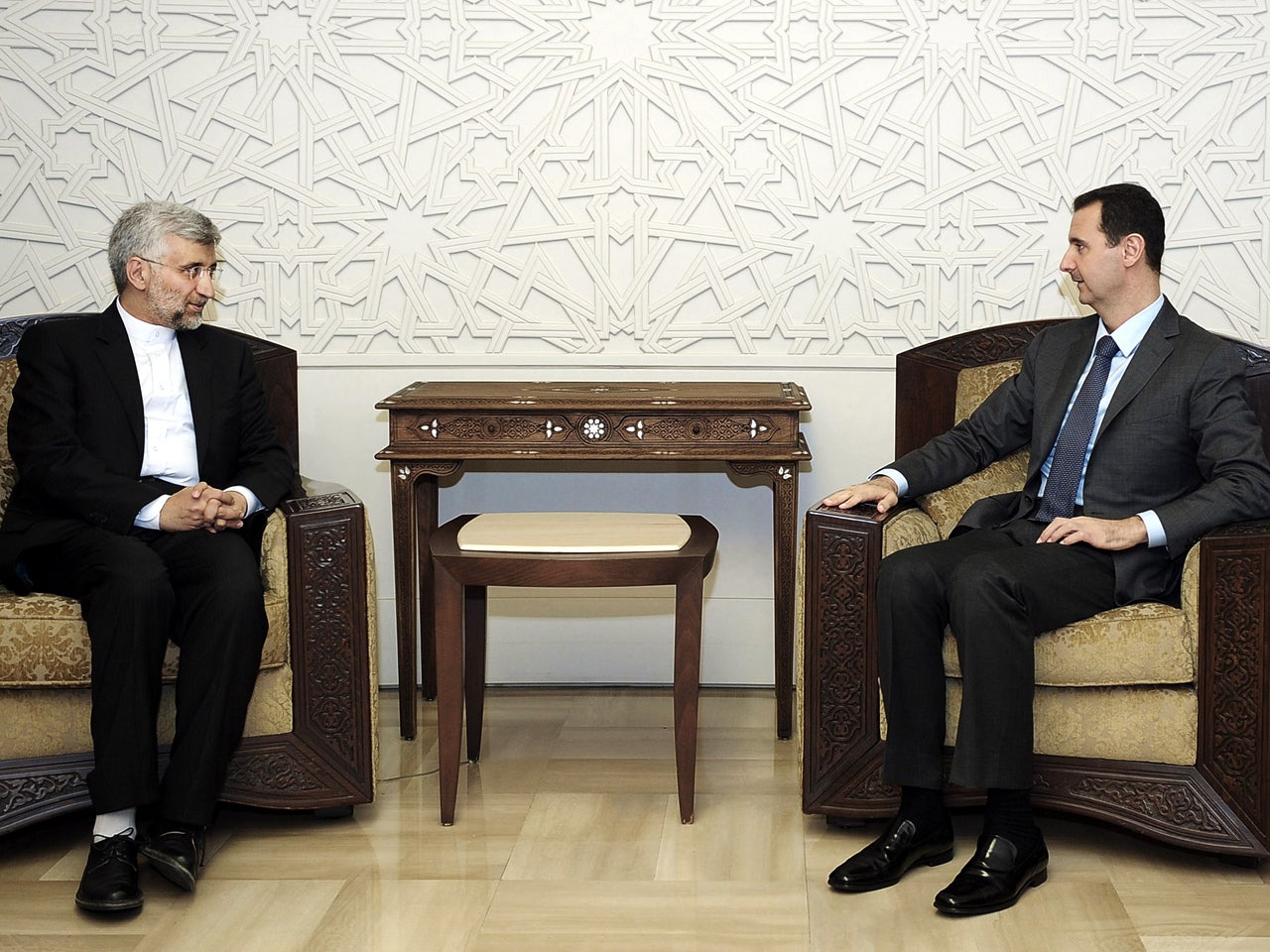 Iran: We're in "axis of resistance" with Syria
(CBS/AP) KILIS, Turkey - A senior Iranian envoy referred to the relationship between his country and Syria as an "axis of resistance" that Iran would not allow to be broken as Syrian President Bashar Assad vowed to fight on against rebels.

The envoy, Saeed Jalili, met with Assad in Damascus on Tuesday, according to the Syrian state-run news agency, SANA. State TV showed a picture of Assad sitting across from Jalili at the presidential palace -- the president's second appearance on TV since a July 18 bombing in Damascus killed four of his top security officials, including his brother-in-law.

Assad has not spoken publicly since, and his low profile has raised speculation that he fears for his personal safety as the civil war escalates.

Special Section: The Arab Spring
Abdullah: Syrian refugee camps an economic burden
Lone survivor recalls alleged Syria massacre

SANA quoted Assad as saying Tuesday that the Syrian people and government are "intent on cleansing the country from terrorists and combating terrorism without leniency."

The news agency said Assad and Jalili discussed their two countries' "strategic cooperation relationship" and "attempts by some Western countries and their allies to strike at the axis of resistance by targeting Syria and supporting terrorism there."

SANA also quoted Jalili telling Assad: "Iran will absolutely not allow the axis of resistance, of which it considers Syria to be a main pillar, to be broken."

Meanwhile, more than 1,300 Syrians fled to Turkey overnight to escape the civil war as rebels tried to expand their hold inside Syria's largest city despite two weeks of withering counterattacks by Assad's troops.

The fighting has entered a new phase, CBS News correspondent Holly Williams reports. In a new video, men crouching against a wall are about to be killed by an angry mob. Syrian opposition groups said the men who died were members of a family with links to the Assad regime.

(Watch at left)

The killers were rebels fighting in an increasingly chaotic conflict.

Human rights groups -- as well as the rebels' own leadership -- condemned the deaths as summary executions.

However, in a sprawling refugee camp on the Syria-Turkey border, Syrian refugees defended the killings. Many of the men there are rebel fighters.

"If we had a state, we could have taken those men to court," said Mohammad Hajhasan through a translator. "But we're in the middle of a revolution, and they were war criminals."

Heavily armed government troops have been steadily shelling rebel-controlled parts of Aleppo, particularly Salaheddine and other districts on the southwestern edge of the strategic city.

Aleppo-based activists said clashes were going on Tuesday near the historic city center. That suggests the rebels were making some inroads in Aleppo, which lies some 25 miles from the Turkish border.

Intense government bombardment of the Syrian town of Tal Rafaat closer to the border sent scores of people spilling into Turkey for safety, according to the activists.

A Turkish government official said 1,328 Syrian refugees had crossed the border by midmorning -- nearly double the number of refugees who reached Turkey on Monday. The official spoke on condition of anonymity in line with government rules.

Close to 48,000 Syrians have now found refuge in Turkey, which has served as a staging ground for rebels fighting Assad's regime.

"We are expecting a massacre in Aleppo. The regime is bringing reinforcements to the city because they believe that if Aleppo falls, the regime will fall," said a Syrian refugee in Turkey who identified himself as Abu Ahmad.

"The city is being bombed from the air and ground," he said, adding he was in daily contact with residents still in the city.
The rebels appeared also to be bringing in reinforcements.

A video posted online by activists Tuesday showed a large group of Free Syrian Army rebels in military fatigues and carrying rocket-propelled grenades and automatic rifles. The fighters were seen announcing that they were joining the "Unification Brigade," the main group of rebels in Aleppo, to assist in the "liberation" of the city.

"They have Satan on their side, we have God on ours," one rebel shouts. "We are coming, Aleppo," shouts another. The authenticity of the video could not be independently verified.

Despite a ferocious crackdown, rebels in Syria have grown more confident and are using increasingly bolder tactics both in Aleppo and in the Syrian capital, Damascus.

In a brazen, daylight attack, rebels on Saturday abducted a group of 48 Iranians near Damascus, branding them as spies assisting in Assad's crackdown.

Iran said those captured when their bus was commandeered were pilgrims visiting a Shiite shrine on the outskirts of Damascus. On Tuesday, Iran's Foreign Ministry said it holds the U.S. responsible for the fate of the abducted Iranians.

Iran's state IRNA news agency said the ministry summoned the Swiss envoy in Tehran late Monday to stress that Iran expects Washington to use its influence to secure the Iranians' release. The Swiss look after U.S. interests in Iran since Tehran and Washington have no diplomatic relations.

The abductions threaten to suck Iran deeper into Syria's civil war and the wider political brinksmanship around the region. Iran says it has no fighting forces aiding Assad, and it has sharply amplified its criticism of countries supporting the rebels such as Turkey and Gulf states led by Qatar and Saudi Arabia.

The Iranian Embassy in Turkey said Iran's Foreign Minister Ali Akbar Salehi was traveling Tuesday to Turkey, where he was to meet with his Turkish counterpart to discuss Syria and the abducted Iranians.

Syrian rebels, meanwhile, claimed three of the Iranian captives were killed on Monday during shelling by government forces in Damascus and its suburbs, and threatened to kill the remaining Iranians unless the army stopped its bombardment.

"The Syrian regime is responsible for anything that happens to the Iranians," a representative of the Baraa Brigades, which claimed responsibility for the group's abduction, told The Associated Press on Skype.

The representative's claim that three were killed could not be independently verified. An official at the Iranian Embassy in Damascus said he had no information on the subject.

U.S. Secretary of State Hillary Rodham Clinton, on a visit to South Africa, said Tuesday that the defections of Syria's prime minister and other officials increase the urgency of planning for Asssad's ouster. She said it is important to make sure that Syrian state institutions remain intact once Assad loses his grip on power.

Clinton spoke a day after the defection of Prime Minister Riad Hijab, the latest in a string of high-level departures from the Assad regime.

She said the opposition is becoming increasingly effective and better armed, but that "this terrible violence" has been hard on the Syrian people.

While skirmishes were reported in the Syrian capital overnight and its suburbs Tuesday, the main battle has now moved 215 miles north to Aleppo, where rebels seized several neighborhoods two weeks ago and have proved difficult to dislodge.

If the opposition were to gain control of Aleppo, Syria's commercial hub, that would be a major blow to the regime and give the rebels a base of operations inside the country.

Ahmad Saleh, a Syrian from the town of Tal Rifaat near the Turkish border, said the town was shelled Monday from the nearby air base of Minnegh, killing two people.

Saleh, who fled to Turkey after midnight Tuesday, said pharmacies and grocery shops in Tal Rifaat were closed.

"The situation is miserable and it is not possible to find goods," he said. "We had to choose between dying in Syria or coming to Turkey."
Thanks for reading CBS NEWS.
Create your free account or log in
for more features.