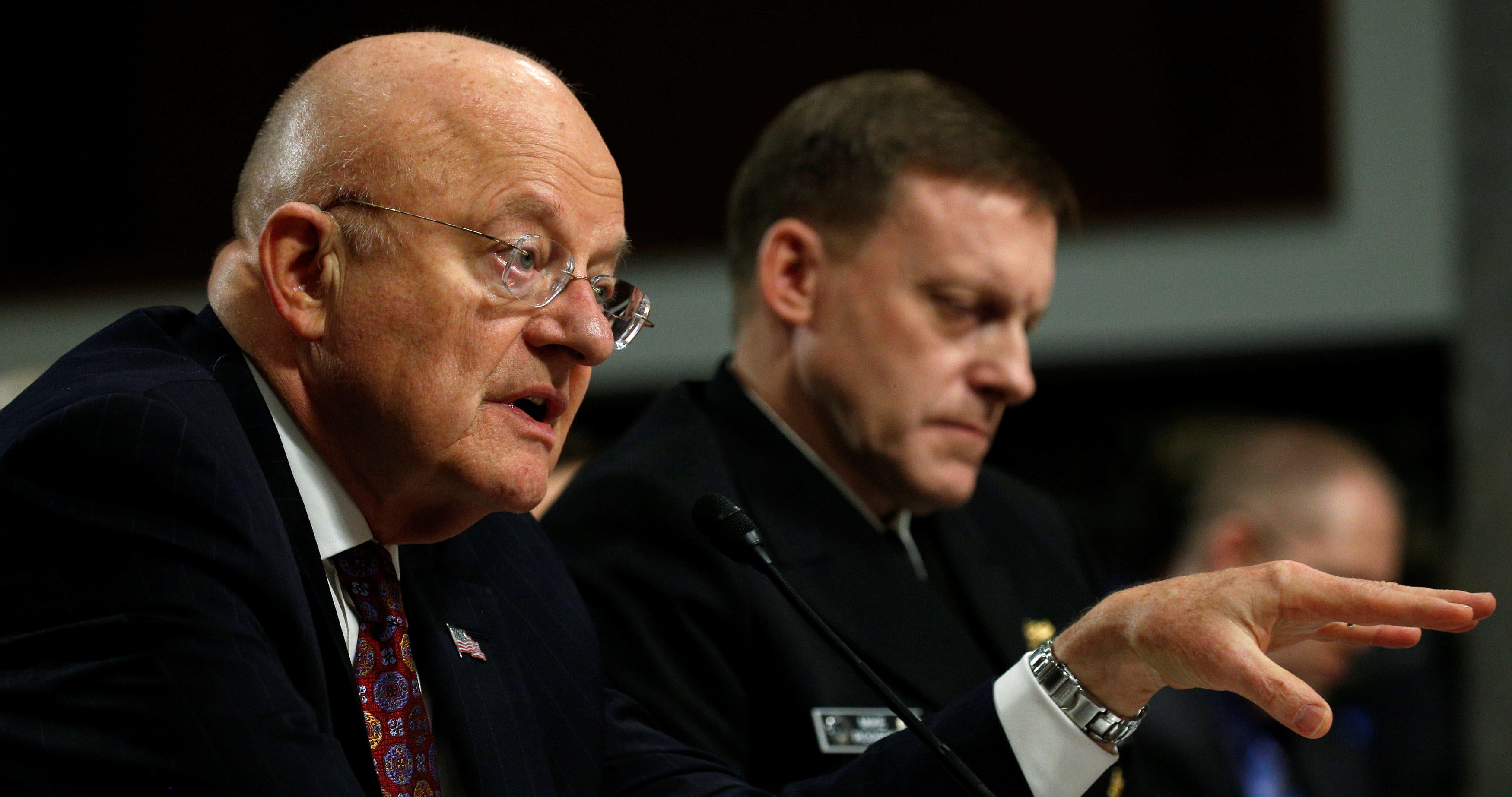 Intel leaders detail scope of Russian hacking ahead of report
Russia engaged in a "multifaceted" effort against the U.S. that didn't just include hacking in the 2016 presidential election, top U.S. intelligence officials told Congress on Thursday.
"Hacking was only part of it," Director of National Intelligence James Clapper said in testimony before the Senate Armed Services Committee at a hearing on Russia's cyberattacks. "It also entailed classical propaganda, disinformation and fake news."
The hearing was part of a series that Sen. John McCain, R-Arizona, as chairman of the panel, intends to hold on Russian cyberattacks during the election. In his opening remarks, McCain said that Russia's actions were "an unprecedented attack on our democracy" and he and other Republicans lambasted the Obama administration for lacking a comprehensive policy for cyber deterrence.
Clapper, whose tenure ends later this month, told the committee that Russian hackers did not change any vote tallies and that the U.S. intelligence community has no way of determining the impact on the choices voters made.
"Whether or not that constitutes an act of war, I think, is a very heavy policy call that I don't think the intelligence community should make," he said.
President Obama tasked the intelligence community with producing a comprehensive report on Russia's interference in the election, which Clapper said will be released in an unclassified version to the public early next week. Congress will also be briefed on the report's findings.
The report is being prepared by the CIA, FBI and NSA and will "ascribe a motivation" to Russian President Vladimir Putin, Clapper said, though he declined to elaborate further.
Lawmakers on the panel called on Congress to remain bipartisan in its investigation of the hacking. Sen. Jack Reed, D-Rhode Island, the top Democrat on the panel, reiterated his desire for the creation of a select committee on Russian cyberattacks and the greater cyber threats against the U.S.
Sen. Tim Kaine, D-Virginia, Hillary Clinton's vice presidential running mate, brought up the Watergate scandal and that the congressional investigation that followed was bipartisan.
"It is my hope that this Congress is willing to stand in a bipartisan way...as the Congress did in 1974," Kaine said about inquiries into Russian hacking.
Sen. Lindsey Graham, R-South Carolina, said that Russia must suffer the consequences for the hacking attacks and that the actions President Obama took last week to impose sanctions were not good enough.
"I think what Obama did was throw a pill. I'm ready to throw a rock," Graham said. "If we don't throw rocks, we're going to make a huge mistake."
"It's time now not to throw pebbles, but to throw rocks," Graham added. "Putin's up to no good; he's got to be stopped. Mr. President-elect [Trump], when you listen to these people [in the intelligence community,] you can be skeptical, but you have to understand they're the best among us."
Several lawmakers alluded to President-elect Donald Trump's decision to question the intelligence community's assessment and its integrity and slammed him for those comments.
Sen. Claire McCaskill, D-Missouri, asks Clapper who benefits "from a president-elect trashing the intelligence community."
"I think there is an important distinction here between healthy skepticism," Clapper said, "...I think there's a difference between skepticism and disparagement."
"There should be howls," McCaskill responded about Russian cyberattacks, adding that "if the roles were reversed, there would be howls from the Republican side."
Thanks for reading CBS NEWS.
Create your free account or log in
for more features.