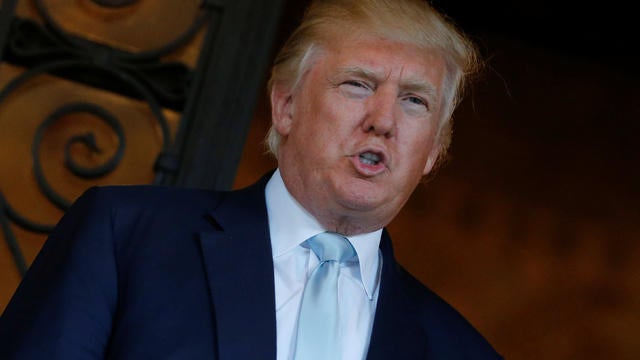 Trump tweets about intelligence and WikiLeaks' Julian Assange
On Twitter Thursday morning, Donald Trump objected to news stories that have suggested he places a higher value on WikiLeaks founder Julian Assange's statements than on the findings of the U.S. intelligence community.
In the tweet that mentioned Assange Wednesday, Mr. Trump cited the WikiLeaks founder, who had claimed in an interview with Fox News that Russia was not the source of the hacked emails of the DNC or of Hillary Clinton's campaign chairman, John Podesta.
The president-elect's tweets Thursday morning came shortly before Director of National Intelligence James Clapper and NSA Director Adm. Mike Rogers were to testify before the Senate Armed Services Committee about Russian cyber attacks during the 2016 election, as well as the greater cyber threat Russia poses to the U.S.
Clapper, who was asked what he thought of Assange during the hearing, told the panel, "I don't think those of us in the intelligence community have a whole lot of respect for him." And he said of the president-elect's remarks on the intelligence community, "There's a difference between skepticism and disparagement."
Sen. Lindsey Graham, R-South Carolina, who serves on the committee, said Thursday morning he was angry that Mr. Trump had embraced any of Assange's statements.
"It made me mad quite frankly that the president-elect would embrace anything Julian Assange said -- a man who has a record of putting our American military at risk by leaking classified information undermining American foreign policies, a fugitive from the law," Graham told reporters. "I don't think you should ever embrace anything he says. And this is the same guy Donald Trump wanted to kill in 2010."
He also said that he had "zero" doubt that Russia was behind the hacking, CBS News' Alan He reports. Graham added that Russia is not only hacking here, but "they are doing it all over the world."
Mr. Trump, Graham said, hasn't been briefed on the Russian hacking report yet, and he offered the president-elect some unsolicited advice -- "don't question things until you've been informed of them. Then question them."
Mr. Trump is not yet convinced that Russians are behind the cyber attacks against the DNC and Podesta, a doubt that comes across in his social media posts:
Mr. Trump is also seriously considering cutting back the DNI, CBS News' Major Garrett reports, and some involved in those conversations say one reason he has not yet named a DNI is that he might leave the post vacant as part of a reduction in force and the elimination of another layer of bureaucracy.
Graham did not dismiss the idea of getting rid of the DNI position, first reported by the Wall Street Journal Wednesday. "I'd be open-minded if you can prove to me it makes [intelligence] better," Graham said.
Four intelligence chiefs are scheduled to brief the president-elect Friday on their report on Russian hacking.
CBS News' Alan He contributed to this report.
Thanks for reading CBS NEWS.
Create your free account or log in
for more features.