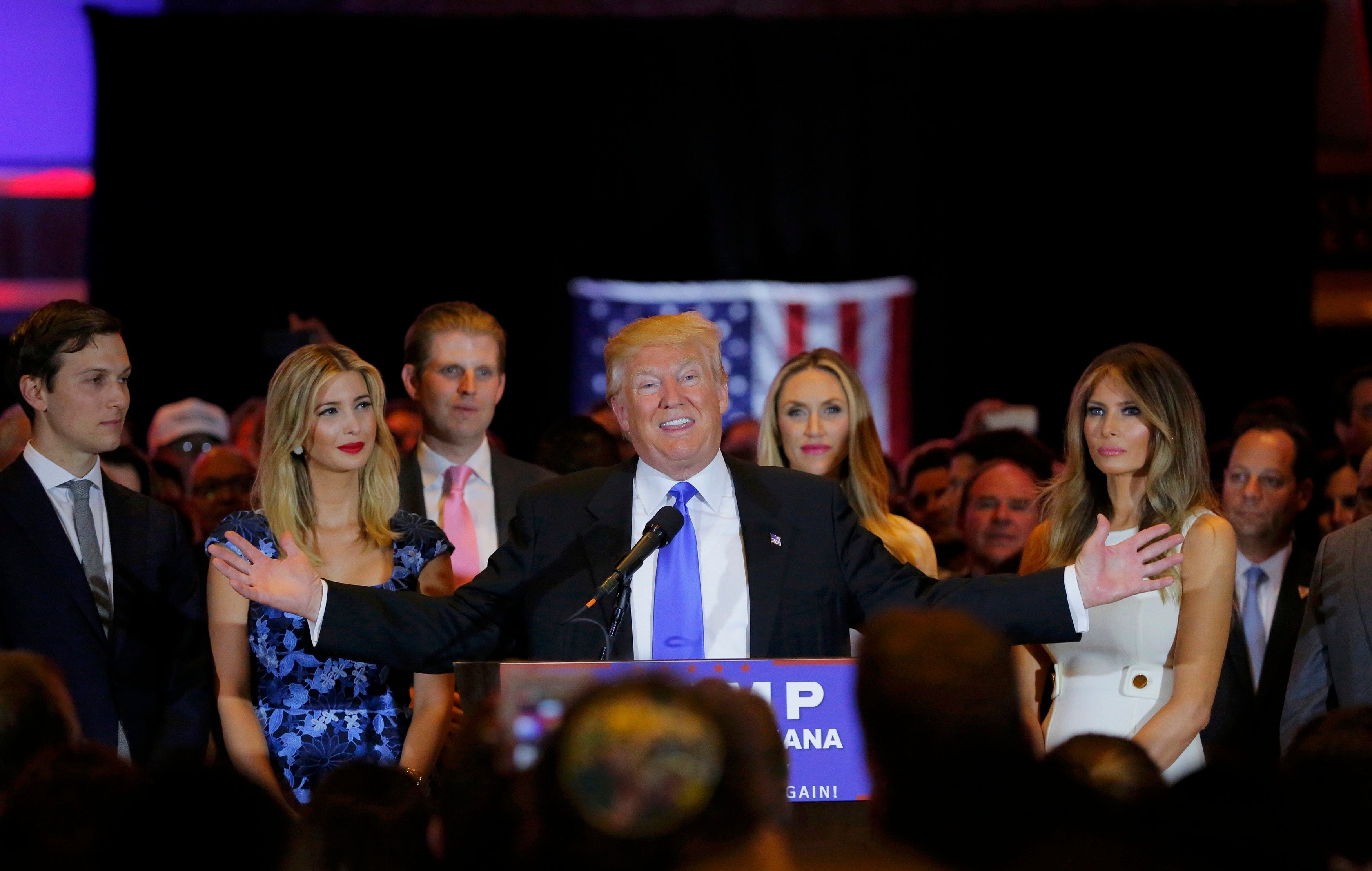 Indiana primary analysis: Welcome to the 2016 general election
Welcome to the 2016 general election.
Indiana's primary Tuesday night undoubtedly ushered in a new phase of the presidential contest. With Texas Sen. Ted Cruz's exit Tuesday night, the Republican race is effectively over: Donald Trump is officially the the likely GOP nominee. Though Trump is still just under 200 delegates shy of the 1,237 needed to clinch the nomination, he is on track to reach that number by the California primary on June 7.
And while Vermont Sen. Bernie Sanders picked up a much-needed win over front-runner Hillary Clinton in the Indiana Democratic primary, his victory there did nothing to change the fact that he is highly unlikely to catch up to Clinton in either raw votes or delegates.
Indiana was the fight Cruz and the anti-Trump movement sought out and billed as their last stand, the place where they said Trump could be stopped and that would turn the tide against him in the remaining month of primaries. They poured time and resources into the state and ultimately got the two-man race they had been hoping for all along, but with Trump's 16-point victory there, it was all for nothing.
Cruz put everything he could into Indiana: he spent considerable time on the ground there. He engineered a deal with Ohio Gov. John Kasich which would give him a clear lane in the state. He announced former Hewlett Packard CEO Carly Fiorina as his running mate. He secured and then touted, on the airwaves and at rallies across the state, the endorsement of sitting GOP Gov. Mike Pence. And on the day of the primary, he unleashed a string of vitriol at Trump, calling him a "pathological liar" and "utterly amoral."
But losing the race to Trump -- not to mention the lion's share of Indiana's 57 delegates -- significantly narrowed the path for Cruz and his allies to ensure a contested convention, a reality Cruz acknowledged in his concession speech in Indianapolis.
"From the beginning, I've said that I would continue on as long as there was a viable path to victory," Cruz said. "Tonight, I'm sorry to say, it appears that path has been foreclosed. Together, we left it all on the field in Indiana. We gave it everything we've got. But the voters chose another path."
Trump, for his part, was largely gracious about Cruz's exit, eschewing the refrain of "Lyin' Ted" that had been a frequent fixture at his rallies and on Twitter. Instead, he called Cruz a "tough, smart guy" with "an amazing future."
The likely GOP nominee then turned his criticism onto Clinton, telling the crowd she "will be a poor president." "We're going after Hillary Clinton," he said. Trump attacked her for her comments about the coal mining industry and on trade, saying her husband's support for the North American Free Trade Agreement (NAFTA) was "perhaps in the history of the world, the single worst trade deal ever done."
For Republicans, the focus now turns to uniting the party ahead of the general election. Based on the reaction of many anti-Trump operatives Tuesday night, this will be no small task. Republican National Committee Chairman Reince Priebus tweeted after Cruz's announcement that Trump is the "presumptive nominee." "We all need to unite and focus on defeating @HillaryClinton," Priebus continued.
Also a major concern for Republicans going forward is the effect of Trump on down-ballot races, particularly with control of the U.S. Senate in the balance. With a handful of vulnerable incumbent Republicans who are up for reelection in swing states, Democrats in several of those key states -- including Ohio and New Hampshire -- used Tuesday's results to immediately tie the GOP Senators to Trump.
On the Democratic side, Sanders' victory in Indiana did little to change the delegate math that makes his path to the Democratic nomination nearly impossible, but it did give him and his supporters a new reason to justify his continued presence in the Democratic race.
Just over two hours after the final polls closed in the Hoosier State, CBS News projected that Bernie Sanders had won the state's Democratic primary. With 93 percent of precincts reporting, Sanders led Clinton by 4 points, 52 percent to 48 percent.
Sanders, in a statement on his "upset victory," again vowed to keep going until the final votes are cast. "The Clinton campaign thinks this campaign is over. They're wrong," Sanders told reporters Tuesday night after the race had been called. "Maybe it's over for the insiders and the party establishment, but the voters in Indiana had a different idea. The campaign wasn't over for them. It isn't over for the voters in West Virginia. It isn't over for Democrats in Oregon, New Jersey and Kentucky. It isn't over for voters in California and all the other states with contests still to come."
Exit polling shows the Vermont senator's victory in Indiana was fueled by the same demographic groups that have served him well throughout the primary season, and by the fact that Indiana, unlike the six Northeastern states to vote in the previous two weeks, has an open primary system in which independents can vote. According to exit polls, nearly a quarter of the Democratic electorate Tuesday was independents, 73 percent of whom backed Sanders (compared to 27 percent who supported Clinton). Three-quarters were registered Democrats, who were evenly split between Clinton and Sanders.
Indiana is also demographically similar to the other Midwestern states in which Sanders has done well: a predominantly white electorate with few of the minority voters that typically vote overwhelmingly for Clinton. Sanders performed much better among white voters, who made up 75 percent of those who cast ballots in the Democratic race. Clinton, on the other hand, performed well with black voters, but they made up only 17 percent of those who turned out. Sanders even won narrowly among women: exit polls showed 52 percent of women voters supported him, while 48 percent backed Clinton.
Though Democratic unity is unlikely to be a major problem in the general election, exit polls show there's still some work to be done on that front: 19 percent of Democratic voters said that if Clinton becomes the nominee, they wouldn't vote for her. (If Sanders becomes the nominee, 9 percent said they wouldn't vote for him in the general election.)
Thanks for reading CBS NEWS.
Create your free account or log in
for more features.