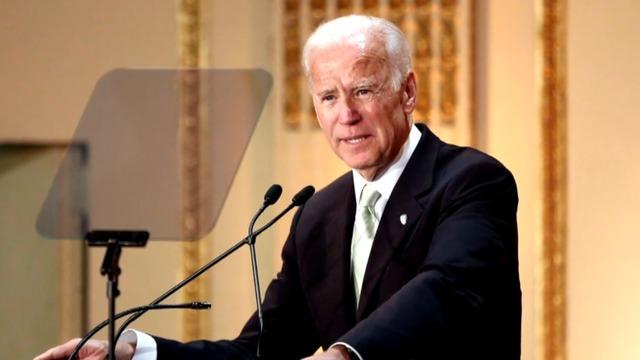 Biden: I would have "beat the hell out" of Trump for comments about women
Former Vice President Joe Biden on Tuesday told an audience at the University of Miami that he would have "beat the hell out" of President Trump in high school for comments he has made about women.
"A guy who ended up becoming our national leader said, 'I can grab a woman anywhere and she likes it,'" Biden said, according to ABC News. "They asked me if I'd like to debate this gentleman, and I said, 'No.' I said, 'If we were in high school, I'd take him behind the gym and beat the hell out of him.'"
The rally in Miami was sponsored by It's On Us, a social movement spearheaded by the Obama White House to help bring an end to sexual assault on college campuses across the U.S.
Since his vice presidency, Biden has devoted much of his time to the issue of campus sexual assault, frequently partnering with the It's On Us movement in online campaigns and at other events and rallies aimed at spreading awareness.
"I've been in a lot of locker rooms my whole life," Biden said, referring to Mr. Trump's defense after the Access Hollywood video was released -- that his vulgar 2005 comments were "locker room" talk. "I'm a pretty damn good athlete. Any guy that talked that way was usually the fattest, ugliest S.O.B. in the room," Biden said.
Aside from his comments on Mr. Trump, the former vice president also discussed the issue of sexual assault more broadly in light of the rise of the "#MeToo" movement.
"It's not just on the men," Biden said. "It's on you women, as well, on campus. All the studies show that 95 percent of young women who are abused -- the first person they tell is their roommate, their friend, someone on campus. You've got to inform yourself as to what facilities are available, what help is available, not just empathize, hug and say, 'I'm so sorry.' You have an obligation to be informed."
This was not the first time Biden has spoken about Mr. Trump's "Access Hollywood" remarks. On the 2016 campaign trail in Pennsylvania for Hillary Clinton, Biden labeled his conversation, in which Mr. Trump could be heard talking about grabbing women by their genitals as "the textbook definition of sexual assault."
"He said because I'm famous ... I can do things other people can't," Biden said at the rally. "What a disgusting assertion for anyone to make! The press always asks me don't I wish that I was debating him. No, I wish we were in high school and I could take him behind the gym."
Thanks for reading CBS NEWS.
Create your free account or log in
for more features.