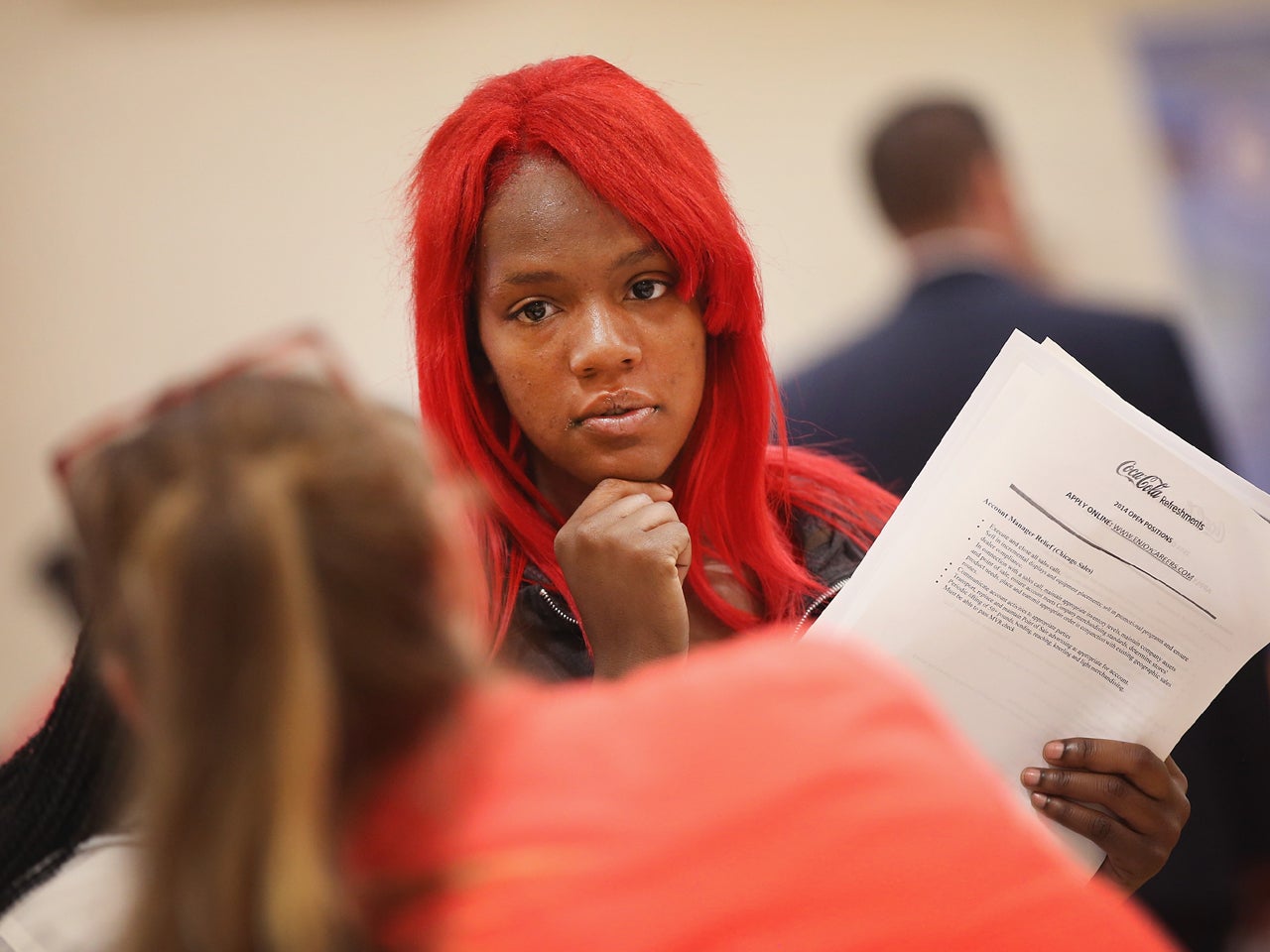 In a surprise, job market sees big gains
Summer is in full swing, and so is the job market.
Employers added 288,000 nonfarm jobs in June, the U.S. Labor Department said Thursday, topping consensus estimates of 215,000 and raising hopes that the recovery is gaining momentum heading into the second half of the year. Payroll gains in April and May were also healthier than initially estimated, with the economy adding 29,000 more jobs than previously reported.
The nation's unemployment rate fell from 6.3 percent to 6.1 percent, the lowest rate of joblessness since September 2008.
"The labor market was already showing clear improvement, but it has accelerated further in recent months," Jim O'Sullivan, chief U.S. economist with High Frequency Economics, told clients. "The pace in employment is pushing the unemployment rate down rapidly."
It has been a tale of two economies this year. Growth fell through the floor in the first three months of 2014, when annualized GDP shrank 2.9 percent following harsh winter weather and a slowdown in how quickly businesses added to stockpiles. That cold snap, which stalled construction projects, delayed housing purchases and hampered consumer spending, hurt the economy more than many forecasters had expected.
Although jobs are more plentiful, the share of people who are working relative to the broader U.S. population, at 59 percent, remains 4 percent below its pre-recession level, notes economist Dean Baker of the Center for Economic and Policy Research.
Wage growth, which powers consumer spending, also remains subdued at an annualized rate of roughly 2 percent. Median U.S. annual household income in May was $53,385, according to Sentier Research. That is only 3.3 percent higher than the low-point in income reached in August of 2011, underscoring the slow rebound in workers' pay following the Great Recession.
Economic gains have also been distributed unevenly across the U.S., with many states still struggling to climb out of the crater caused by the housing crash. Unemployment around the country ranges from more than 10 percent in some areas to less than 5 percent in others, federal data show. For the more than 3 million long-term unemployed, meanwhile, finding a job remains tough.
Given the plunge in first-quarter growth, the Federal Reserve in June downgraded its growth outlook for all of 2014 to between 2.1 percent and 2.3, from a previous estimate of 2.8 percent to 3 percent. Forecasters have been forced to follow suit, ratcheting back their expectations for the year.
At the same time, the labor market has unquestionably picked up. The economy has now added at least 200,000 jobs for five straight months, the longest streak of gains reaching that threshold since early 2000 (see chart at bottom). Job-creation is widespread, the latest employment report shows, led by increases in professional and business services, retail, restaurant, and health care companies.
Encouragingly, more small businesses also have begun adding workers, a key engine for job growth since such firms account for as much as two-thirds of new hiring. The National Federation of Independent Business said Wednesday that job-creation levels for smaller companies are now approaching normal levels. Ian Shepherdson, chief economist with Pantheon Macroeconomics, also notes that a growing number of small firms are struggling to fill open positions. That points to sharper wage gains ahead.
"The labor market recovery appears to be firing on all cylinders and is finally self-sustaining," Stuart Hoffman, chief economist with PNC Financial Services Group, said in a research note ahead of the latest jobs report.
The Federal Reserve expects unemployment to fall to around 6 percent by year's end, although it will likely have to revise that figure downward in view of the steeper decrease in joblessness.
The broader economy also has steadied, driven by strong car sales, vigorous home sales and manufacturing growth. Most economists now expect growth in the second quarter to run between 3 percent and 3.5 percent. And despite concerns about higher food and gas prices, consumer confidence has rebounded after dipping earlier in the year.
With the labor market improving, the Fed is expected to continue weaning the economy off the monetary stimulus it has used to keep a lid on interest rates and boost stock prices.
A recent uptick in inflation and the acceleration in job growth is spurring talk that the central bank could start hiking interest rates in the first quarter of 2015, rather than later next year as many had previously expected. If wages grow more quickly later this year, the Fed is likely to tighten policy as early as next March, according to Paul Ashworth, chief U.S. economist with Capital Economics.
The Labor Department released its latest employment report today, rather than the usual first Friday of every month, because of the July 4 holiday.
Thanks for reading CBS NEWS.
Create your free account or log in
for more features.