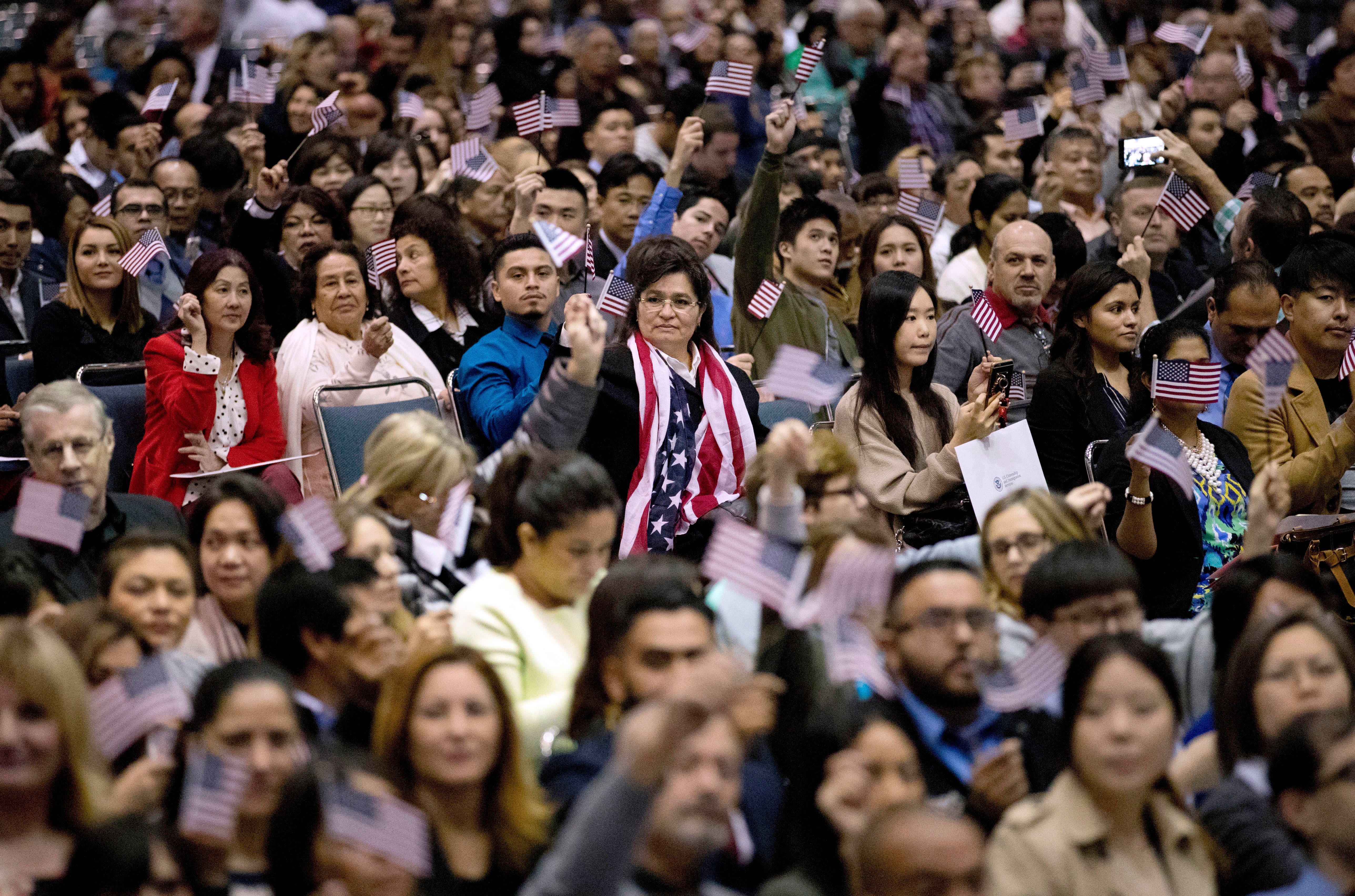 Amid Trump unease, green card holders rush to nail down citizenship
LOS ANGELES -- Andres Dorantes has long been content with the green card that lets him live in the U.S. and work as a tattoo artist in Los Angeles.
That changed when Donald Trump became president and swiftly made executive orders to crack down on immigrants and ban travel from certain countries. Dorantes, a Mexican immigrant, made an appointment at a naturalization workshop to start the process of becoming an American citizen.
"I wanted to do it for a long time but I was always busy," said the 33-year-old Dorantes, who came to the U.S. a decade ago after his father sponsored him for a green card. "Now, I see what is happening -- everything is crazy."
Since last month, immigrants have been rushing to prepare applications to become U.S. citizens. Legal service organizations in Los Angeles, Maryland and New York catering to diverse immigrant communities from Latin America, Asia and the Middle East all said they've been fielding a rising number of calls and questions about how to become a citizen.
The wait time has doubled for a spot at a monthly naturalization clinic focused on Asian immigrants in Los Angeles. Since President Trump's executive orders on immigration, the number of immigrants inquiring about citizenship has also doubled at a Muslim organization in Southern California and at Latin American-focused groups in Maryland and New York, advocates said.
The growing interest in citizenship follows a surge in naturalization applications last year amid Mr. Trump's anti-immigrant campaign rhetoric and ahead of a December increase in filing fees. Nearly 1 million people applied to naturalize during the 2016 fiscal year, the largest number in nine years, government data shows.
At naturalization ceremonies in Los Angeles last week, many of the 6,000 newly sworn citizens proudly waved flags and shed tears at the culmination of a lengthy journey to become Americans. A ceremony in Chicago a week earlier took an emotional turn when a Syrian immigrant recited the Pledge of Allegiance amid a rancorous court fight over the new president's travel ban affecting his native country.
Immigrants historically have sought citizenship for the many new opportunities it brings: the ability to vote, better job prospects, an American passport for travel, bringing relatives here from overseas. This year, it's more about fear in a Trump administration.
"After the election, the desire to naturalize shifted. It wasn't more about opportunity and bringing more family, it was more about, 'there is a new president who is anti-immigrant and we need to do what we can to protect ourselves," said Nasim Khansari, citizenship project director at Asian Americans Advancing Justice in Los Angeles.
On Tuesday morning, the Department of Homeland Security issued two memos that could expand the number of immigrants who are detained or deported as part the administration's crackdown on undocumented immigrants in the United States.
The memos are intended to implement Mr. Trump's immigration actions from last month and enforce existing immigration law. They aim to stem the flow of illegal immigration and "facilitate the detection, apprehension, detention and removal" of undocumented immigrants "who have no lawful basis to enter or remain in the United States," as well as attempt to deter the arrival of unaccompanied children who have crossed the U.S. border from Mexico and Central America over the last three years.
The memos don't overturn the Obama 2012 immigration action that created the Deferred Action for Childhood Arrivals (DACA) program.
For years, immigrant advocates have urged lawful permanent residents, also known as green card holders, to naturalize, which would protect them from deportation were they ever convicted of a crime.
Still, millions of eligible immigrants refrain from doing so, citing fear of passing English language and citizenship tests and hundreds of dollars in filing fees.
Most immigrants need to live in the country and have a green card for at least five years before they can file a citizenship application. More than 8 million people were eligible to naturalize in 2013, according to the Department of Homeland Security.
For many of those now coming forward, the big change came when Mr. Trump issued a travel ban against citizens of seven Muslim-majority countries. Even immigrants not affected by the ban, which has since been blocked by the courts, were jolted, advocates said, especially when green card holders were initially held for questioning at U.S. airports along with visitors.
Alexia Schapira, staff attorney at Make the Road New York, said the ban worried the Colombian, Ecuadorean and Dominican immigrants her organization assists, creating "a ton of insecurity."
The number of people seeking to naturalize typically swells ahead of planned increases in application fees and presidential elections as immigrants seek to get the paperwork done in time to vote. Both happened last year. In 2007, naturalizations soared after massive immigrant rights marches and ahead of a similar fee spike. Other world events can lead to surges, including a 40 percent boost in applications in the year after the Sept. 11 attacks.
Mr. Trump's calls for a border wall and more deportations were inspiration for some. Los Angeles-area inkmaker Gustavo Zavala, who has lived in the U.S. for nearly four decades, said he naturalized in December after his now-grown daughters urged him to do so in response to Mr. Trump's anti-immigrant campaign rhetoric.
But many immigrants still didn't take that final step toward citizenship, doubting Mr. Trump would win or carry through on his promises -- or that his policies could somehow affect lawful permanent residents who have lived and worked in this country for years and have no other home.
At last week's ceremonies in Los Angeles, new citizens -- many who began the application process long before Mr. Trump was elected -- said they were relieved they will not have to deal with stepped-up enforcement measures.
"At the end of the day, I was still a citizen from Iran. Now, I kind of feel safer," 21-year-old Erik Danialian said.
Thanks for reading CBS NEWS.
Create your free account or log in
for more features.