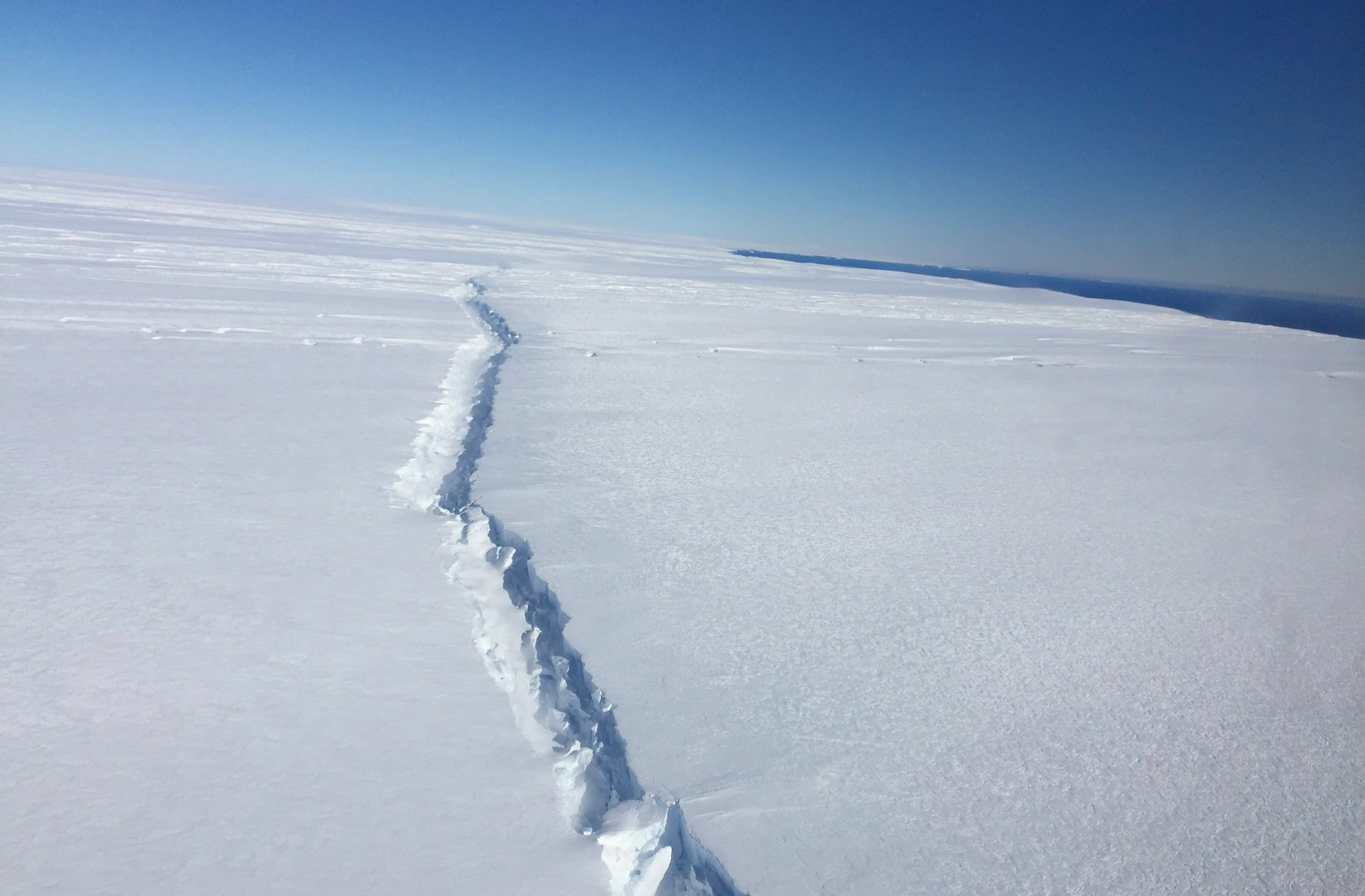 Iceberg that broke off Antarctica was 4 times the size of Manhattan
A massive iceberg about four times the size of Manhattan broke off Antarctica on Saturday, the U.S. National Ice Center confirmed to CBS News.
The iceberg break, an event known as calving, involved a chunk measuring close to 100 square miles, the Ice Center said. However, the iceberg broke into smaller bergs that the center isn't tracking. The berg that is being tracked measured 71.5 square miles.
It drifted from Pine Island Glacier -- one of the largest glaciers within the West Antarctic Ice Sheet, accounting for about 20 percent of the ice sheet's total ice flow to the ocean, according to NASA scientists. Pine Island loses an estimated 45 billion tons of ice each year. Scientists watch this glacier closely because evidence has been pointing to even faster loss of ice in the future, NASA says.
Saturday's enormous break comes just two months after a 2,200 square-mile piece of ice, nearly the size of the state of Delaware, detached from the ice shelf known as Larsen C in July. It was one of the largest icebergs ever recorded.
But the size of the icebergs is not what has scientists so concerned.
"It's not the size of the iceberg that matters. It's the frequency," Ian Howat, a glaciologist at The Ohio State University, told CBS News. "Infrequent big icebergs are normal -- lots of little icebergs are abnormal."
Howat and his colleague Seongsu Jeong published a paper last year finding that Pine Island Glacier has developed a troubling new style of losing ice, which could be causing the recent rise of calving incidents.
"The calving isn't a surprise. It's the fact that these rifts (cracks) form in the first place," explains Howat. "It's concerning how these rifts are forming so close together, so up high in the ice shelf. The fact you're getting these rifts forming inland, close together — that's what's causing these frequent patterns."
The glacier's previous major break was in July 2015, when an iceberg measuring almost 225 square miles separated from Pine Island Glacier.
Stef Lhermitte, a satellite observation specialist at Delft University of Technology in the Netherlands, posted a satellite image comparing the 2015 and 2017 calving events at Pine Island.
"[It] shows the calving front is almost at exactly the same location," Lhermitte tweeted.
"It's déjà vu all over again," Howat agreed. "The same pattern. A large calving event and then a break occurring just inland."
Howat's not sure what's causing the smaller "aftershock" calving events like the one that occurred Saturday, but he notes warmer waters have been linked to the the retreat and melt of the world's ice.
According to Howat, such frequent calving is generally unusual for the glacier, but West Antarctic glaciers are eroding due to the flow of warm ocean water beneath them.
A 2013 study found that currents of warm water were melting an ice crevasse of the Pine Island Glacier at the bedrock level, melting the glacier from its center.
"It's pretty well-known that warm water is reaching up under many of these glaciers, which is leading to both thinning of floating glacier tongues or ice shelves," Christopher Shuman, a researcher at University of Maryland Baltimore County sitting at NASA's Goddard Space Flight Center, told CBS News.
This is the fifth largest calving event since 2000, Shuman says. There have been large calving events in 2001, 2007, 2013, 2015 and now 2017.
"So that spacing tells you about six years between 2001-2007, another six years between 2007-2013, then roughly two-year cycles since that point," Shuman told CBS News. "That's a distinct speed-up all by itself."
Based on that pattern, Shuman suggests the frequency of ice breaks won't stabilize, especially since the recent iceberg breaks in 2015 and 2017 were deeply fractured and broke into pieces as they were released.
"So far, I don't think I see anything that says things will get better -- rather the opposite," says Shuman, though he adds he's not a forecaster.
But Howat believes the pace may slow down in the near future.
"I'm actually guessing it's going to stay put for a little while and be a little more stable," he said. "It's going to thin slowly for awhile then maybe in 10 years or so we'll have another big episode."
Thanks for reading CBS NEWS.
Create your free account or log in
for more features.