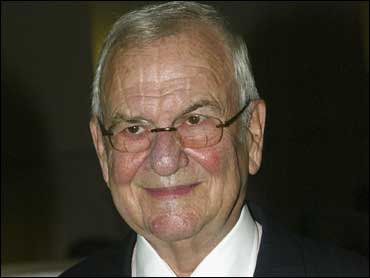 Iacocca Sounds Off On Today's Leaders
As the straight-talking CEO who rose to fame heading Ford and saved Chrysler from bankruptcy in the 1980s, Lee Iacocca became a corporate icon — the best pitchman any car company ever had.
In one famous commercial, he said: "If you can find a better car, buy it."
The commercials helped make the CEO a star. Iacocca's autobiography was a record-breaking best seller — number one for 36 straight weeks.
Then 15 years ago, after Frank Sinatra serenaded him at a lavish goodbye party, Iacocca moved to California and slipped quietly into retirement.
"I get a little bit more mellow ... well, sometimes. Maybe that's a wrong word," he told CBS News correspondent Anthony Mason.
He's not mellow at all in his new book, "Where Have All the Leaders Gone?" The straight-shooting Iacocca is back taking aim at overpaid CEOs and his successors at Chrysler.
He begins at the top and attacks the White House: On page one he writes, "We've got a gang of clueless bozos steering our ship of state right over a cliff."
"Somebody's gotta tell the truth," Iacocca said. "I'm 82 now. I love this country. I was born here. I'm a patriot. And I don't like what's happening to the country. There's something wrong. A lot wrong."
"'Stay the course'? You've got to be kidding," he writes in the book. "This is America, not the damned Titanic."
Ironically, Iacocca, who's known his share of presidents, actually voted for Mr. Bush in 2000.
"I campaigned for him, George Bush," he said. "There's nothing personal here. It's just that I stated from my heart what I thought was important."
After the first year, Iacocca decided the president was in over his head, and campaigned for Sen. John Kerry (D-Mass.) in 2004. Twenty years ago, many thought Iacocca should make a run for the White House himself, against President Bush's father.
"Yeah, I read a couple of surveys at that time and they said, face-to-face against George Bush Senior, I would win," he said.
As the walls of his study show, the man who created the Ford Mustang and the minivan has been on more magazine covers than most politicians.
Campaign money had been raised, but Iacocca, hesitating, turned to his good friend, Speaker of the House Tip O'Neill, for advice.
"And I said, 'Tip, what do you think about me running for President?'" Iacocca said. "And he said, 'Of what?' Typical Irishman, ya know, he laughed. He said, 'Are you crazy? You gotta be nuts. You're a businessman. You don't have the temperament for it.'"
In his heart, Iacocca knew O'Neill was right.
"And I gave the money back that weekend," he said. "I knew my strengths and weaknesses, and I couldn't have been a good president."
As CEO of the struggling Chrysler, Iacocca made headlines by cutting his salary to $1 a year. He calls today's CEO salaries "scandalous." The reason it happens, he said, is greed.
"Greed. Of the seven sins is only one that I worry about," he said. "Greed."
Of course, in 1986, Iacocca himself was the highest-paid CEO in America, pulling in a $20 million paycheck, after Chrysler stock soared. But that he says was "pay for performance."
Iacocca thinks that his former company's recent merger with the German company Daimler was a disaster. "How could they take Walter Chrysler's venerable company and name it after a German?" he writes." But Iacocca admits it was his own hand-picked successor, Robert Eaton, who helped engineer the merger.
"Yep. I made a mistake, yeah," he said. "Big time. Biggest mistake of my life." Eaton, he writes, "took the money and ran."
But two years ago, Iacocca went back to work for his old company as a pitchman in an unlikely pairing with rapper Snoop Dog. He donated the $5 million they paid him to research for a cure for diabetes, the disease that took his first wife, Mary, in 1983.
He's had two failed marriages since, and many of his retirement ventures haven't worked out very well, either.
"I guess trying to be an entrepreneur was different than running a big corporation," he said. "I wasn't good at entrepreneurship."
The star CEO still leads a comfortable life in his California home. He even has a new favorite TV show: "Dancing with the Stars."
"I actually called in," he said. "I think I got three votes. I like the way the girls are dressed. They're good dancers, too."
Iacocca has done some dancing with the stars himself, of course. And with his new book, he's cutting in for one more turn on the floor.
Thanks for reading CBS NEWS.
Create your free account or log in
for more features.