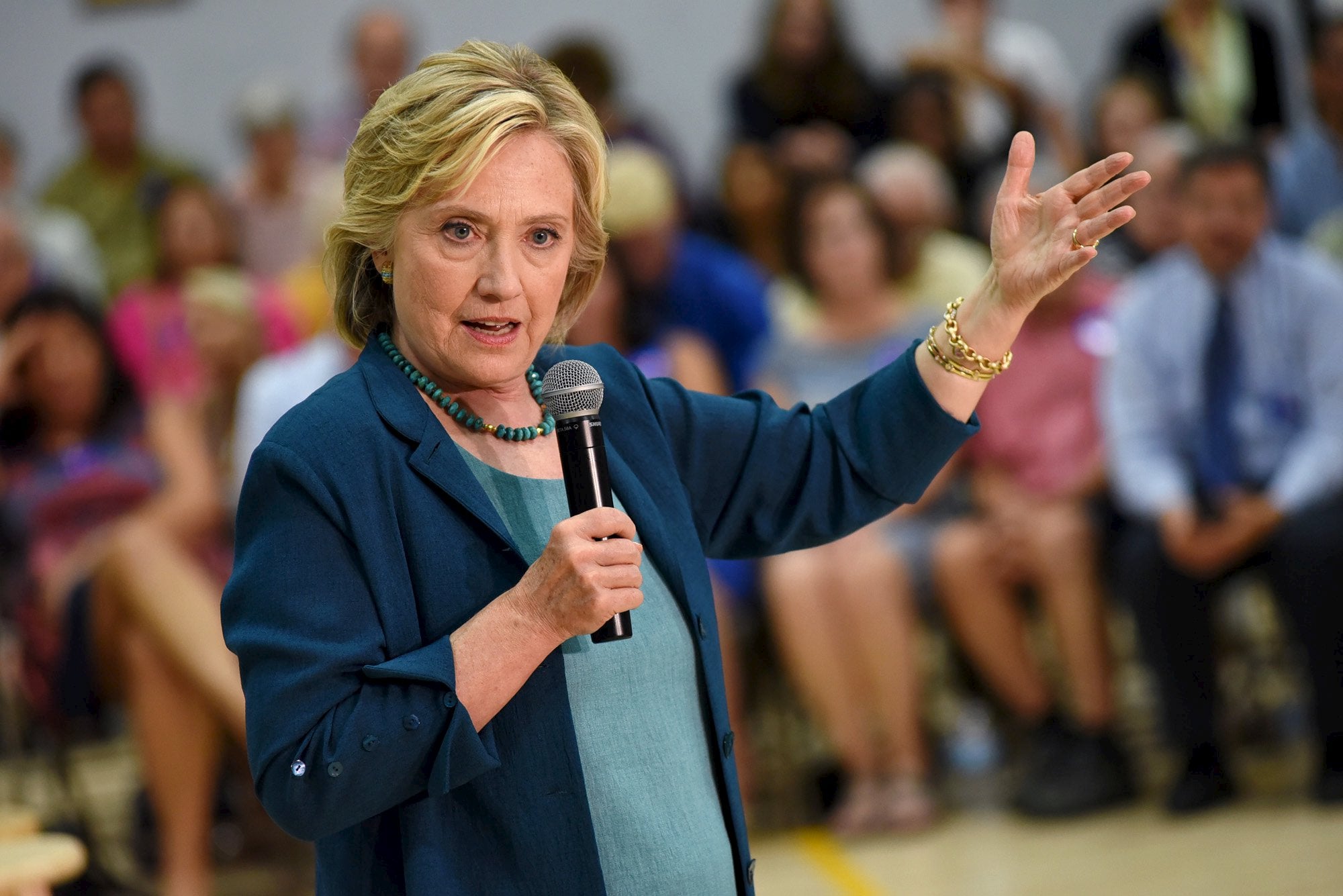 "I am a real person," Hillary Clinton says
Democratic presidential candidate Hillary Clinton was stumped Sunday when "Face the Nation" moderator John Dickerson asked her to name three words that describe "the real Hillary Clinton."
"Just three? I can't possibly do that!" Clinton said, throwing hear head back with laughter. "I mean, look, I am a real person with all the pluses and minuses that go along with being that. And I've been in the public eye for so long that I think, you know, it's like the feature that you see in some magazines sometimes, 'Real people actually go shopping,' you know?"
But Clinton has struggled with perceptions that she is inauthentic on the campaign trail, and her aides recently told the New York Times that she will work to show more humor and heart in her bid for the White House.
She has also struggled to win over voters who are attracted to candidates who seem to be outside the political establishment, something Clinton - with her roles as first lady, senator, secretary of state, and two-time presidential candidate - is not.
But she thinks she is an outsider.
"I cannot imagine anyone being more of an outsider than the first woman president," Clinton said.
"I know you're asking, 'Do we want people who have never been elected to anything, who have no political experience, who have never made any hard choices in the public area?'" she told moderator John Dickerson. "Well, voters are going to have to decide that."
She also addressed criticism that she is too deep inside the political system to help reorient the economy back toward the middle class.
"I have an economic policy that is centered on raising incomes, because I think what we inherited from the Bush administration, what President Obama had to deal with, had the potential of becoming a 'Great Depression,' not just a 'Great Recession,'" Clinton said. "We have now recovered 13 million jobs after losing 800,000 a month when he came into office. So why would we go back to the same policies? Call them insider, call them tilted toward the rich, call them giving corporations a free pass to do whatever they want. I'm against that, I've always been against that."
She added, "So you know, I'm not running for Bill's third term, I'm not running for President Obama's third term, but it would be foolish of me not to say, 'You know, that worked better than what the Republicans offer.'"
She is also planning to talk more about her support for Obamacare on the campaign trail this week.
"It's time that we say that the debate over the Affordable Care Act is over. The Supreme Court has twice upheld it, yet the Congress has voted more than 50 times to repeal it. Let's get beyond that, enough is enough. And we need to strengthen it, not scrap it," she said. She plans to talk about other issues that still need to be addressed, such as trying to control the rising costs of prescription drugs.
Clinton also weighed in again on the controversy created by undercover videos that show Planned Parenthood executives bluntly discussing the procurement of fetal body parts for medical research.
She said she has seen "excerpts" from the videos and read about them, and that she is troubled by "misleading, inaccurate allegations about them that we heard from Republicans at their debate."
"If we want to have a debate in this country about whether we should continue doing fetal research, then it's not only Planned Parenthood that should be involved in that debate. All of the experts, all of the scientists, all of the research institutions, everybody who is looking for cures to Parkinson's, for example, should be asked, 'Should we continue this?'" Clinton said. "So far as I am aware, what they did, despite the way it was portrayed, is within the laws that were set up for this."
She also said she would "hate to see the government interfering" with late-term abortions as the Senate prepares to vote on a federal ban of the procedure.
"This is one of those really painful questions that people raise and obviously, it's really emotional. I think that the kind of late-term abortions that take place are because of medical necessity," she said. "This gets back to whether you respect a woman's right to choose or not. And I think that's what this whole argument, once again, is about."
Thanks for reading CBS NEWS.
Create your free account or log in
for more features.