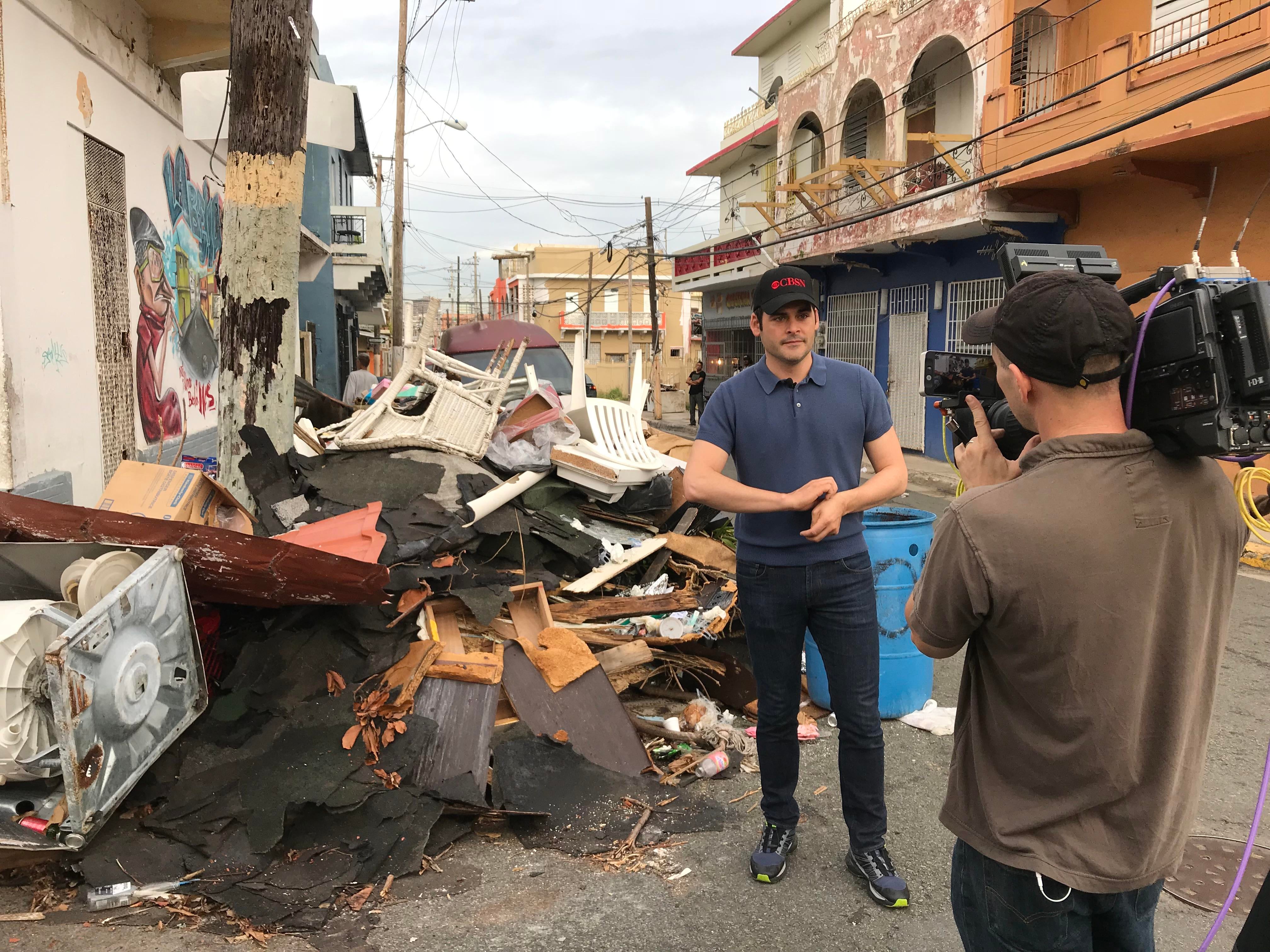 David Begnaud on his "passion" for covering Puerto Rico
Watch the CBSN Originals documentary, "Puerto Rico: The Exodus after Hurricane Maria" in the video player above or click here.
---
It began as just another assignment. I had finished covering hurricanes Harvey and Irma, and was in church with my family in Louisiana, when the news desk in New York called to ask if I could go to Puerto Rico. Judging by the hurricanes I'd covered, I figured the hurricane hits, you get 24 to 48 hours of intensity, and then things start to get better. But I could never have imagined what did happen after Maria.
It was so difficult to get out of San Juan that it took a few days to realize how bad it was. I remember driving in Arecibo and I saw a hundred people standing around a phone tower for a glimmer of a signal. I didn't have a full appreciation of how many Puerto Ricans lived on the U.S. mainland and how many people would be desperate for information. The blackout after the hurricane had left millions of people without power or a cellphone signal, and I realized I had a responsibility to help those people reach each other, and a responsibility to get it right.
What sticks with me the most are the stories of people struggling to regain a sense of normalcy.
I remember going to Aguadilla and seeing a thousand people lined up to get food and water, and they were using whatever containers they had. One woman brought a plastic laundry detergent bottle — that's all she had.
Doctors were using the flashlights on their cellphones to conduct surgeries; think about that for a minute. Hospitals were forced to turn away people who were desperate for help.
Every passing day came with a greater sense of urgency. Instead of waking up and things being better than the day before, I woke up and it seemed worse than it was the night before.
Without electricity, Puerto Ricans were cut off. There were urgent requests coming from everywhere, it was like a firehose, I couldn't stop it and I couldn't contain it. This became a passion project for me, and I couldn't stop fielding requests. People would come to my hotel and slip notes under my door, saying can you let my family know I'm OK.
I remember a medical student sending me a message on Twitter that the doctor he was working with wanted to get a critically ill child aboard the U.S. Navy's hospital ship, the Comfort. But the doctors in Puerto Rico knew nothing about how to reach the ship or what kinds of patients it was accepting. That's why people were contacting me to get things done. That's how I realized the power of social media.
It also made me very aware of my role. I've got my own opinions about what went wrong, but I just want to be the guy who with the absolute best intentions and with absolute accuracy tells you what I know, how I was getting the information and what else I want to find out. I wanted to be very, very clear on my lane: prioritize the story of Puerto Rico to people around the world who are watching. That is what I feel my role is, and I want to stay in my lane.
---
Read more:
---
Still, sometimes I had to get involved. That's what happened with Carmelo Diaz, a former tennis coach who'd been living with ALS (Lou Gehrig's disease) for 29 years. I got a message from a random woman in Los Angeles to please check on this man. We walked in there, and he was in bed pouring in sweat — the power was unreliable and he was on a ventilator. With no power the ventilator wouldn't run and he would die. He was desperate to get off the island. The man has no control over his body and would blink his eyes and clack his teeth together to communicate with his wife, who would somehow interpret what he was communicating.
I emailed Team Gleason, a New Orleans organization that supports ALS patients. Full disclosure: journalists are not supposed to be activists, but it felt like the right thing to do as a human being. Within 48 hours they had him on a flight to New Orleans, and now he's in his own home and they built him a speaking machine, like Stephen Hawking, and a man who lived for so many years unable to speak for himself can now speak.
I have felt compassion fatigue. I haven't been able to turn off that firehose of problems that warrant reporting. My only regret then and now has been not being able to tell every person's story and read every message that I still receive on a daily basis. Everyone, as a human being, wants to be heard, especially in Puerto Rico, where people have long felt like second-class citizens.
What Puerto Rico has given me is a great respect for journalism. It is a public service, and too often we take it for granted. But you talk to people in Puerto Rico, and they do not take good journalism for granted. Since Maria it has been a lifeline for them, and that has taught me a valuable lesson. I don't want to let them down or betray my responsibility as a reporter, which is accuracy and fairness always.
---
Thanks for reading CBS NEWS.
Create your free account or log in
for more features.