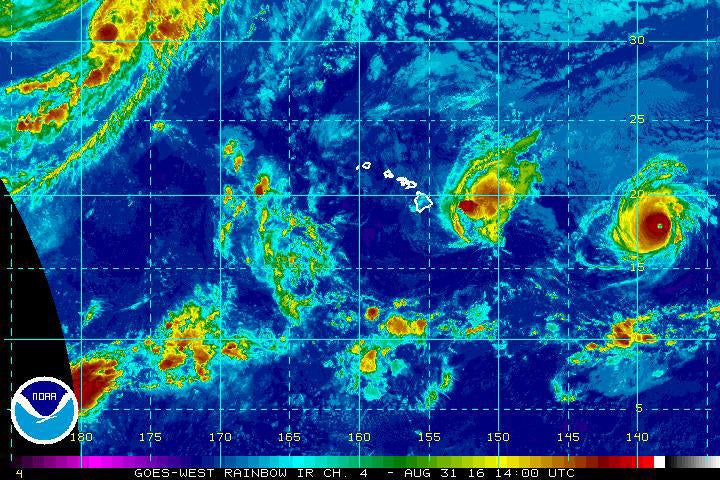 Powerful storms threaten to hit Hawaii with one-two punch
HILO, Hawaii -- Merchants boarded up shop windows Wednesday along Hilo Bay, and shoppers snatched supplies of food and water from grocery store shelves as what could be the first hurricane to hit Hawaii in a quarter-century neared the island.
Forecasters have downgraded Hurricane Madeline to a tropical storm as it veers past Hawaii's Big Island.
The storm was downgraded Wednesday by the National Weather Service as its winds decreased to 70 mph.
Its center isn't expected to make landfall on any Hawaiian island.
Still, the Big Island and Maui County were under tropical storm warnings, with officials saying heavy rains and strong winds were possible.
Meanwhile, Hurricane Lester was hundreds of miles behind Madeline and expected to drop to a tropical storm by Sunday.
CBS Honolulu affiliate KGMB-TV reports that Madeline could be worse than Tropical Storm Iselle in 2014, which toppled hundreds of albizia trees on the Big Island and caused an estimated $79 million in damage.
Officials urged residents to expect hurricane conditions and to take steps to protect themselves and their property.
"Hopefully our roofs stay on, and our houses don't float way or get blown away," said Big Island resident Mitzi Bettencourt, who boarded up walls of glass windows at her brother's oceanfront home. "It's like, 'Oh my God, are we going to get flattened or what?'"
Elsewhere, the National Hurricane Center said Tropical Storm Hermine had formed in the Gulf of Mexico and was centered about 400 miles from Tampa, Florida. It was expected to pick up speed and approach the northwest Florida coast Thursday afternoon. A warning was dropped about a tropical depression that had been moving toward North Carolina.
In Hawaii, Peggy Beckett, a retiree and beekeeper, stopped at a Hilo supermarket to pick up onion bagels, cheese, cold cuts and salad to add to her canned food at home. She also has a cooler with ice plus a portable burner and batteries to get her through the storm.
Noting the lines of people at the market, Beckett said people were getting prepared but weren't panicking.
"There's always a lot of disbelief on the island that the storms will really be as big and bad as forecast," she said, noting that she and her partner had taken precautions to protect their beehives.
Bettencourt manages several vacation rental properties and her own home sits a few blocks from the ocean. She and her neighbors were stocking their pantries, stowing lawn furniture and preparing for power outages.
"If they're not prepared now, they should get prepared fast," said Chevy Chevalier, a meteorologist with the weather service.
The previous hurricane to make landfall in Hawaii was Hurricane Iniki in 1992, which hit Kauai, Chevalier said.
A Pacific hurricane, called Lester, was far from Hawaii, and expected to weaken to a tropical storm as it passes the state.
Gov. David Ige has issued an emergency proclamation for both storms, allowing the state to quickly spend money. Schools were closed and about a dozen facilities were outfitted as emergency shelters.
President Obama is scheduled to visit Oahu this week. The White House was tracking the weather but didn't anticipate changing Mr. Obama's schedule.
The Hawaiian islands of Maui, Molokai and Lanai were under a tropical storm watch, but there were no alerts for Oahu or Kauai.
On the Big Island, Hawaii Volcanoes National Park was closing some areas, including a coastal lava viewing site.
The U.S. Coast Guard asked crews of barges and ships to prepare to leave Hilo Harbor and told ocean-going vessels to seek sheltered waters until storm conditions subside.
Thanks for reading CBS NEWS.
Create your free account or log in
for more features.