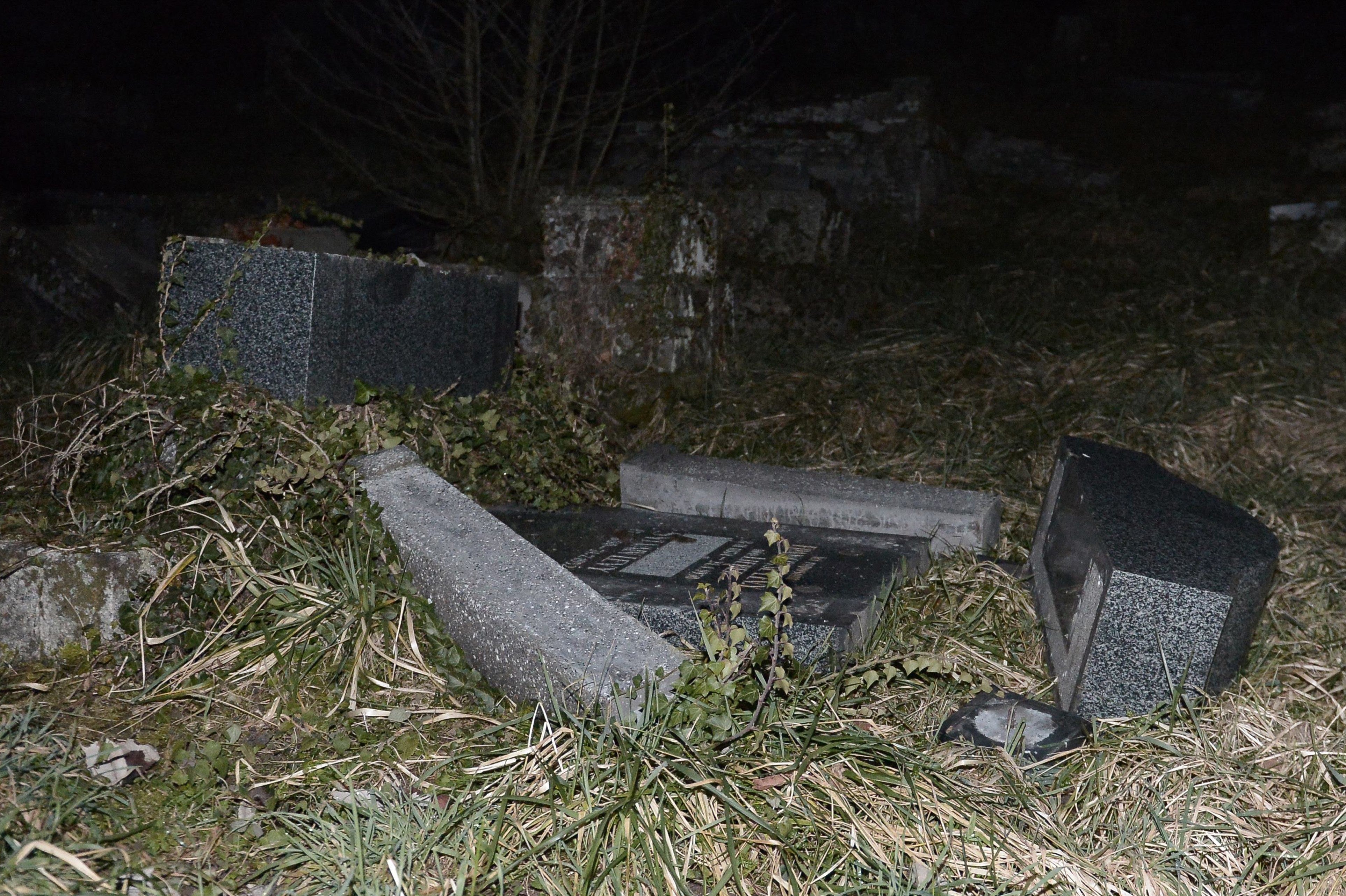 Hundreds of graves desecrated at Jewish cemetery in France
PARIS -- Hundreds of graves have been vandalized at a Jewish cemetery in eastern France, in what the president called an "odious and barbaric" anti-Semitic act against French values.
Images posted to social media purported to show Nazi swastikas painted on some grave stones at the cemetery:
The vandalism comes at a time of growing insecurity among French Jews and amid general religious tensions in Europe, after Islamic radicals attacked a kosher market and a satirical newspaper in Paris last month and similar attacks hit Denmark this weekend.
French Interior Minister Bernard Cazeneuve said in a statement Sunday that a criminal investigation team is at the damaged cemetery in Sarre-Union, near the German border, and authorities will do "everything" to pursue the vandals.
Jewish and Muslim gravesites and places of worship in France see sporadic but frequent vandalism. The incident this weekend was of an unusually large scale, and hit a cemetery that has been vandalized in the past. Local media reported that about 200 grave stones were knocked down, and a monument to Holocaust victims was damaged.
French President Francois Hollande said in a statement that "France is determined to fight relentlessly against anti-Semitism and those who want to attack the nation's values."
Hollande visited the Danish Embassy in Paris on Sunday, and a crowd waving candles gathered to show solidarity with the victims of the Copenhagen attacks.
"We need stand together in Europe and in all the world wherever jihadis try to threaten democracy," said Sacha Reingewirtz, president of the Union of Jewish Students of France.
Many French Jews feel increasingly worried about anti-Semitism, particularly coming from young Muslims who embrace radical ideology propagated online.
France has Europe's largest Jewish population, about half a million. More than 7,000 emigrated to Israel last year.
France's leading Muslim groups denounced the attacks in Paris and Copenhagen, and are frustrated that Islam is often associated with terrorism.
Thanks for reading CBS NEWS.
Create your free account or log in
for more features.