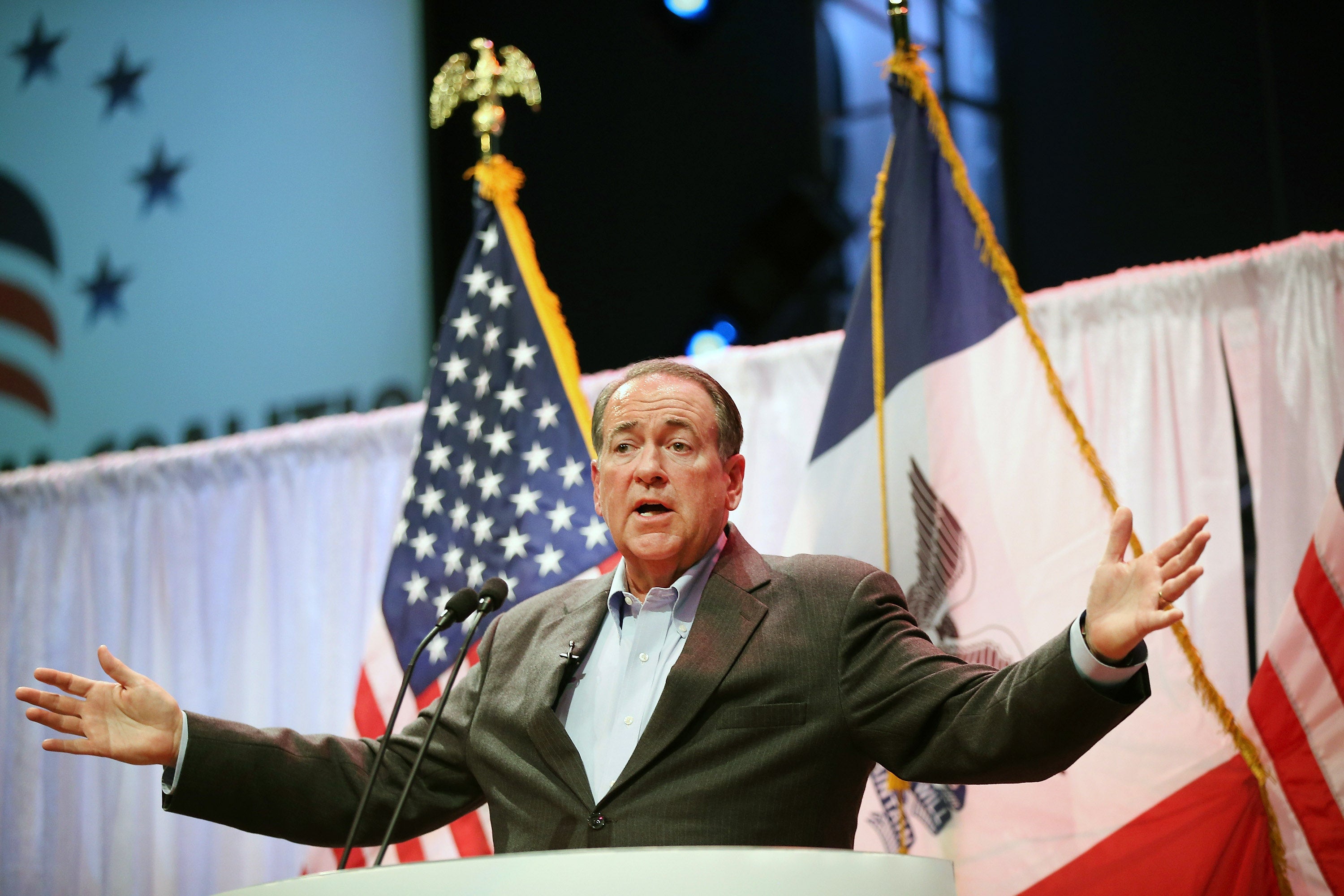 Huckabee: Same-sex marriage opponents "will go the path of" MLK
Republican presidential candidate and former Arkansas governor Mike Huckabee believes that despite Friday's historic Supreme Court ruling, people of faith will continue to fight against same-sex marriage using civil disobedience tactics -- following in the footsteps of Dr. Martin Luther King and the Civil Rights Movement.
When asked Sunday whether he supported civil disobedience in the wake of the Supreme Court decision legalizing same-sex marriage in all 50 states, Huckabee said that he didn't think Christians were "going to have a choice."
"They either are going to follow God, their conscience and what they truly believe is what the scripture teaches them, or they will follow civil law," the former Baptist preacher told ABC News. "They will go the path of Dr. Martin Luther King, who in his brilliant essay the letters from a Birmingham jail reminded us, based on what St. Augustine said, that an unjust law is no law at all. And I do think that we're going to see a lot of pastors who will have to make this tough decision."
Others in the GOP have weighed in on the issue since the Court's ruling, and while several err on Huckabee's side, one prominent Republican has said that it's "time to move on" from the same-sex marriage fight.
"I do believe in traditional marriage and the court has ruled and it's time to move on," Ohio Gov. John Kasich said on CBS' "Face the Nation" Sunday, adding that there's "so many other things now that we have to focus on."
Kasich, who has not yet officially announced a bid for the White House in 2016, has said that despite his personal opposition, he would abide by the ruling because "it's the law of the land."
"I think everybody needs to take a deep breath to see how this evolves," the Republican governor, who was the named defendant in the original lawsuit brought by Jim Obergefell over same-sex marriage, said. "But I know this. Religious institutions, religious entities - you know, like the Catholic church - they need to be honored as well. I think there's an ability to strike a balance."
Huckabee too predicted that Christian business owners, university presidents, school administrators, and even county clerks in charge of granting marriage licenses would struggle against the decision. The GOP contender added that "if they have a conscientious objection, I think they should be excused."
"Are we going to now discriminate against people of conscience, people of faith who may disagree with this ruling? Are they going to be forced, either out of business, like the florist, the caterers, the photographers?" Huckabee asked. "Are we going to trade one level of what's called discrimination for a new level of discrimination against people of faith?"
The White House hopeful added that he doesn't believe that state officials like the governor or attorney general "should just say, well, it's the law of the land." Huckabee added that there's no enabling legislation.
Several states have a constitutional amendment affirming traditional marriage, Huckabee said, with "overwhelming majorities of the people who voted to say that they believe marriage is between a man and a women."
Thanks for reading CBS NEWS.
Create your free account or log in
for more features.