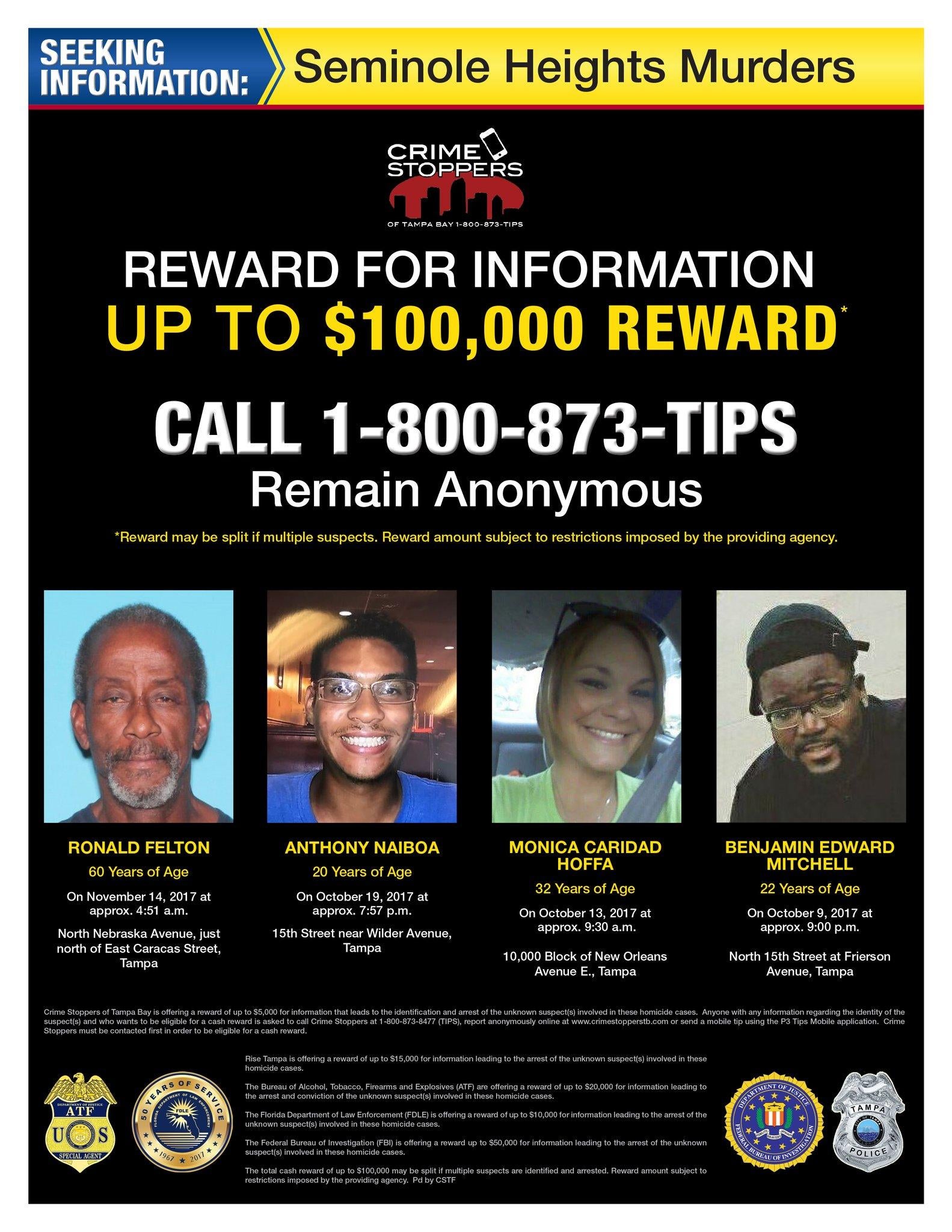 Man arrested, to be charged in string of Tampa murders
Tampa police said Tuesday night they had arrested a 24-year-old man and that he would be charged with murder in four shooting deaths in the Seminole Heights neighborhood that had stoked fears of a serial killer in the area.
Howell Emanuel Donaldson III, 24, will be charged with four counts of first degree, premeditated murder in the killings of Benjamin Edward Mitchell, Monica Caridad Hoffa, Anthony Naiboa and Ronald Felton, Tampa police chief Brian Dugan said in a press conference Tuesday.
Donaldson was taken into custody Tuesday afternoon at a McDonald's after another employee said he handed a gun to a manager, who then reached out to an officer in the building, CBS affiliate WTSP reports.
"When I think I found out there was a gun, and when we looked at his description, it was a little more than what we really had," Dugan said. "It just felt right. I kinda had a feeling that we were going to get a break."
Investigators are still determining Donaldson's connection to the neighborhood, Dugan said.
"We're not sure why he was in this neighborhood," he said. "We're not aware what he ties are and we don't know what his motive is. But there is a lot more to go."
CBS News correspondent Manuel Bojorquez reports that Donaldson is from the Tampa area, but also has connections to New York. The New York Police Department confirmed overnight that he was arrested in Manhattan in 2014, but they wouldn't say for what. He also attended Saint John's University in Queens.
Police have been searching for the person - or people - responsible for shooting and killing four in the Seminole Heights neighborhood since Oct. 9. Police have said the shootings happened within close proximity to one another, aren't robberies and could be the work of a serial killer.
Police had increased patrols in the neighborhood and released surveillance videos of a hooded suspect. In a security video taken moments after 22-year-old Benjamin Mitchell became the first victim on Oct. 9, the suspect is running from the scene.
"I've come up with four reasons why this person is running," Dugan said last month. "One, they may be late for dinner. Two, they're out exercising. Three, they heard gunshots. And number four, they just murdered Benjamin Mitchell."
Two days after Mitchell was shot, Monica Hoffa, 32, was gunned down. And on Oct. 19, Anthony Naiboa, 20, was shot after taking the wrong bus home from his new job. Police patrolling nearby heard the gunshots and rushed to the scene to find Naiboa dead.
Police found the body of Ronald Felton, 60, in the street on Nov. 14. Police said Felton had been walking across the street to meet someone when the gunman came up behind him and fired.
Seminole Heights is a working-class neighborhood northeast of downtown Tampa that's slowly becoming gentrified. Run-down homes sit next to renovated, historic bungalows, and trendy restaurants have sprung up near auto body shops.
Residents and business owners have said there are car burglaries and fights between kids, but nothing like this.
The department has received more than 5,000 tips. Dugan says he's optimistic but acknowledged previous leads have led to nothing.
Donaldson's arrest happened during the kick off for the first annual "Light the Heights" event, WTSP reports.
The holiday-themed effort to light every home with Christmas lights is the latest to brighten up the area with light – as well as some holiday cheer.
"We have a goal of having every house in our neighborhood lit up to bring a positive light to our neighborhood," organizer Courtney Bumgarnar told WTSP.
Thanks for reading CBS NEWS.
Create your free account or log in
for more features.