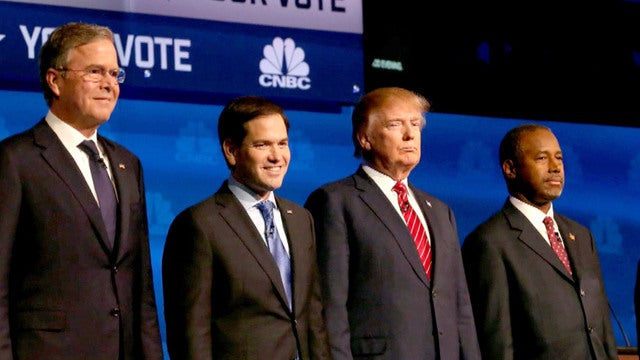 How to watch Tuesday night's Republican debate
On Tuesday night, Fox Business Network and the Wall Street Journal will host the fourth Republican presidential debate at the Milwaukee Theatre in Milwaukee, Wisconsin.
Like the previous GOP debates, the field will be split into two groups for two separate debates airing at different times Tuesday. Both debates will focus on taxes, jobs, and the economy in general, as well as other domestic and international policy issues.
---
---
For the main debate from 9pm until 11pm ET, the moderators will be Fox Business Network's Maria Bartiromo and Neil Cavuto and Wall Street Journal Editor-in-chief Gerard Baker.
Eight candidates will participate on the main debate stage: Donald Trump, Ben Carson, Marco Rubio, Ted Cruz, Jeb Bush, Carly Fiorina, John Kasich and Rand Paul. They each had to score 2.5 percent or higher in an average of the four most recent national polls.
Fox Business Network anchors Trish Regan and Sandra Smith and Wall Street Journal Washington Bureau Chief Gerald Seib will moderate the lower-tier debate from 7pm to 8pm ET.
Chris Christie and Mike Huckabee, who had each participated with the top-tier candidates in the three prior primetime debates found themselves bumped down into the lower tier this time around. They'll join Bobby Jindal and Rick Santorum for the undercard debate Tuesday evening.
For the first time during the race, former George Pataki and Lindsey Graham did not qualify for either debate. Former Virginia Gov. Jim Gilmore is not participating either.
Graham will be weighing in during the debate on an app called Sidewire, which bills itself as a mobile-based social platform. The Wall Street Journal notes that posting on Sidewire "is limited to about 300 'newsmakers.'" App users will be able to see Graham's running commentary, but only those newsmakers will be able to ask Graham questions.
---
→ What: Fourth Republican presidential debate
→ Time: 7pm ET for undercard debate, 9pm ET for top-tier debate
→ Where to watch/listen:
→ On TV: Fox Business Network
→ On computer: foxbusiness.com and wsj.com
→ On mobile: WSJ mobile app, Fox Business Go and Fox News apps
---
Fox Business Network has also coordinated with cable and satellite providers to unbundle the channel for viewers nationwide during the debate.
Bartiromo and Cavuto told Politico they're going to conduct the debate differently from the third GOP presidential debate that CNBC hosted last month. The moderators were criticized for the questions they asked and some of the presidential candidates waged a brief revolt because they weren't satisfied with general debate rules and formats.
Cavuto told Politico his goal is to "make myself invisible" so that the moderators are not the focus of the debate.
The debate comes as Carson, who had been beating Trump in recent polls, faces questions about his past and slams the media for scrutinizing some of his claims. And Rubio, who has been climbing in polls, released credit card statements after people began to question how he used a charge card from the Florida Republican Party. Meanwhile, Donald Trump enjoyed the limelight hosting "Saturday Night Live" last weekend.
Thanks for reading CBS NEWS.
Create your free account or log in
for more features.