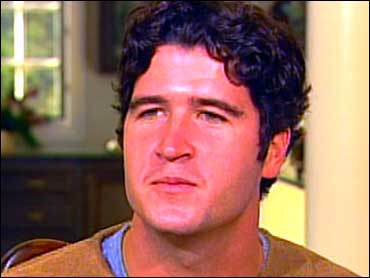 Hoop Dreams In Northern Ireland
Sean Touhy's been playing basketball all of his life, often against his older brother, Brendan. Even now, at the age of 27, he can remember his childhood dream.
"Shooting guard for the Utah jazz. That's what I wanted to do," Touhy says. "It's always been my dream."
He was captain of the Catholic University basketball team in Washington, D.C., his hometown. After graduation, the great-grandson of Irish immigrants got an offer to play professional basketball -- not in the NBA, but in Northern Ireland.
"I was following my dream to play basketball," he says. "I was in the lowest league in Ireland. And on that way, a new dream, an even bigger dream, was put in front of me."
Fast-forward to a damp winter morning when Tuohy led a group of Americans through the fog in Dungarvan, Northern Ireland. A group of children jumped off their school bus and trudged up the hill to the local leisure center. It may not have been apparent, reports CBS News Sunday Morning's Charles Osgood, but history was being made there.
The children all live in the same small village, but they never had played together. The kids in the brown and yellow uniforms attend Blesses Patrick O'Loughran, a Catholic school. Those in street clothes go to Walker Memorial, and they are all Protestants. Their teachers say that in that part of the world, that's all that matters.
"In a normal time, these children wouldn't probably have any opportunity to interact," says Rosin Ferguson.
Davina Stewart says, "I suppose the two different cultures don't mesh an awful lot. Each side has their own sports that they would be involved in. At our school, the boy's would go to a boy's brigade, which is for Protestant children only."
But not on the day CBS News Sunday Morning visited. The children were brought together by Sean Tuohy to play the very American game of basketball. Colored bibs covered their clothes to help blur their differences. And they played on mixed teams.
The program is called "Playing for Peace."
Touhy got the idea while running basketball clinics when he played professional ball in Ireland. He noticed that religion didn't seem to matter on the basketball court.
"This game, I believe, it has power," says Touhy. "It has the ability to take kids' minds away from anything."
Playing for Peace is sort of a Peace Corps with basketballs. In the last two years, more than 7,500 Northern Irish children have taken part in the program. Touhy recruited young Americans, such as Lisa Goboleski, to coach there.
The first things she discovered was that Catholic and Protestant kids play different sports.
"The Irish kids, or the kids who see themselves as Irish, like to play the Gaelic sports, or the hurling," explains Goboleski. "Whereas those who are Protestant … they identify with the British, like to play rugby, or hockey or something like that. So, I think the preconceptions are basically that they know those who are opposite them are different. And they think, they see that difference as a negative difference."
Basketball is relatively new in Ireland, and it isn't identified with any religion.
"This game has taken their minds off the fact, for a second, that they are not supposed to like each other," says Touhy.
Disliking each other is a way of life in Northern Ireland. Starting in 1969, more than 3,000 people were killed in sectarian violence. While much of that violence has subsided, the bitterness remains. Walls constructed to separate warring Catholic and Protestants still scar the countryside. One in Belfast is now a tourist attraction, but it still divides people.
In the Shankhill Road area, wall murals honor fallen Protestant paramilitaries. In Catholic Ballymurphy, the martyrs of the Irish Republican Army occupy a place of honor. Children walk by the murals every day.
To counter aggression against each other, Playing for Peace convinced scores of Catholic and Protestant schools to come together in what is called "Twinning Sessions." Then they invite the kids back to play on clubs after school.
This past Christmas, several hundred Protestant and Catholic kids traveled together from all over the north to play in a Christmas tournament. On the bus and in the games, religion didn't seem to matter. Yet American coach Zack Leverenz says the bigotry of the past does occasionally appear.
He says one boy suddenly stopped going to the after-school sessions and "he had ran away from school because he had been beaten up and was being threatened and harassed by his classmates. He's a Protestant and it was his Protestant classmates who were doing the harassing. And the reason for this was that he had met and befriended a girl at the club session, who was Catholic. They've been spending some time together not only inside the session but outside, getting to know each other and playing basketball.
American coaches John Ginnity and Pat Maloney work in Derry, in the western part of the province. They are unfazed by the fact that in 1972, an IRA bomb killed nine civilians not far from where they were walking. They say most of the children see the world differently than their parents.
"Basically, with the ages we deal with, the 9- and 10-year-olds, you know, most of them are too young to really have a bias," says Maloney. "They may hear it from their parents, but, you know, 9- and 10-year olds hear a lot of things from their parents. We put them in a fun situation in a fun environment where they are always moving and you know they're interacting. You put the Protestants and the Catholics on the same team. You say here, go score. You have to pass him the ball if you want so score. So, they'll forget about it real quick."
Playing for Peace is a family affair.
Sean Touhy's younger brother, Devin, has coached in Northern Ireland. Older brother Brendan quit his job to run the program in Washington, D.C., out of their father's law office.
"This idea that children who learn to play together is a very simple one, but it's also powerful," Brendan said at a fund raiser.
While Sean travels the world, Brendan raises the money -- hundreds of thousands of dollars. He first collected money from friends, later from corporations and foundations, including the NBA. The program extends beyond Ulster. It can be found at another place where hatred has kept kids apart -- South Africa.
"In the past three and a half years, we've worked with over 10,000 kids in South Africa," says Brendan. "We have a league that kids from 100 schools are involved in. We've built 35 courts and we've just implemented an AIDS awareness program in conjunction with the Harvard School of Public Health and the University of Natal. Kids are coming together. Kids who never see each other are coming together."
Sean Touhy moved to Durban, South Africa, after a Northern Irish police commander suggested basketball might help bring together children of different races.
"I was living in an apartment in probably the worst area of the city," he remembers. "I was seeing prostitutes get beat up … I've seen drug dealers. The Nigerian drug lords were all around me. I was entrenched in absolute chaos."
Now the chaos is trying to organize 100 black and white children playing in a weekend tournament in Durban. South Africans run the program there. And, the Nelson Mandela Foundation recently donated $100,000. The Touhy brothers hope to take Playing for Peace to the Mideast, the Balkans and elsewhere.
"Sports is such a wonderful tool for kids, to teach life's lessons," says Brendan Touhy. "So if there's going to be changes in these societies, it's not going to come from adults. It's going to come from kids."
Sean Touhy remembers some dramatic moments before one game. He says, "Two months ago, we brought a black school, a white school, an Indian school and a colored school out to a township school for a match. All the buses pulled up to the township school. The kids got off. And you could hear a pin drop. I mean everyone was nervous.
"And these three little kids started singing this song. And I swear that the heavens opened up this day. And one of the township coaches who works for us was surprised they were singing that song. And I asked 'Well, what were they singing?' He's like, 'This is the most like ritualized apartheid song.' I was like, 'What are they saying?' He said, 'We're surrounded in darkness. Everywhere is darkness. But now I see a light.'"
In the United States, 64 men's and women's teams will be selected to take part in March Madness -- the road to the Final Four College Basketball Championship. In South Africa and in Northern Ireland, they'll also be playing basketball this March. But, they'll be playing for an even greater prize.
"What better time in the world," says Sean Touhy, "when everyone's at war, than to start Playing for Peace."

Thanks for reading CBS NEWS.
Create your free account or log in
for more features.