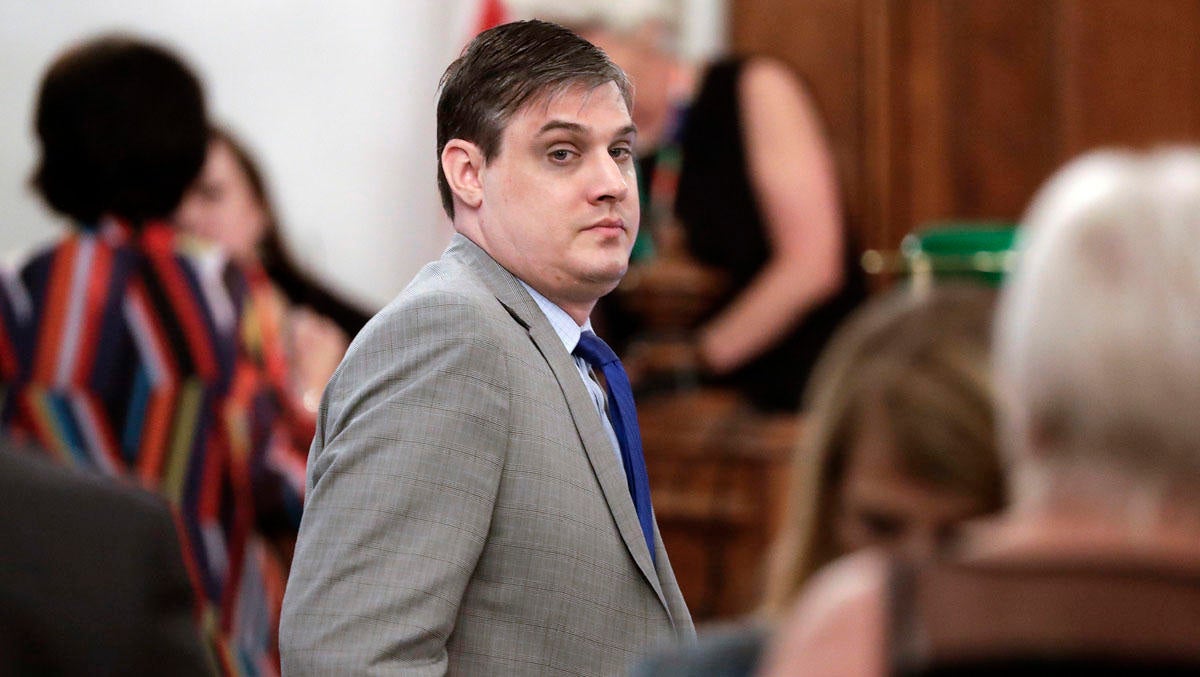 Holly Bobo trial verdict: Guilty verdict for Zachary Adams in 2011 slaying
SAVANNAH, Tenn. -- The man accused of kidnapping, raping and killing a Tennessee nursing student has been found guilty of murder and aggravated rape in the 2011 slaying of Holly Bobo.
Zachary Adams, 33, has been standing trial in Savannah, Tenn. in the slaying of 20-year-old Holly Bobo, who vanished from her Parsons home on April 13, 2011. Two ginseng hunters found her remains 3 ½ years later in woods in Decatur County, about 100 miles southwest of Nashville.
A sequestered jury of six men and six women who heard the case in a Savannah courthouse began deliberating Thursday afternoon, the trial's 10th day. Judge C. Creed McGinley moved the trial to Hardin County in search of an unbiased jury.
The same jury will decide if Adams will get the death penalty.
Bobo's brother Clint testified that on the day of his sister's disappearance, he saw an unidentified man wearing camouflage leading her into woods behind the family's home. Prosecutors said Adams was involved in the "dark world" of methamphetamine and morphine when he and two other men abducted Bobo, held her against her will, raped her, killed her and hid her remains.
In his closing argument Thursday, prosecutor Paul Hagerman said the testimony of star witness Jason Autry pointed to Adams' guilt. Autry testified he helped Adams move what he thought was Bobo's body wrapped in a blanket, and when she moved – indicating she was still alive -- acted as a lookout as Adams shot her by the Tennessee River.
"She was never gonna come out of that blanket alive, not a chance," Hagerman said. "[Autry] knew just how guilty he was, just how guilty they all were – and for years, he kept his secret."
Hagerman said Autry came clean to investigators in late 2016. Autry and Adams' brother, John Dylan Adams, also are charged with kidnapping, raping and killing Bobo. A fourth man, Shayne Austin, was also charged in the case. Austin was found dead in a Florida hotel room in what police said was an apparent suicide in February 2015.
In his closing argument, Hagerman said it was Austin who walked with Bobo into the woods. Then Austin and the Adams brothers raped Bobo in Austin's grandmother's barn, Hagerman said.
The names of all four men had surfaced early in the investigation, Hagerman said, but a former Tennessee Bureau of Investigation lead detective became convinced a sex offender was responsible for the killing and "didn't listen" to the clues that pointed to Adams as the killer.
Hagerman pointed to incriminating statements Adams made to friends and jail inmates about Bobo.
Friend Anthony Phoenix used an expletive to describe how Adams told him that he "couldn't have picked" a prettier woman. Christopher Swift said Adams asked him if God would forgive him for the "Holly killing," while they were both jailed together.
He also referenced a gun in Bobo's killing months before her remains were found and her cause of death was determined to be a gunshot wound to the head, Hagerman said.
But a defense attorney countered in a more than two-hour closing argument that the state's case is "absolutely full of holes" and is based on "non-evidence" against her client. Jennifer Thompson said Autry made up a story three years after his 2014 arrest and "sold" it to the government in hopes of avoiding the death penalty.
Hagerman argued that Autry's story had been "corroborated, corroborated, and corroborated again" by testimony. But Thompson said Autry already knew of evidence accumulated in the case and could have used that to pepper his story with elements of truth. She said Autry was too street smart to allow himself to be manipulated into helping Adams dispose of Bobo's body even though he says he wasn't involved in the rape, abduction or murder.
She said a rational person "wouldn't automatically put themselves in the middle of a murder with a dead body if they don't have to."
Thompson said there's no question that people involved in the case are "talkers" and noted that Adams was a meth user.
"Zach Adams has said some stupid things over the years," Thompson said. "That does not mean he killed Holly Bobo."
Bobo's family was in court throughout the emotional trial. Bobo's mother Karen at one point collapsed, sobbing, as she testified.
Bobo's father was seen putting his arm around his wife during Hagerman's closing statement Thursday.
Thanks for reading CBS NEWS.
Create your free account or log in
for more features.