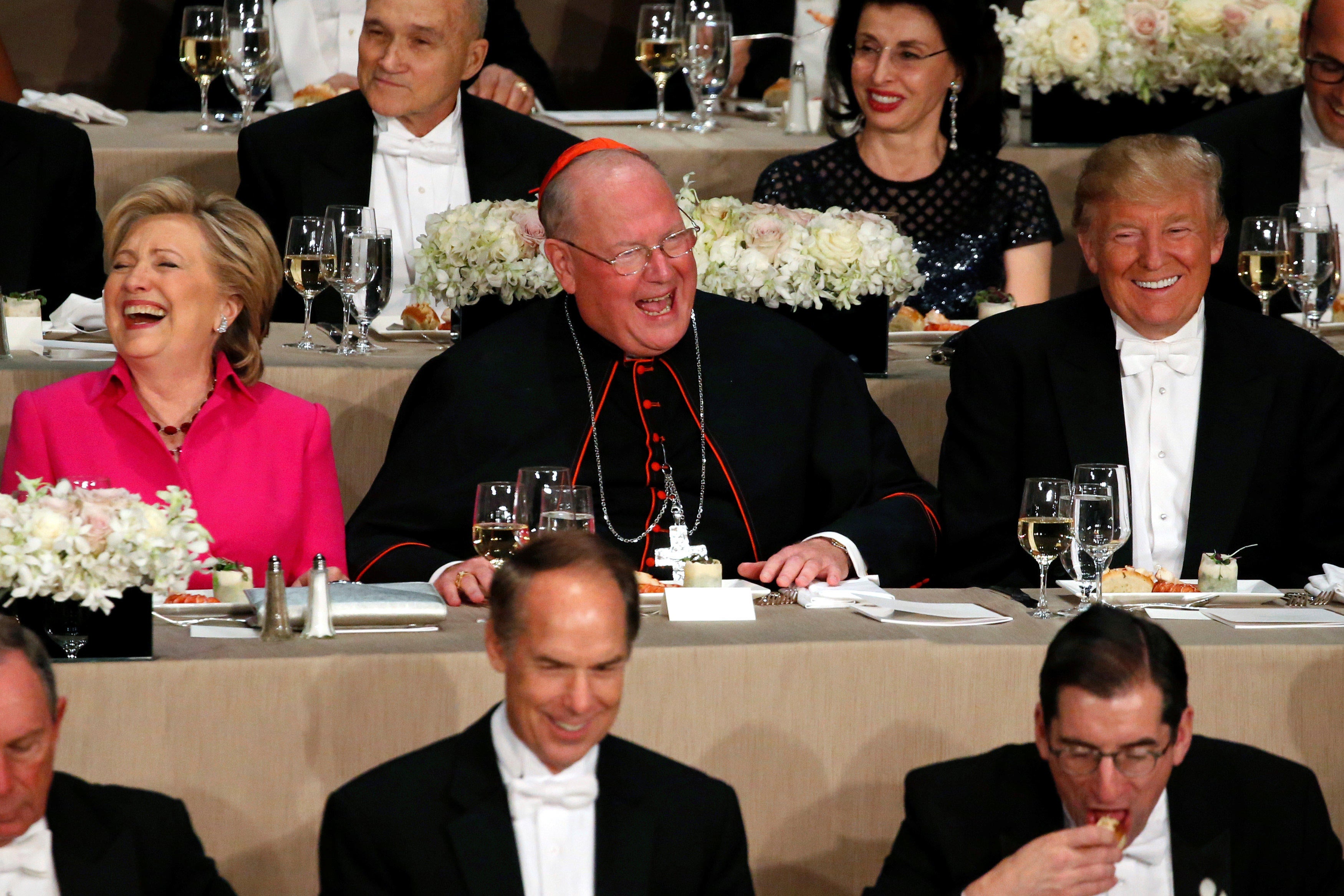 Clinton, Trump try awkward humor at Al Smith Dinner
One night after they faced off in one of the most vitriolic debates in recent political history, Hillary Clinton and Donald Trump shared the stage again—at a charity dinner intended to be a moment of levity in the final weeks of a tough campaign.
At the 71st Alfred E. Smith Dinner in New York City, an annual Catholic charity event that has seen its fair share of presidential candidates over the years, both candidates tried their hand at some campaign season humor. Trump, in the process, found himself getting booed for some of his jokes about Clinton.
Separated at their table by just one person -- Cardinal Timothy Dolan, the Archbishop of New York -- the pair laughed their way through the evening. And Clinton and Trump did in fact shake hands after Clinton finished speaking, which is more than they did in Las Vegas the previous night.
Trump, who spoke first, began by joking about his modesty and his temperament.
"You know they say when you do this kind of an event you always start out with a self-deprecating joke," he said. "Some people think this would be tough for me, but the truth is -- the truth is, I'm actually a modest person, very modest, it's true. In fact, many people tell me that modesty is perhaps my best quality. Even better than my temperament."
He made light of the fracas over the fact that his wife, Melania, plagiarized parts of Michelle Obama's 2008 convention speech when she spoke at the GOP convention in Cleveland this July.
"The media is even more biased this year than ever before, ever," he quipped. "You want the proof? Michelle Obama gives a speech and everyone loves it, it's fantastic. They think she's absolutely great. My wife Melania gives the exact same speech and people get on her case."
When Trump moved on to other material about Clinton, though, calling her "corrupt," the crowd started booing.
"Hillary is so corrupt she got kicked off the Watergate Commission," Trump said. "How corrupt do you have to be to get kicked off the Watergate Commission?"
He also made reference to the near-daily WikiLeaks dumps that have exposed thousands of emails from her campaign chairman, John Podesta.
"We've learned so much from WikiLeaks -- for example, Hillary believes that it's vital to deceive the people by having one public policy and a totally different policy in private," he said. "...For example, here she is in public pretending not to hate Catholics."
Another Trump joke that was met with boos from the audience was about the Clinton Foundation's activities in Haiti after the 2010 earthquake, a point raised in Wednesday night's debate.
"Everyone knows of course, Hillary's belief that it takes a village," he said, referring to the title of her 1996 book. "Which only make sense after all in places like Haiti where she's taken a number of them."
At the start of Trump's speech, Clinton was laughing and smiling; by the end, she looked more serious.
Clinton opened by making light of the concerns about her health: "This is such a special event that I took a break from my rigorous nap schedule to be here," she quipped.
In a reference to her comment earlier this fall describing Trump supporters as a "basket of deplorables," Clinton told the crowd they all looked so good that "I just want to put you all in a basket of adorables."
Clinton, who spoke after Trump, also made light of the GOP nominee's suggestion at the Wednesday debate that he may not respect the results of the election.
"Come to think of it, it's amazing I'm up here after Donald -- I didn't think he'd be okay with a peaceful transition of power," she joked. "After listening to your speech I will also enjoy listening to Mike Pence deny that you ever gave it."
She also made multiple references to his purported ties to Russia and Russian President Vladimir Putin, at one point noting Trump is "as healthy as a horse -- you know, the one Vladimir Putin rides around on."
Clinton said she and Trump have more in common than he realizes -- for example, that the Republican Party "isn't spending a dime to help either one of us."
"Let's come together, remember what unites us -- and just rip on Ted Cruz," she joked.
Thanks for reading CBS NEWS.
Create your free account or log in
for more features.