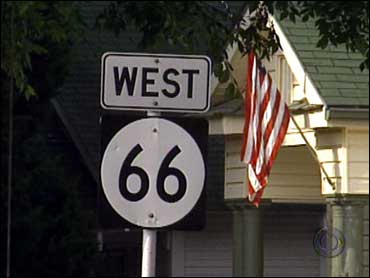 Highways That Changed America
Travel down Route 66. Pass the tractors, beyond the Giant Spaceman and you'll see a site that is nearly extinct: the Riviera Roadhouse, where owner Bob Kraft also lives.
Although the highway is in his blood, Kraft, 83, has never had a driver's license.
"Why not?" asked CBS News correspondent Sharyn Alfonsi, finding Kraft on duty as usual at his well-worn bar.
"Drinking and driving don't mix," he explains. "So the heck with the driving, I drink!"
Fortunately, he didn't have to drive to see the way the Interstate has transformed the country. Kraft had only to look out his front door at Route 66, which went from being America's Main Street to the road less traveled, as a result of the bill creating the Interstate Highway system signed into law by President Eisenhower on June 29, 1956.
At the time, it was a revolutionary idea, meant to bring Americans closer together – which it has, although it might not look the way its engineers envisioned way back when.
The 46,000 miles of highway that connects San Francisco to New York is viewed as the most successful improvement of our nation's infrastructure.
"It's wonderful," says Columbia University historian Kenneth T. Jackson. "I can drive a thousand miles to my hometown and I don't have to stop for a red light."
Jackson also says the highway that was supposed to bring us closer together actually pushed us farther apart, as suburbs blossomed, quirky signs for roadside stands disappeared, and American became dependent on cars and fast food.
"We now drive much more," says Jackson. "We don't want to walk anymore… it's helped undermine our sense of community. It really killed the Mom and Pop stores in the United States."
Before the Interstate, McDonalds had just 14 restaurants; today, there are 13,000.
America's landscape will never be the same again.
But the romance of Route 66 lingers, with nostalgia the fuel of choice.
About 65 percent of the travelers motoring across Route 66 today are from other countries.
"This is the America they've only seen in the movies," says an enthused John Weiss, who with his wife, Lenore, heads up a historical group that works to preserve the road's beloved landmarks.
It's an America that many Americans have never seen at all.

Thanks for reading CBS NEWS.
Create your free account or log in
for more features.