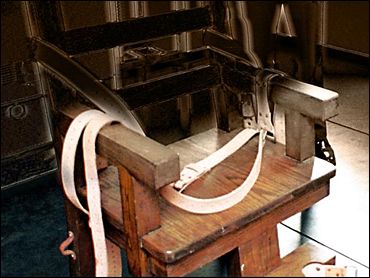 High Court Electric Chair Ruling
The Supreme Court rejected an appeal Tuesday that called death in Alabama's electric chair a type of "cruel and unusual punishment" the Constitution forbids.
The justices, by a 5-4 vote, turned away Alabama death row inmate Robert Lee Tarver's contention that his state's "antiquated" electric chair exposes him to a risk of "excessive burning, disfigurement and...pain and suffering."
The brief order means state officials are free to set a new execution date for him. It is unclear whether the court will use some other case to review the legitimacy of electrocutions and whether such review will be granted before Tarver dies in the chair.
Justices John Paul Stevens, David H. Souter, Ruth Bader Ginsburg and Stephen G. Breyer voted to hear arguments in Tarver's case, but five votes are needed to grant such review.
Chief Justice William H. Rehnquist and Justices Sandra Day O'Connor, Antonin Scalia, Anthony M. Kennedy and Clarence Thomas voted against Tarver.
Alabama officials had urged the nation's highest court to reject his appeal, saying death in the electric chair is almost painless and instantaneous.
Tarver was to have been electrocuted earlier this month but the justices ordered his execution delayed just hours before it was to take place.
Alabama is just one of three states that use the electric chair as their sole means of execution. The other two are Georgia and Nebraska.
The Georgia House voted overwhelmingly Monday to phase out electrocution and execute inmates by injection. Legislators said they feared the Supreme Court would ban the electric chair. That legislation now goes to the state Senate.
The court last month canceled its review of Florida's use of the electric chair after the state Legislature passed new legislation providing for death by injection as the primary means of execution. Gov. Jeb Bush signed it into law.
The Supreme Court never has found any specific form of execution to be unconstitutional but Tarver's appeal argued that "a national consensus has emerged rejecting" electrocution. Florida joined Kentucky and Tennessee in moving away from electrocutions in the past two years.
Thirty-eight states have death penalty laws.
"Mutilation, burns and botched executions characterize Alabama's use of the electric chair," Tarver's appeal said.
Of the 98 death row inmates executed across the nation in 1999, 94 were killed by injection. Three were executed and one was killed by cyanide gas.
Tarver, 52, was convicted of the 1984 robbery and murder of Hugh Kite outside the bait shop and grocery Kite owned in Cottonton, near the Georgia line. Prosecutors said Tarver shot Kite several times and stole his wallet.
CBS Worldwide Inc. All Rights Reserved. This material may not be published, broadcast, rewritten, or redistributed. The Associated Press contributed to this report
Thanks for reading CBS NEWS.
Create your free account or log in
for more features.