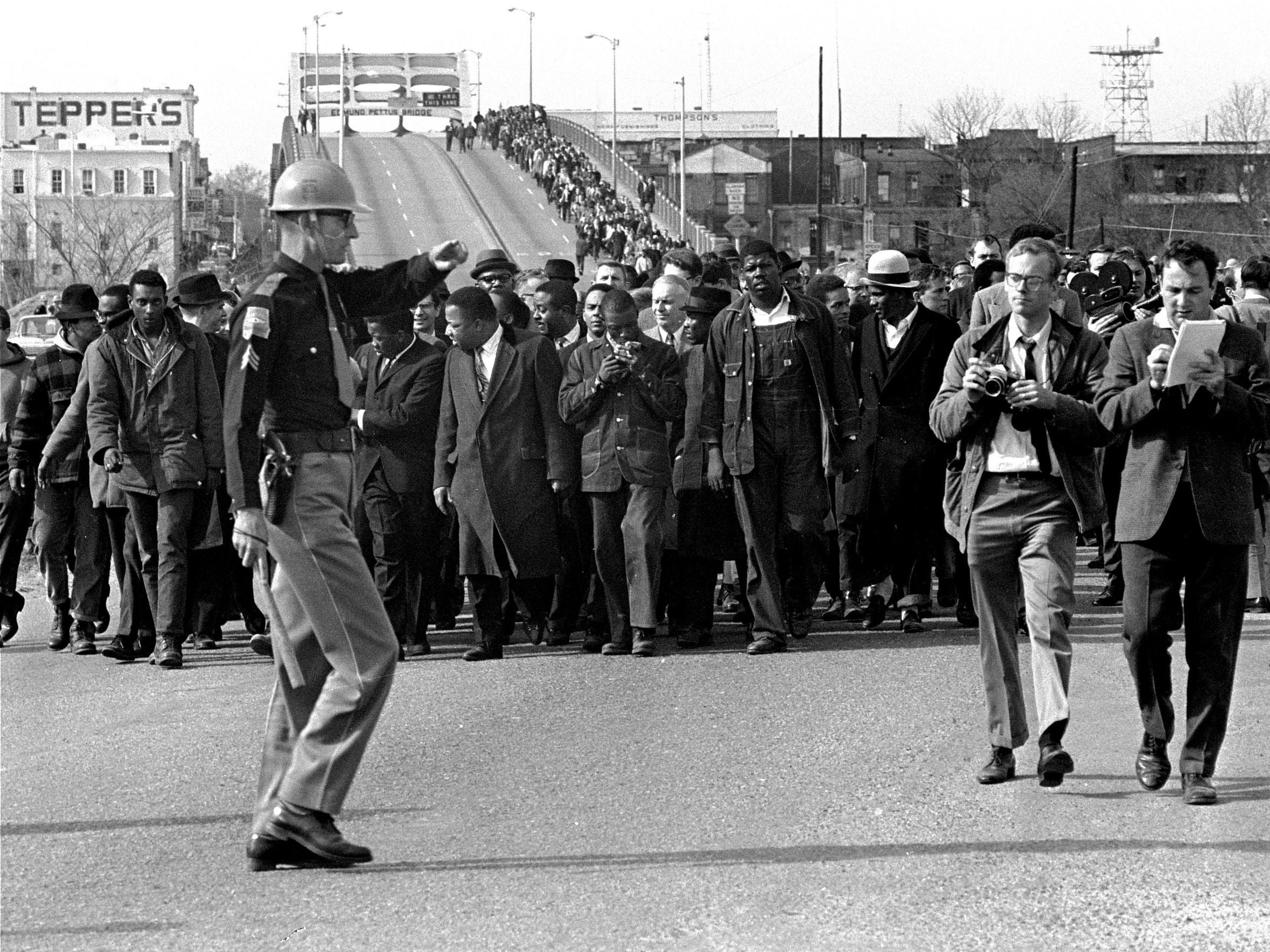 Have the goals of the civil rights movement have been achieved?
By Sarah Dutton, Jennifer De Pinto, Anthony Salvanto, and Fred Backus
Fifty years after the Selma to Montgomery marches, Americans see progress, but 54 percent (including 72 percent of blacks) think only some or none of the goals of Martin Luther King and the 1960s civil rights movement have been achieved. Forty-three percent think most or all of the goals have been met.
The Selma to Montgomery marches of 1965 culminated in the 1965 Voting Rights Act - a landmark piece of legislation that led to the enfranchisement of blacks in the South, who faced multiple barriers to voting despite the guarantees laid out in the 14th and 15th Amendments to the U.S. Constitution.
Looking back, nine in 10 Americans think the Voting Rights Act of 1965 was necessary, including overwhelming majorities regardless of race, political affiliation, age, and region of the country.
And most Americans still think the Voting Rights Act is necessary today, though the percentage is smaller -- 59 percent think the law is still necessary, while 35 percent do not.
But here there are significant differences based on race and political party. Eighty-six percent of blacks think the law is still necessary, compared to 55 percent of whites. And while about eight in 10 Democrats and just over half of independents think the law is necessary today, most Republicans - 52 percent - do not.
In 2013, the Supreme Court struck down part of the Voting Rights Act, overturning the requirement that states with low voter registration and a history of voter suppression get approval from the federal government before changing their election and voting laws. Nearly two thirds of Americans say they don't know enough about the Court's decision to have an opinion on it. Twenty percent agree with this Supreme Court decision, while fewer - 14 percent - disagree.
Photo IDs
Some states now require voters to show a photo ID in order to vote, and Americans overwhelmingly support this requirement. Seventy-nine percent think states should require people to show a valid photo ID before they are permitted to vote. But blacks (31 percent) are twice as likely as whites (15 percent) to oppose this.
Ninety-three percent of Americans say they personally have a government-issued photo ID, including large majorities of people of all races, ages, and income levels. Still, 11 percent of African Americans do not have photo ID, compared to 5 percent of whites.
The justification for requiring a photo ID to vote is in order to prevent voter fraud - that is, people voting who are not eligible to vote. Though just 28 percent think voter fraud happens a lot, another 36 percent think it happens some of the time.
Republicans (37 percent) are twice as likely as Democrats (18 percent) to think voter fraud happens a lot; nearly three in four Republicans think it happens at least sometimes.
Limiting Early Voting Hours
In recent years, some states and counties have pushed to shorten the voting hours and times available for people to vote early and absentee. Americans are divided as to the purpose of these changes. Twenty-three percent think this is an attempt to cut costs, and 21 percent think it is an attempt to make it harder for minorities to vote, while half - 49 percent - don't know enough to say.
There are racial and political differences. While just 16 percent of whites think these reductions are attempts to suppress votes, this rises to 49 percent among blacks. Democrats (37 percent) are far more likely than independents (21 percent) and Republicans (5 percent) to think these reductions are an attempt to make it harder for minorities to vote.
Today, two in three Americans (67 percent) don't think there is any difference between blacks and whites when it comes to voting, though 27 percent think that even today, blacks are more likely to encounter problems when voting.
There are stark differences by race. While nearly three in four whites think blacks and whites are treated the same when it comes to voting, 57 percent of blacks think black Americans have more trouble voting than white Americans.
Most Americans have at least some confidence that their vote will be counted accurately when they cast their ballots, though whites (57 percent) are more likely than blacks (42 percent) to have a lot of confidence.
Few Americans report that they themselves have ever had trouble voting. Just 12 percent of black Americans say they've had trouble voting, compared with seven percent of white Americans.
Race Relations: How Much Progress Has Been Made?
Three in four Americans think there's been real progress since the 1960s in getting rid of racial discrimination. This number has been fairly consistent in recent years, but is 26 points higher than it was in 1992.
Views on progress differ by race, however. Whites (81 percent) are far more likely than African Americans (50 percent) to think real progress has been made. In addition, the percentage of blacks who think there's been real progress getting rid of racial discrimination has dropped nine points, since June 2014, before the deaths of Michael Brown and Eric Garner.
Just over half of Americans (52 percent) say race relations in the U.S. are generally good, up seven points from last December, shortly after grand juries did not indict police officers in the deaths of Michael Brown in Ferguson, Missouri and Eric Garner in Staten Island, New York. Thirty-eight percent of Americans now say race relations are bad.
However, the rise in more positive attitudes about race relations comes largely from white Americans. Fifty-six percent of whites now say race relations are good, up from 47 percent in December. Blacks continue to be more critical. Just a third of African Americans think race relations are good (similar to last December), while most - 58 percent - say they are bad.
Americans - both black and white - rate race relations in their own community much more positively than they rate it in the country as a whole, which has historically been the case. Seventy-nine percent say race relations in their community are good, including 82 percent of whites and 63 percent of blacks.
Looking ahead, opinion is somewhat divided on whether there will ever be an end to racial discrimination. Fifty percent of Americans think there is real hope of ending racial discrimination in the long run, but 44 percent think there will always be a lot of prejudice and discrimination. These views are similar to what they have been in recent years, but more positive compared to the 1990s and in 2000.
Here too, there are sizable racial differences. Sixty percent of blacks think racial discrimination will always exist, compared to just 40 percent of whites.
Blacks and Whites: How Integrated Are We?
How much interaction is there between whites and blacks? Eight in 10 whites say just a few or none of their close friends are black; only 16 percent say half or almost all of their friends are black. Blacks themselves are more likely to have white close friends, although 63 percent have a few or none.
When asked about the racial makeup of their neighborhood, a majority of whites (78 percent) say few or none of the people who live in their immediate area are black. On the other hand, half of African Americans (51 percent) say that half or almost all of their neighbors are white.
President Lyndon Johnson
President Lyndon Johnson signed the Voting Rights Act into law in August of 1965. Looking back at his presidency more generally, Americans view him more positively than negatively. Forty-two percent think he was a very good or good president (including just one percent who say he was one of the greatest), while a third say he was only fair or a poor president. Still, a quarter do not have an opinion.
African Americans are split in their views of President Johnson. Looking at partisan differences, Democrats are more inclined to view President Johnson's presidency positively, while Republicans are divided.
________________________________________________________
This poll was conducted by telephone February 26- March 2, 2015 among a random sample of 1,207 adults nationwide. Data collection was conducted on behalf of CBS News by SSRS of Media, PA. Phone numbers were dialed from random samples of both standard land-line and cell phones.
Additional interviews were conducted with African Americans, who had previously completed a survey as part of a random sample, to yield a sample size of 315 African Americans. 759 whites were interviewed.
The combined African American and non-African American samples were weighted separately to match their group's population characteristics such as gender, age, education, region, marital status and phone use based on recent U.S. Census estimates. The samples were then combined and weighted to the total U.S. adult population.
Thanks for reading CBS NEWS.
Create your free account or log in
for more features.