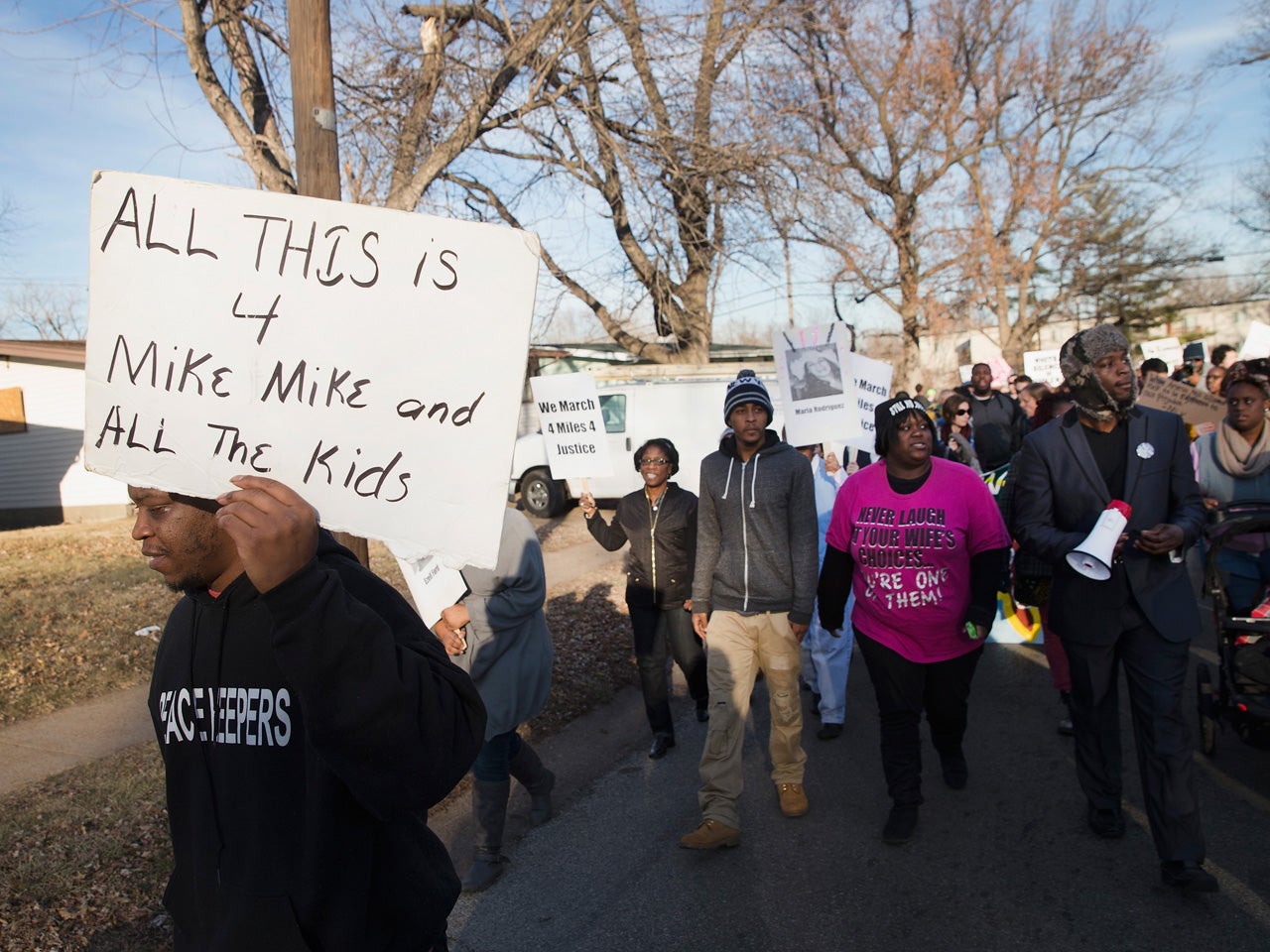 Will Ferguson change after scathing federal report?
WASHINGTON - A Justice Department report says blacks in Ferguson, Missouri, are disproportionately subject to excessive police force, baseless traffic stops and citations for infractions as petty as walking down the middle of the street.
With scathing findings of a months-long investigation being released, attention now turns to Ferguson as the city confronts how to fix racial biases that the federal government says are deeply rooted in the police department, court and jail.
The full report could serve as a roadmap for significant changes by the department, which commanded national attention after one of its officers shot and killed an unarmed black 18-year-old, Michael Brown, last summer. City officials said they expected to discuss the report once it's released Wednesday.
Similar federal investigations of troubled police departments have led to the appointment of independent monitors and mandated overhauls in the most fundamental of police practices. The Justice Department maintains the right to sue a police department if officials balk at making changes, though many investigations resolve the issue with both sides negotiating a blueprint for change known as a consent decree.
The department has conducted roughly 20 broad civil rights investigations of police departments during the tenure of Attorney General Eric Holder, including Cleveland, Newark, New Jersey and Albuquerque. Most of those investigations end with the police department agreeing to changes its practices.
"It's quite evident that change is coming down the pike. This is encouraging," said John Gaskin III, a St. Louis community activist. "It's so unfortunate that Michael Brown had to be killed. But in spite of that, I feel justice is coming."
Others said the federal government's findings confirmed what they had long known and should lead to change in the police department leadership.
Ferguson Police Chief Tom Jackson told CBS News correspondent Dean Reynolds in an interview last month that he believes his department is misunderstood.
"There is not a racial problem in the police department," Jackson insisted.
Among the findings of the report was a racially tinged 2008 message in a municipal email account stating that President Barack Obama would not be president for very long because "what black man holds a steady job for four years."
Brown's killing set off weeks of protests and initiated a national dialogue about police use of force and their relations with minority communities. A separate report being issued soon is expected to clear the officer, Darren Wilson, of federal civil rights charges. A state grand jury already declined to indict Wilson, who has since resigned.
The findings of the investigation, which began weeks after Brown's killing last August, are being released as Attorney General Eric Holder prepares to leave his job following a six-year tenure that focused largely on civil rights. The report is based on interviews with police leaders and residents, a review of more than 35,000 pages of police records and analysis of data on stops, searches and arrests.
A summary provided Tuesday alleges widespread constitutional violations and patterns of bias across the criminal justice system, from encounters with patrol officers to treatment in the municipal court and jail.
It says black drivers are far more likely to be searched than white motorists even though they're less likely to be found with contraband. Nearly all people kept at the city jail for more than two days are black, and of the cases in which the police department recorded instances of use of force, the overwhelming majority involved force used against blacks.
Federal officials describe a climate where inappropriate jokes and racially tinged comments are made. One 2008 message in a municipal email account stated that President Barack Obama would not be president for very long because "what black man holds a steady job for four years."
Overall, African-Americans make up 67 percent of the population of Ferguson, about 10 miles from downtown St. Louis. The police department has been criticized as racially imbalanced and not reflective of the community's demographic makeup. At the time of the shooting, only three of 53 officers were black, though Mayor James Knowles III has said the city is attracting a large pool of applicants to police jobs, including minority candidates.
Benjamin Crump, the attorney for the Brown family, said the report's findings "confirm what Michael Brown's family has believed all along, and that is that the tragic killing of an unarmed 18-year-old black teenager was part of a systemic pattern of inappropriate policing of African-American citizens in the Ferguson community."
Besides identifying discriminatory police practices, the report alleges a culture of distrust between the police and community fueled by the reliance on fines for revenues. It says blacks are overwhelmingly exposed to citations for minor infractions such as walking in the street or disturbing the peace. The physical tussle that led to Brown's death began after Wilson told him and a friend to move from the street to the sidewalk.
The practice hits poor people especially hard, sometimes leading to jail time when they can't pay, the report says, and has contributed to a cynicism about the police on the part of citizens.
The department has conducted roughly 20 civil rights investigations of police departments during Holder's tenure. It's common for federal officials - to issue starkly critical findings about police department practices and to demand extensive changes.
"I'm confident," Holder said of the Ferguson report last month, "that people will be satisfied with the results that we announce."
Thanks for reading CBS NEWS.
Create your free account or log in
for more features.