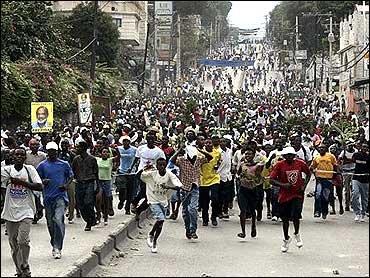 Haiti Election Results Spur Violence
U.N. peacekeepers opened fire Monday on protesters, killing at least one and wounding four, witnesses said. Flaming roadblocks paralyzed Port-au-Prince, and protesters stormed into a hotel where election officials have been announcing results of presidential elections.
Associated Press journalists saw the body of a man in the street in the Tabarre neighborhood, a T-shirt bearing the image of popular candidate Rene Preval soaked in blood. Witnesses said Jordanian U.N. peacekeepers opened fire on them, killing two and wounding four. The body of the second victim was not at the scene.
"We were peacefully protesting when the U.N. started shooting. There were a lot of shots. Everybody ran," said Walrick Michel, 22, one of the pro-Preval protesters. In a phone interview, U.N. spokesman David Wimhurst denied that peacekeepers opened fire.
In the hills above Port-au-Prince, in Petionville, hundreds of screaming protesters stormed into the upscale Montana Hotel, where election officials have announced results of Tuesday's elections. Protesters have alleged the electoral commission is manipulating the vote count to prevent Preval from winning a first-round victory in this battered and impoverished Caribbean nation.
Helicopters landed on the roof to evacuate people, including Nobel Peace Prize laureate Desmond Tutu. At church services Sunday, South African had appealed for calm as election results trickled in. No violence was reported at the hotel.
Preval supporters erected roadblocks throughout Port-au-Prince, paralyzing the capital, to demand that he be declared the winner of Haiti's elections — even as results showed his lead slipping further below the 50 percent needed to avoid a runoff.
Some barricades made of old tires were set ablaze, sending plumes of acrid black smoke into the sky. Protesters let only journalists and Red Cross vehicles pass.
At one roadblock made of old tires and a rusted refrigerator, an unidentified man attacked one of the protesters, hitting him on the head with an iron bar. Some of the 100 Preval supporters scattered in fear while others chased the man. Police took the victim, who was semiconscious and had a large gash on his head, to a hospital.
More Preval supporters came to the roadblock, on a narrow street lined by cinderblock houses, and chanted: "We're not going to accept this. There will be no second round!"
One man screamed hysterically: "If they don't give us the final results, we're going to burn this country down."
With about 90 percent of the vote counted, Preval, who enjoys wide support from Haiti's poor, was leading with 48.7 percent of the vote, Haiti's electoral council said on its Web site. His nearest opponent was Leslie Manigat, another former president, who had 11.8 percent.
Demonstrators supporting Preval erected roadblocks in several parts of Port-au-Prince, including busy areas such as Delmas and Canape Vert, said Wimhurst, the U.N. spokesman.
"There's a lot of security alerts all over town. Our staffers are being told to stay home because they can't get to work," Wimhurst said.
Accusations of ballot mishandling and street protests erupted nearly a week after Haitians voted to restore democratic government to this impoverished Caribbean nation. Some demonstrators threatened violence if Preval isn't declared the winner, chanting: "No Preval, no peace!"
Two members of Haiti's electoral council on Sunday questioned vote counting procedures, while throngs of Preval supporters poured into the streets, chanting angry allegations of fraud.
Electoral council member Pierre Richard Duchemin said he was being denied his rightful access to information about the tabulation process and called for an investigation.
"According to me, there's a certain level of manipulation," Duchemin told The Associated Press, adding that "there is an effort to stop people from asking questions."
Preval supporters blew horns and pounded drums outside electoral council headquarters, denouncing Jacques Bernard, director-general of the nine-member electoral council, as a "thief."
"He doesn't know how to count!" they chanted, as they were blocked from the headquarters by police carrying rifles and shotguns.
Bernard has denied accusations that the council voided many votes for Preval. Blue-helmeted U.N. peacekeepers deployed across the capital and blocked chanting Preval supporters from reaching the Montana Hotel, where the electoral council abruptly canceled a Sunday evening press conference.
Patrick Fequiere, who is also on the nine-member electoral council, said on local radio that Bernard was releasing results without notifying other council members, who did not know where Bernard was obtaining his information.
The elections will replace an interim government installed after former President Jean-Bertrand Aristide was ousted in a bloody rebellion two years ago.
The vote was seen as crucial to avoiding a political and economic meltdown in the Western Hemisphere's poorest nation where, following Aristide's ouster, gangs went on a kidnapping spree and many factories closed because of a lack of security and foreign investment.
Jean-Henoc Faroul, president of an electoral district with 400,000 voters northeast of the capital, accused the electoral commission of trying to force a runoff, saying ballot tally sheets from Preval strongholds have vanished.
"The electoral council is trying to do what it can to diminish the percentage of Preval so it goes to a second round," said Faroul, who openly supports Preval's candidacy.
Wimhurst said tally sheets with vote results have been found dumped in the garbage, but added that the sheets might have been mishandled by election workers and that this was not necessarily evidence of fraud.
He said 136 tally sheets containing the results of possibly thousands of votes had still not been processed at a voter tabulation site in Port-au-Prince. Others were being delivered piecemeal from districts, he said.
Doors were removed from the tabulation center to prevent electoral council lawyers huddling in private, Wimhurst said.
Of 2.2 million ballots cast, about 125,000 have been declared invalid because of irregularities, raising suspicion among Preval supporters that polling officials are trying to steal the election. Another 4 percent of the ballots were blank but were still added into the total, making it harder for Preval to obtain the 50 percent plus one vote needed.
Thanks for reading CBS NEWS.
Create your free account or log in
for more features.