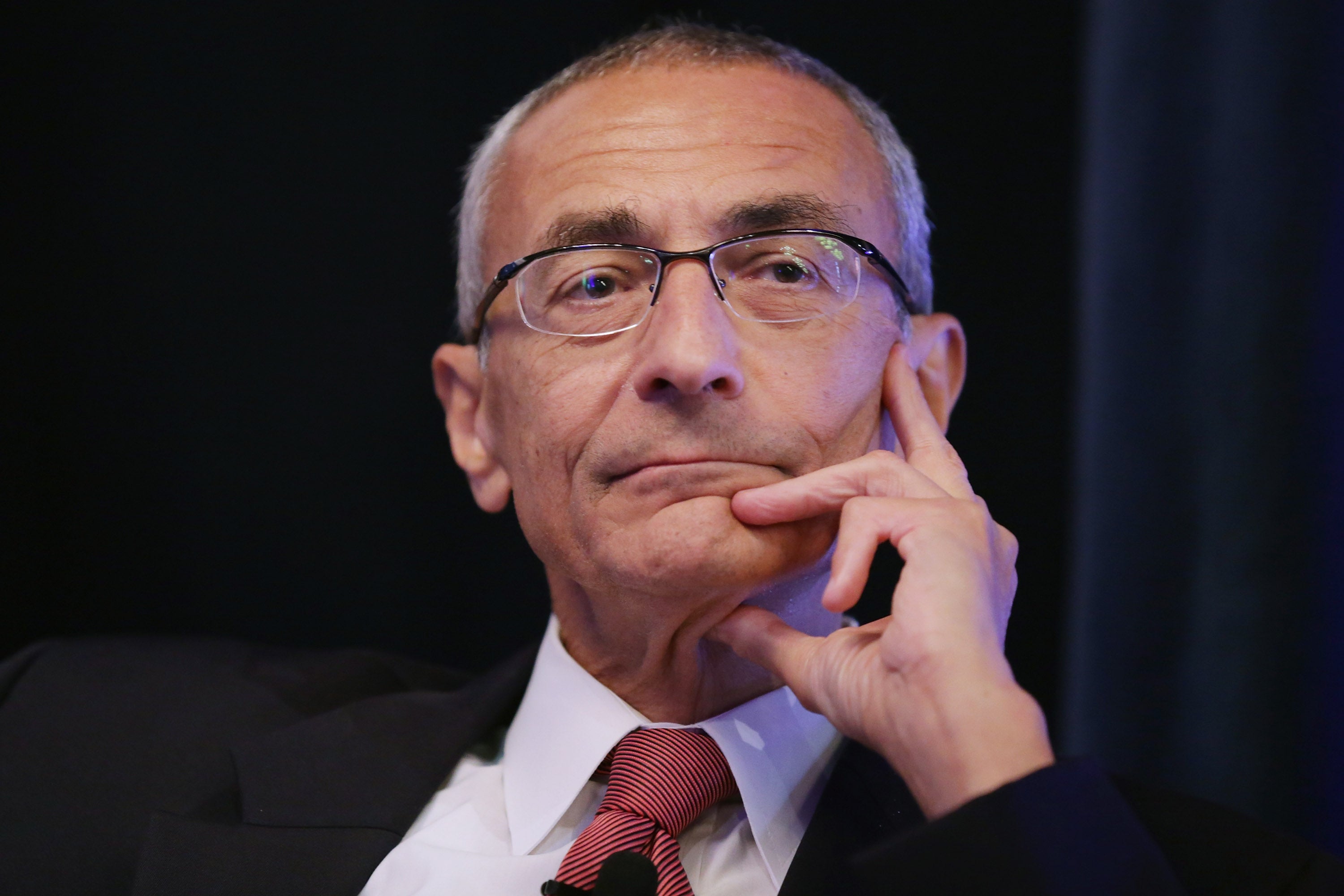 Hacked Podesta emails reveal early list of possible vice presidential candidates
Tuesday's WikiLeaks release of John Podesta's personal emails, obtained through cyber hacking, included one from John Podesta to Hillary Clinton that contained a long list for vice presidential candidates and one in which Podesta calls Bernie Sanders a "doofus."
---
March 2016: Podesta sends Clinton the long list of potential runnning mates
The list was compiled by Podesta and Clinton's top advisers. "I have organized names in rough food groups," he wrote.
The 39 names included some of the most successful business people in the world: former New York Mayor Michael Bloomberg, Bill and Melinda Gates, Starbucks CEO Howard Schultz, GE CEO Mary Barra, and Apple CEO Tim Cook, among others.
Prominent black politicians who made the list were New Jersey Sen. Cory Booker and former Massachusetts Gov. Deval Patrick, Transportation Secretary Anthony Foxx; Atlanta Mayor Kasim Reed, Tallahassee Mayor Andrew Gillum, Columbia, South Carolina Mayor Steve Benjamin, and former Attorney General Eric Holder.
There were several women elected officials on the list -- mostly senators: Elizabeth Warren, Debbie Stabenow, Jeanne Shaheen -- who was also governor of New Hampshire -- Kirsten Gillibrand, Tammy Baldwin, Amy Klobuchar and Claire McCaskill.
Hispanic politicians who made the long list were Julian Castro, Tom Perez, Ken Salazar, Xavier Becerra and Eric Garcetti (the LA mayor is Jewish, Italian and Mexican).
Gen. John Allen (ret.), former Joint Chiefs Chairman Adm. Mike Mullen (ret.) and Adm. Bill McRaven (ret.), who also served as U.S. Special Operations commander, offered strong national security credentials.
The white male contingent was made up of a few senators -- Michael Bennet, Sherrod Brown, Tim Kaine, whom Clinton eventually chose to be her running mate, Martin Heinreich and Chris Murphy, as well as Virginia Gov. Terry McAuliffe, who is an old Clinton friend going back decades, and Agriculture Secretary and former Iowa Governor Tom Vilsack.
Another white male senator was in his own grouping at the bottom: Clinton's then-primary rival, Bernie Sanders.
---
December 2013: Podesta calls Sanders a "doofus" over his attack of Paris climate deal
Top Clinton aide Neera Tanden congratulated Podesta on the announcement of the Paris climate deal in December. "My children and their future children thank you," she wrote. Podesta, who has long championed the reduction of carbon emissions, oversaw climate and energy policy as counselor to the president. Under the Paris agreement, the U.S. promised to reduce its emissions by 25 - 28 percent from 2005 levels by 2025 and 80 percent by 2050.
Podesta responded, "Thanks, Neera. Can you believe that doofus Bernie attacked it?"
Tanden had also noted that the Paris deal "wouldn't have happened w o the china deal." Podesta and U.S. climate negotiator Todd Stern negotiated the deal with China to cap carbon emissions, announced the month before.
CBS News' Steve Chaggaris and Katiana Krawchenko contributed to this story.
Thanks for reading CBS NEWS.
Create your free account or log in
for more features.