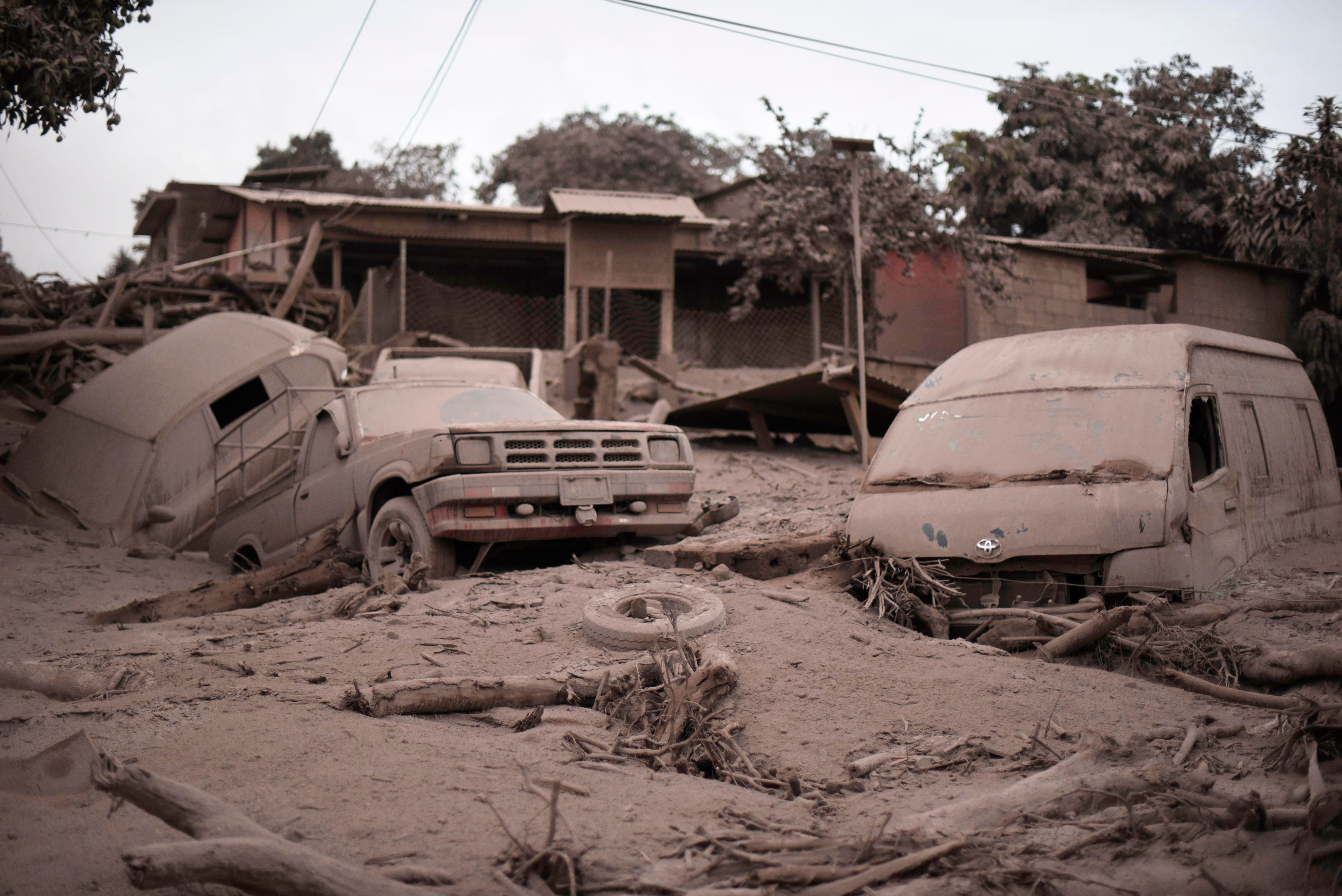 Guatemala volcano: Death toll climbs as bodies are pulled alive from ash, lava and mud
EL RODEO, Guatemala -- The charred landscape left behind by Guatemala's erupting Volcano of Fire was still too hot in many places Monday to pull out bodies so thickly coated with ash that they looked like statues as the death toll rose to 62 and was expected to go higher.
Rescuers in helicopters managed to pull at least 10 people alive from ash drifts and mud flows that were up to the rooflines of some homes, forcing first responders to use sledgehammers to break through the roofs to see if anyone was trapped inside.
People living in villages near the volcano didn't have much time or warning to escape the lava flow, CBS News correspondent Don Dahler reports. Residents said they were caught unaware by fast-moving pyroclastic flows.
The volcano west of Guatemala City exploded Sunday, sending towering clouds of ash miles into the air and hot flows of ash mixed with water and debris down its flanks, blocking roads and burning homes.
Hilda Lopez said the volcanic mud swept into her village of San Miguel Los Lotes, just below the mountain's flanks. She still doesn't know where her mother or her sister are.
"We were at a party, celebrating the birth of a baby, when one of the neighbors shouted at us to come out and see the lava that was coming," Lopez recalled. "We didn't believe it, and when we went out the hot mud was already coming down the street."
"My mother was stuck there, she couldn't get out," said Lopez, weeping and holding her face in her hands.
Disaster agency spokesman David de Leon said 18 bodies had been found in San Miguel Los Lotes. Lopez's husband, Joel Gonzalez, said his father was had been unable to escape and was believed to be "buried back there, at the house."
At least 62 people were confirmed dead, according to Fanuel Garcia, director of the National Institute of Forensic Science. All came from the hamlets of Los Lotes and El Rodeo, but only 13 had been identified so far because the flows that reached temperatures as high as 1,300 degrees Fahrenheit had so disfigured the bodies.
"We're having a lot of trouble identifying them because some of the dead lost their features or their fingerprints. We're going to have to use other anthropological methods and if possible take DNA samples to identify them."
In the village of El Rodeo, heavily armed soldiers wearing blue masks to ward off the dust stood guard behind yellow tape cordoning off the scene as orange-helmeted workers operated a backhoe. A group of residents arrived at the scene with shovels and work boots.
"The firemen say they can hear people screaming, but they can't go to help them because the mud is blocking the roads," AP correspondent Sonia Perez said from one of the hardest hit areas.
Some locals said they never learned of the danger until it was upon them - and were critical of authorities.
"Conred (the disaster agency) never told us to leave. When the lava was already here they passed by in their pickup trucks telling at us to leave, but the cars did not stop to pick up the people," said Rafael Letran, a resident of El Rodeo. "The government is good at stealing, but when it comes to helping people they lack spark."
Eddy Sanchez, director of the country's seismology and volcanology institute, said the flows reached temperatures of about 1,300 degrees Fahrenheit (700 Celsius).
At least 20 people were injured, and authorities have said they feared the death toll could rise with an undetermined number of people unaccounted for. The disaster agency said 3,265 people had been evacuated.
Dramatic video showed a fast-moving lahar, or flow of pyroclastic material and slurry, slamming into and partly destroying a bridge on a highway between Sacatepequez and Escuintla.
Among the fatalities were four people, including a disaster agency official, killed when lava set a house on fire in El Rodeo, National Disaster Coordinator Sergio Cabanas said. Two children were burned to death as they watched the volcano's second eruption this year from a bridge, he added.
Ash from the volcano, which lies about 27 miles west of Guatemala City, fell on the capital area as well as the departments of Sacatepequez, Chimaltenango and Escuintla. Streets and houses were covered in the colonial town of Antigua, a popular tourist destination.
Aviation authorities closed Guatemala City's international airport because of the danger posed to planes.
One of Central America's most active volcanos, the conical Volcan de Fuego reaches an altitude of 12,346 feet above sea level at its peak.
Thanks for reading CBS NEWS.
Create your free account or log in
for more features.