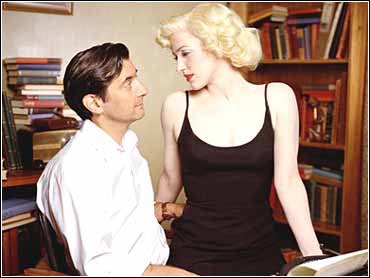 Griffin Dunne Acts Up In 'Blonde'
Griffin Dunne, a guest on The Saturday Early Show, is co-starring in "Blonde," a four-hour CBS mini-series to air in two parts, Sunday, May 13, and Wednesday, May 16. The drama is based on the best-selling novel by Pulitzer and Nobel Prize nominee Joyce Carol Oates, who weaves fact and fiction in the retelling of the life of Norma Jeane Baker, better known as Marilyn Monroe.
Poppy Montgomery plays the movie star, a woman who is trying to reconcile her glamorous public persona as Marilyn with the troubled and complicated Norma Jeane. Dunne plays "The Playwright" who meets Norma Jeane after her marriage to "The Athlete" dissolves.
Dunne's character truly loves Norma Jeane. He tries to take her away from her empty Hollywood life, but ultimately fails. He cannot save her from her personal demons.
Dunne's 20-year career as an actor includes such films as Martin Scorsese's "After Hours" (1985) and "An American Werewolf in London" (1981). He had bit parts in Robert Redford's "Quiz Show" (1994) and "Naked in New York."
His move to directing started out with a bang in 1995 with the short film, "Duke of Groove." The film earned him an Oscar nomination. Since then, he has directed three movies: "Addicted to Love" (1997) starring Meg Ryan and Matthew Broderick, "Practical Magic" (1998) starring Sandra Bullock, Nicole Kidman and Dianne Wiest, and last year's "Famous" starring Mira Sorvino.
Dunne has said his father, author Dominick Dunne, played a major role in shaping his own career. When Griffin Dunne decided to try directing, he says it was a simple evolution. He had been an actor for close to 20 years before moving behind the camera. His father made a similar mid-career switch, from film and television producer to novelist. Griffin cast his father in a cameo role in "Addicted to Love." He played a snobbish restaurant critic who ends up eating a cockroach.
---
For more about "Blonde," visit its official Web Site.
© MMI Viacom Internet Services Inc. All Rights Reserved
Thanks for reading CBS NEWS.
Create your free account or log in
for more features.