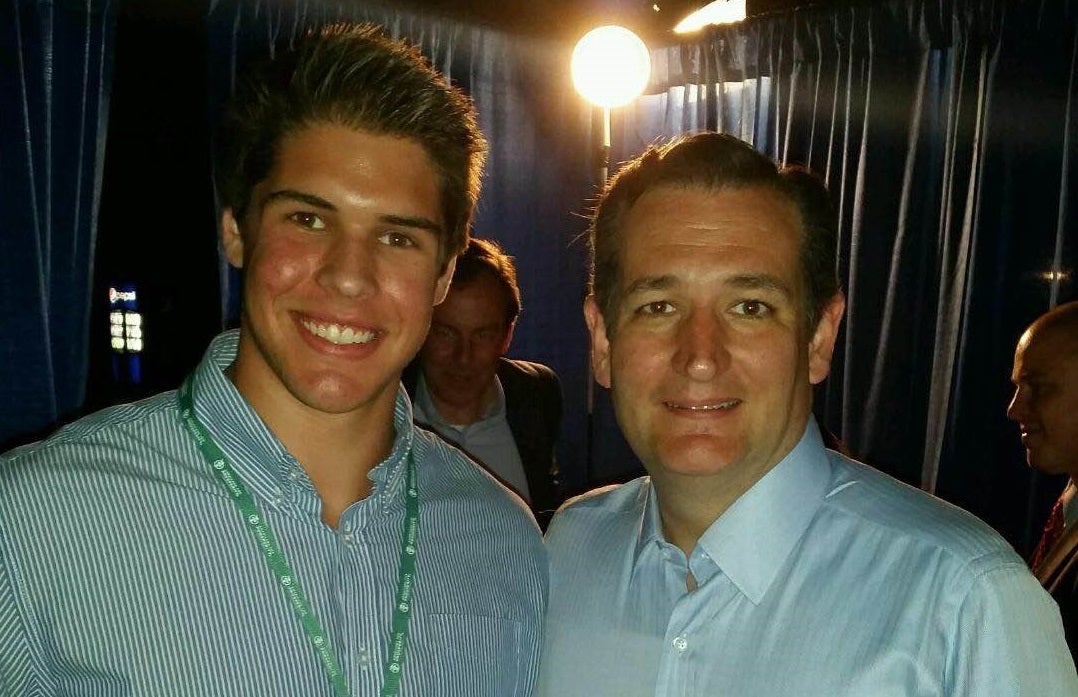 GOP's youngest delegates begin summer vacation with eye on convention
Joel Crank likes to think his political career began the spring of 2006. He was eight years old and eagerly watched as his father, Jeff Crank, waged a campaign to represent Colorado's fifth Congressional District in the U.S. Congress.
"[T]hat's what really sparked it," Joel says.
Jeff Crank didn't end up winning his race, and to this day he still laments his loss by a mere 800 votes. But the political bug that bit his son ten years ago is still kicking. Joel Crank, just 18 years old, will be heading to the Republican National Convention in Cleveland in July.
Until a few weeks ago 18-year-old Crank was churning out high school homework assignments from his parents' kitchen table and finalizing plans to move into his Colorado State University dorm in the fall.
But driven by his support of former GOP candidate Ted Cruz, Crank was inspired to run to be a delegate.
"I wanted to go out and support Cruz for president. I thought he would be the best man for the job. I still think so."
Crank stands firm in the conservative guiding principles that he feels Cruz represents. In March, after obtaining a list of every delegate and alternate, he pounded out hundreds of emails and spent hours on the phone campaigning. The recent high school grad has worked at his father's political consulting firm for the past year, balancing candidate research and "professional googling," he says, with campaigning and schoolwork.
Crank earned one of three spots sought by nearly 100 different candidates, and those who selected him saw a tenacious politician in the making, well beyond his 18 years.
"We have a country to save and no time to waste," Joel says. "I'm not waiting until I'm 25 and more of an acceptable age in some people's mind because something needs to be done now."
That's a familiar sentiment among these young delegates. The RNC is still processing data, so there is no official count yet of just how many delegates are in high school, have just finished, or are college students. CBS News, however, found there are at least six others who fall into one of those categories: Jace LaQuerre, 17, of Vermont; Will Carter, 18, of Georgia; Ryder Haag, 19, of Nevada; Jeremy Wiggins, 20, of Missouri; Michael Hensley, 21, of Tennessee, and Kersten Bond, 23, of Michigan.
Hailing from Grainger County, Tennessee, Michael Hensley is a 21-year-old Rubio delegate pushing to unbind delegates at the GOP convention in hopes of wresting the nomination from Donald Trump.
He has joined Free the Delegates 2016, a group of delegates pushing for a "conscience clause" from the GOP convention's Rules Committee that would unbind the pledged delegates and allow them to vote for the candidate of their choice, instead of the one they were expected to support by virtue of the primary contests in their state. Hensley feels that Donald Trump has not lived up to his promise.
"We were told that Trump would spark a more positive and unifying tone once the primaries had concluded, but yet the exact opposite has occurred," Hensley said.
Hensley reasons that Trump is the "presumptive nominee" for a reason -- "it's not official until the last ballot is counted in Cleveland next month."
"Delegates have the ultimate authority over the convention," he argued. "The presidential preference primary is only one piece of the nomination process."
The rising University of Tennessee senior spends much of his waking time steeped in politics, balancing his role in local politics with classes like "Media & Politics" and "The Presidency," and also with a part-time job as a staff assistant to U.S. Rep. John Duncan, Jr., R-Tennessee.
"I joke sometimes depending on what day of the week it is, I'm either a congressional aide or a student," Hensley said.
Hensley says he has not been released by Marco Rubio, who's no longer a presidential candidate, so he's not positive about how he'll cast his vote. He liked Rubio's millennial-friendly conservative message, and says he will work with his network of young conservatives to further that message in July.
Kersten Bond is a 23-year-old Michigan State University student who's bound to vote for John Kasich.
Bond says she'd throw her support to Kasich in any case, because that's what's in the best interest of the people who voted for her.
"I think it's only fair to them," she said. "They elected me to represent their voice so I'm their voice to be heard."
The Republican National Committee says students like these are an integral part of extending their party's growth into the coming years.
"It's important that we engage all voters, including millennials," RNC National Spokesperson Lindsay Walters says. "We've launched strategic outreach and engagement efforts like our Republican Leadership Initiative because we know how important the next generation is to keeping our country and our Party strong."
The millennial delegates are as a group fairly sanguine about their readiness for what could be the wildest political convention in decades. Joel Crank summed it up succinctly.
"Not much you can do to prepare, other than pack your suitcase."
-CBS News Intern Kaitlyn Roman contributed to this report
Thanks for reading CBS NEWS.
Create your free account or log in
for more features.