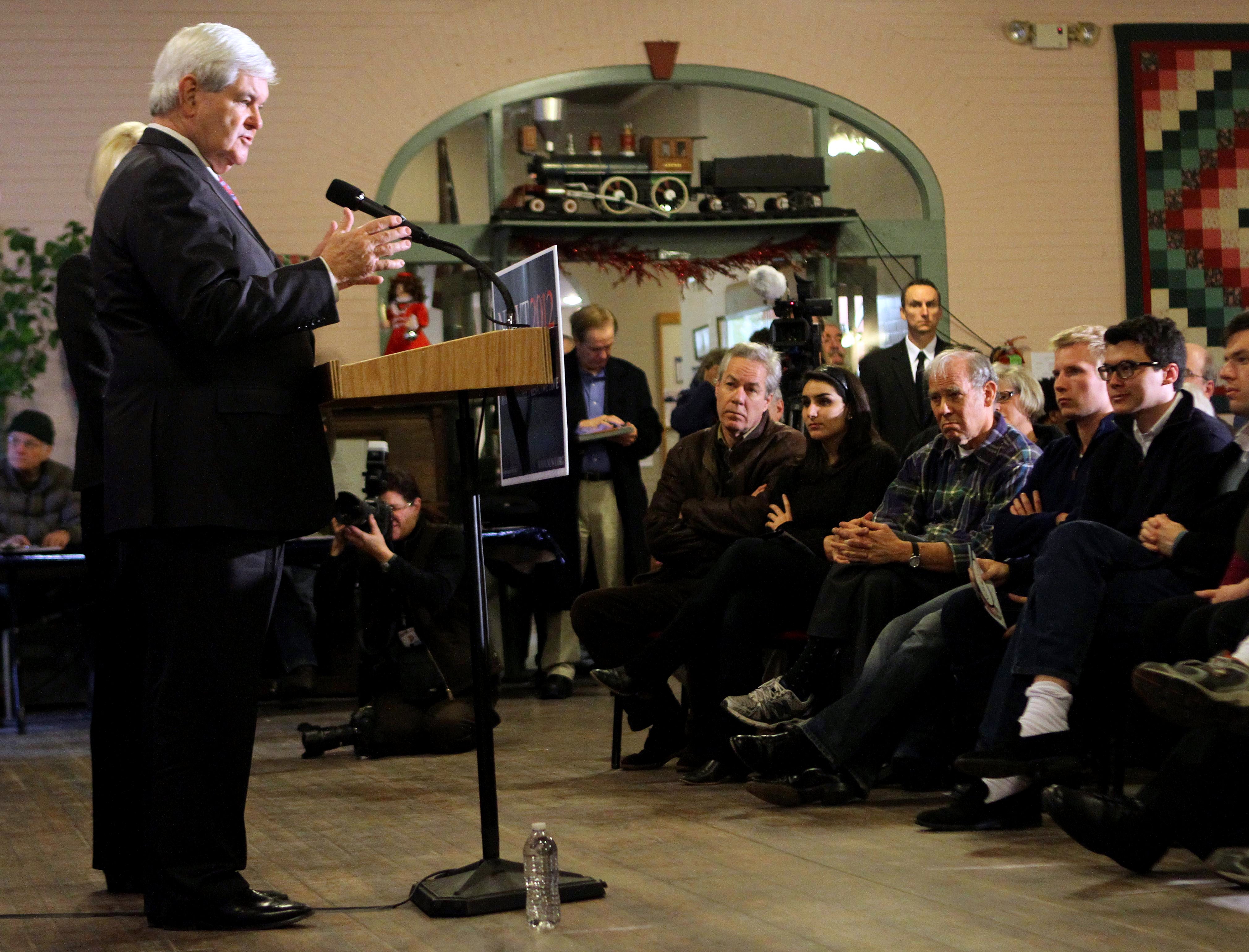 Gingrich singles out blacks in food stamp remark
Updated: Jan. 6, 5:40 p.m. ET

Just days after Republican presidential hopeful Rick Santorum took heat for singling out blacks on entitlement reform, Newt Gingrich called out the African-American community for being dependent on food stamps -- despite the fact that blacks make up less than one third of recipients in the food stamp program.
Gingrich, during an appearance in Plymouth, New Hampshire, spoke about remarks he would theoretically make if invited to speak to the NAACP.
"I'm prepared, if the NAACP invites me, I'll go to their convention and talk about why the African American community should demand paychecks and not be satisfied with food stamps," Gingrich said.
The former House speaker has made a habit of calling President Obama the "food stamp president" -- a nickname he used on Thursday as well -- and has often painted the contrast between himself and Mr. Obama as a choice between paychecks and food stamps.
"The fact is, if I become your nominee we will make the key test very simple: Food stamps versus paychecks," Gingrich said. "Obama is the best food stamp president in American history. More people are on food stamps today because of Obama's policies than ever in history. I would like to be the best paycheck president in American history."
The use of food stamps in America has continued to climb in recent years, and hit an all-time high of nearly 45 million in 2011.
According to U.S. Census Bureau, about 28 percent of households that receive food stamps are African American, while 59 percent are white. According to the same report, about 78 percent of American households are white, while about 12 percent are black. (The overall population is 72.4 percent white and 12.6 percent black.)
In a statement, NAACP President and CEO Benjamin Jealous called Gingrich's comments "inaccurate" and "divisive."
"It is a shame that the former Speaker feels that these types of inaccurate, divisive statements are in any way helpful to our country," Jealous said in a Friday statement. "The majority of people using food stamps are not African-American, and most people using food stamps have a job."
He continued: "We invited Speaker Gingrich to attend our annual convention several times when he was Speaker of the House, but he declined to join us. If he is invited again, I hope that he would come, with the intention to unite rather than divide."
Gingrich spokesman R.C. Hammond told CBS News/National Journal on Thursday that the candidate wants Americans of "all backgrounds" to "have the opportunity to earn a paycheck."

Gingrich "believes that every American should have the opportunity to earn a paycheck, rather than be given a food stamp, and he is prepared to make that case in every neighborhood to all groups of all backgrounds in America," Hammond said.

Thanks for reading CBS NEWS.
Create your free account or log in
for more features.