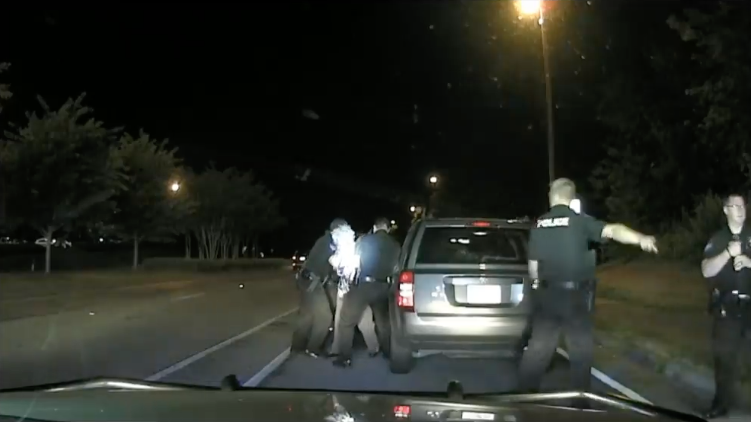 Georgia officer resigns after dragging black woman, 65, from car
ALPHARETTA, Ga. -- A police department in Georgia has opened an internal investigation into why an elderly black woman was dragged out of her car during a traffic stop, authorities say. The Alpharetta Department of Public Safety says an officer has resigned following the May 4 incident outside of Atlanta, which was caught on dashcam video.
The 65-year-old woman was pulled over after an Alpharetta police officer saw her vehicle drift into another lane, nearly causing a collision, the department said in a Facebook post. The woman refused to sign her ticket, as required by law in Georgia, and was told she would be arrested for not complying.
She requested a supervisor, who was immediately notified, the department said. The situation, seen on the dashcam video, escalated when backup officers arrived on the scene.
Alpharetta police said the woman became upset and struck the officer with the door of her vehicle when she tried to pull it closed. She was then told she was under arrest, police said, but did not obey the officer's order to step out of her car, saying she wanted to wait for the supervisor.
One of the officers can been heard on the video yelling, "You're not in charge, shut the [expletive] up and get out of the car," before two other officers are seen attempting to pull her from the car. The woman is hear crying for help as the officers pull her arms behind her back.
Officer James Legg, who was identified as the officer who used vulgar language, "interjected himself into the situation using language and tactics that were inappropriate, even inflammatory," according to the department's Facebook post. Legg resigned from the department on May 11.
"We strive to be a transparent department. If we are going to be 100 percent transparent, that means that we also must be willing to share with you any major concerns that arise regarding employee performance and behavior," Public Safety Chief John Robison said. "There are aspects about this video that simply do not represent our organization."
Robison said he immediately ordered an internal affairs investigation and promised decisive action at the conclusion of the investigation.
Thanks for reading CBS NEWS.
Create your free account or log in
for more features.