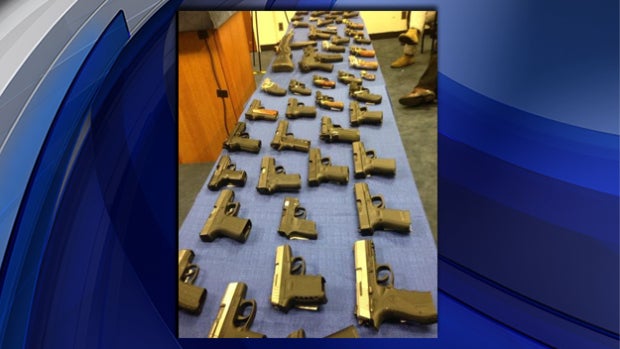 AG: Gun trafficking ring used Chinatown buses to smuggle weapons
NEW YORK -- Police have busted a gun pipeline that was moving weapons from Florida to New York on Chinatown buses, authorities announced Wednesday.
New York Attorney General Eric Schneiderman said eight members of the gun trafficking ring were arrested and charged with 196 counts of conspiracy, and criminal possession and sale of firearms. 33-year-old Natasha Harris of Brooklyn was the ringleader and Quincy Adams, 35, bankrolled the enterprise.
Investigators also seized more than 70 illegal weapons as part of "Operation Midnight Run," a joint effort launched earlier this year between Schneiderman's office and the NYPD, CBS New York reported.
The guns ranged from small-caliber handguns to assault weapons. Authorities said 18 of the weapons had their serial numbers erased, which renders them untraceable. They are attempting to trace the other firearms.
Authorities said Harris and other suspects illegally purchased the weapons at gun shows in Florida and then transported them in the luggage compartments of low-cost bus lines. Once the weapons reached New York, they were resold for up to four times the original price.
"Harris, along with her grandmother and two young children, attended the Orlando gun show and the Bunnell, Fla., gun show and purchased several guns at each show," Schneiderman said. She allegedly stored the guns in a suitcase and hired a courier to take it to the Orlando bus station.
Over the course of three months, an undercover officer, who told the suspects he intended to sell the weapons to his own customers, purchased 33 guns in 11 separate transactions in Brooklyn. The officer obtained text messages from the suspects with photos of the guns for sale.
In late October, investigators stopped a Star Line bus at a rest stop on the New Jersey Turnpike and found a suitcase containing 33 firearms, officials said.
"Gun-trafficking rings fuel the epidemic of gun violence that is killing children and families across New York and the United States," said Schneiderman in a statement. "Preventing criminals from circumventing these measures by illegally shipping dangerous weapons into our communities is literally a matter of life or death."
If convicted, seven of the eight suspects face 25 years behind bars.
Thanks for reading CBS NEWS.
Create your free account or log in
for more features.