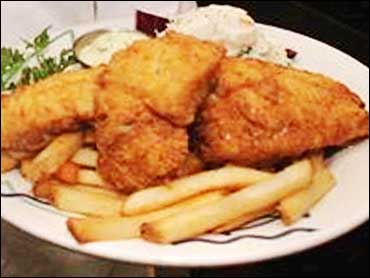 Fish And Chips Flay's Way
Fish and chips remain the most popular takeout food in Britain. In fact, about 25 percent of all white fish consumed in Britain is battered and fried.
You can concoct a delicious version of this British staple in your own kitchen. The Early Show resident chef Bobby Flay shows us how Thursday morning.
Nobody can pin down exactly where or when fish and chips originated. The first mention of fish and chips was in the Charles Dickens novel "Oliver Twist," published in 1837. In the 1850s, traders began selling pieces of fried fish and potatoes wrapped in newspaper on the streets and alleys of London. An official fish and chip shop opened about 10 years later, and the rest is history.
Cod or Haddock is the most common fish used to make the fried dish, but you can use any firm white fish that won't fall apart when fried. Just make sure to cut the fish into uniform size pieces so it cooks evenly.
The pieces of potato are "chipped" off of the whole potato. So in Britain, fries are called chips. What is refer to in America as potato chips are called "crisps" across the pond.
Traditionally, fish and chips are served with malt vinegar. Malt vinegar comes from malted barley - the same grain used in beer. So it makes sense that malt vinegar would compliment beer-battered fish. Malt vinegar has a pungent taste with lemon undertones.
For his dish, however, Flay pumps up the heat by serving it with his own serrano vinegar. And makes his own lemon-habanero tartar sauce, which takes almost no time to make in a food processor.
The following are his recipes:
Beer Batter Fish & Spicy Chips with Lemon-Habanero Tartar Sauce And Serrano Vinegar
Serves: 4
Fried Fish
Canola or Peanut oil
2 cups flour, plus 1 cup for dredging
2 cups beer
Salt and freshly ground black pepper
3 large egg whites, beaten to stiff peaks
Salt and freshly ground pepper
3 lbs cod or haddock, cut into 6 ounce pieces
Method:

Preheat a deep-fryer or a deep pot filled halfway with oil to 360 degrees. Whisk together the flour, 1 teaspoon salt, 1/2 teaspoon pepper and beer in a large bowl. Set aside for 10 minutes. Fold in the egg whites.
Preheat oven to 300 degrees F. Season the fish with salt and pepper, dredge in flour, tap off excess then dip the fish in the batter and fry in batches until golden brown on both sides.
Remove with a slotted spoon to a plate lined with paper towels. Transfer to a baking sheet and keep warm in the oven. Serve with serrano vinegar, fries and lemon-habanero tartar sauce.

Lemon-Habanero Tartar Sauce
3 cups lemon juice
1 1/2 cups prepared mayonnaise
2 anchovy fillets, chopped
1/2 habanero peppers, chopped
6 cornichon, finely diced
2 tablespoons capers
Salt and freshly ground black pepper

Method:

Bring the lemon juice to a boil over high heat in a small saucepan, and cook until reduced to 1/2 cup, let cool.
Combine cooled lemon juice, mayonnaise, anchovy and habanero in a food processor and process until combined.
Scrape the mixture into a medium bowl and fold in the cornichon and capers and season with salt and pepper.
Cover and refrigerate for at least 1 hour before serving.
Serrano Vinegar
2 cups white wine vinegar
8 serrano chiles, pricked with a fork
1 tablespoon salt
Method:

Bring vinegar to a simmer in small saucepan. Add the chiles and salt, remove from the heat and transfer to a glass bottle or jar.
Let sit at room temperature for at least 8 hours.

Spicy Chips
4 large baking potatoes, like russets, about 3 pounds, peeled and cut into matchstick slices 1/4-inch thick
Canola oil, for frying
2 tablespoons kosher salt
1 tablespoon ancho chile powder
1 teaspoon chile de arbol powder
Chopped cilantro

Method:

Place the potato slices in a bowl of cold water. Let stand 15 minutes. Drain, rinse under cold water, and drain again. Pat dry with towels.
Heat enough oil to come 4 inches up the sides of a large deep saucepan to 350 degrees F.
Mix together the salt, ancho and chile de arbol powder together in a bowl.
Add the potatoes to the oil in batches and cook until golden brown, about 4 minutes. Remove from the pan with a slotted spoon, drain on paper towels and immediately season each batch with some of the spice mixture and some of the chopped cilantro.
Thanks for reading CBS NEWS.
Create your free account or log in
for more features.