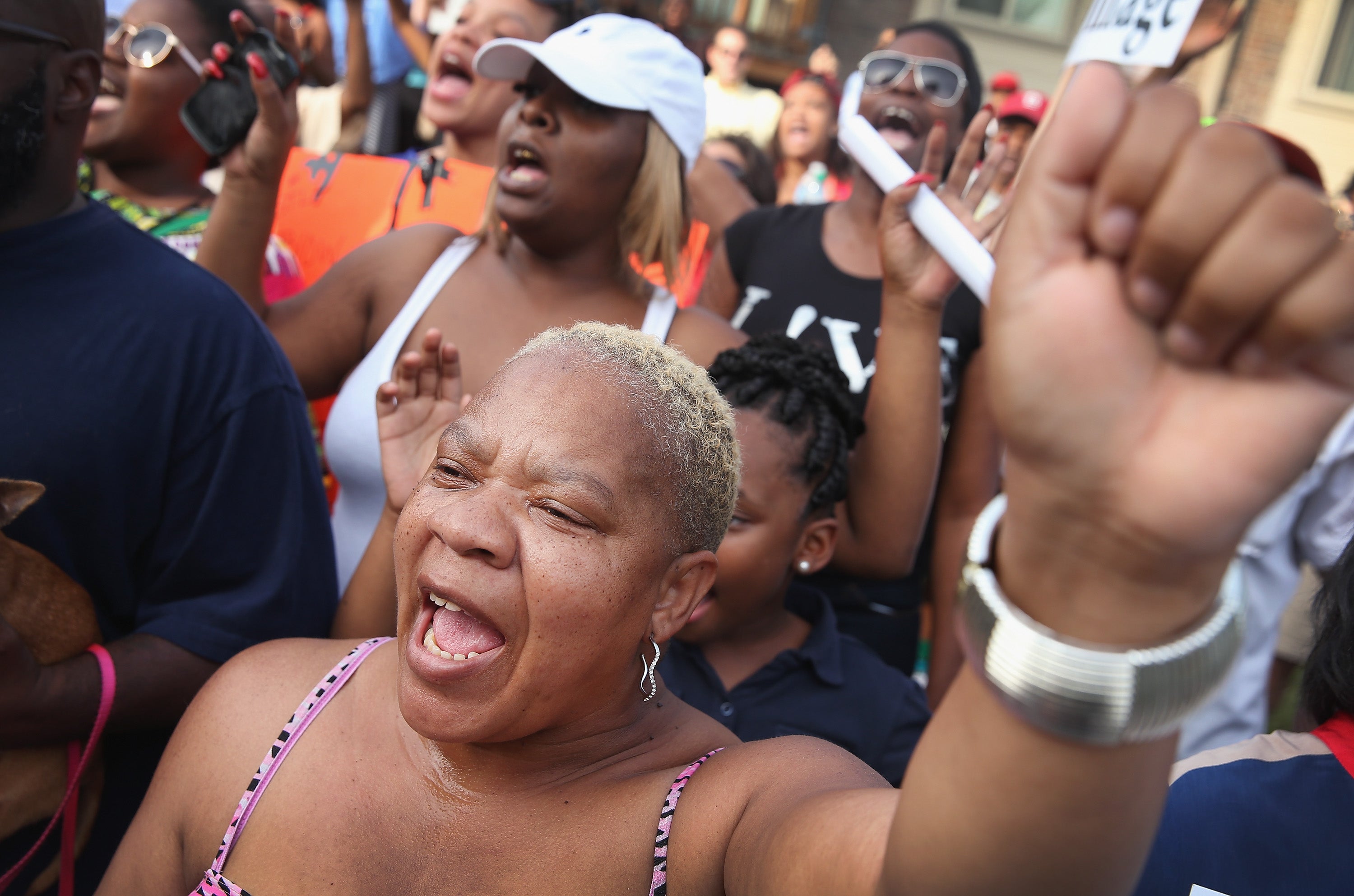 ​Ferguson and Michael Brown: 5 things you need to know
On Aug. 9, unarmed 18-year-old Michael Brown was shot and killed in Ferguson, Missouri by an officer police later identified as Darren Wilson. The incident set off days of protests in the St. Louis suburb, highlighting racial tensions and the militarization of the domestic police force.
1. What happened leading up to the shooting
On the morning of Saturday, Aug. 9, Michael Brown and a friend were suspected of stealing a $48.99 box of Swisher Sweets Cigars from Ferguson Market and Liquor, according to information police released later in the week.
Darren Wilson, 28, a white six-year veteran police officer, had been responding to a nearby call unrelated to the robbery, police said. Shortly after leaving the call, he encountered Michael Brown and a friend, Dorian Johnson, walking down a street. It was later revealed that Wilson did not know the teen was a robbery suspect at the time, but stopped Brown and Johnson because they were in the street.
According to police, one of the men pushed Wilson into his squad car, then physically assaulted him in the vehicle and struggled with the officer over the officer's weapon. At least one shot was fired inside the car before the struggle spilled into the street, where Brown was shot multiple times.
According to Johnson, he and Brown were walking in the street when an officer ordered them onto the sidewalk, then grabbed Brown's neck and tried to pull him into the car before brandishing his weapon and firing. Johnson said Brown started to run and the officer pursued him, firing multiple times.
Johnson told reporters that after the first shots, Brown "turned around and put his hands in the air and started to get down, and the officer still approached with his weapon drawn and fired several more shots."
Johnson was identified in police reports as a suspect in the morning robbery. Police said they later determined that Johnson was not involved in the robbery and will not seek charges against him. (Brown's family, while not denying the 18-year-old's involvement in the robbery,
Ferguson is a town of 21,000 that is nearly 70 percent black and patrolled by a nearly all-white police force.
2. What happened immediately after the shooting
The next day, a few hundred protesters gathered outside Ferguson Police headquarters. That night, tensions boiled over and nearly three dozen people were arrested following a candlelight vigil when crowds burned stores, vandalized vehicles and taunted officers.
Multiple days of unrest followed, amid calls for calm by Ferguson city leaders. Police, in riot gear and armored tanks, responded to protesters with tear gas, smoke bombs, rubber bullets and "bean bag" rounds. Early Wednesday, a St. Louis County police officer shot and wounded a man who authorities said pulled a handgun on the officer.
Two reporters were detained by police for not clearing out quickly enough from a McDonald's where they were working near the protests. The two, who work for The Washington Post and The Huffington Post, were released without any charges. Both said they were assaulted but not seriously hurt. Police also fired tear gas at a news crew from Al Jazeera forcing them to run for cover.
Residents in Ferguson have complained about the police response that began with the use of dogs for crowd control soon after Brown's shooting - a tactic that for some invoked the civil rights protests from a half-century ago.
3. How the nation responded
President Barack Obama on Thursday spoke publicly for the first time about Ferguson, saying there was "no excuse" for violence either against the police or by officers against peaceful protesters.
Images of police outfitted in paramilitary gear clashing with protesters in suburban St. Louis have driven Congressional leaders from across the political spectrum to call for demilitarization of the domestic police force.
Attorney General Eric Holder said he was concerned that use of military equipment by police in Ferguson was sending a "conflicting message." The response by law enforcement to protests "must seek to reduce tensions, not heighten them," Holder said.
Civil rights leaders, including the Rev. Al Sharpton have called for justice following the shooting. Sharpton called Thursday for the Justice Department to monitor Ferguson and the way police are handling the crisis.
The protests have also played out on social media, where hashtags have called attention to witness accounts that Brown had his hands up when he was shot (#HandsUpDontShoot) and media portrayals of minorities (#IfTheyGunnedMeDown).
After days of violent protests, and the widely criticized police response, Missouri Gov. Jay Nixon assigned oversight of the protests to the state Highway Patrol, stripping local police from the St. Louis County Police Department of their authority.
4. How a change in tactics changed the tone
There was a dramatic shift in the atmosphere after Gov. Jay Nixon assigned protest oversight to Highway Patrol Capt. Ron Johnson, who is black and grew up near Ferguson. He marched alongside protesters Thursday, joined by other high-ranking brass from the Highway Patrol as well as the county department. The marchers also had a police escort.
County police in riot gear and armored tanks gave way to state troopers walking side-by-side with thousands of peaceful protesters. The protests Thursday took on a light, almost jubilant atmosphere among the racially mixed crowd, more akin to a parade or block party. The streets were filled with music, free food and even laughter. When darkness fell -the point at which previous protests have grown tense - no uniformed officers were in sight outside the burned-out QuikTrip convenience store that had become a flashpoint for standoffs between police and protesters.
5. What happens next
On Friday, Ferguson Police Chief Thomas Jackson identified the officer involved in Brown's shooting as Darren Wilson. For nearly a week, protesters had called for the officer's name to be released. Police had initially refused, citing concerns over the officer's safety.
In addition to the officer's identity, Jackson also released information and surveillance footage alleging Brown's involvement in a "strong-arm" convenience store robbery the morning of his death, allegations that incensed Brown's family.
Brown's relatives said no robbery would justify shooting the teen after he put his hands up. Police "are choosing to disseminate information that is very strategic to try to help them justify the execution-style" killing, said Benjamin Crump, one of the Brown family's attorneys.
Johnson, the Highway Patrol captain appointed to oversee security in the St. Louis suburb, expressed frustration with the way Ferguson police released the information. He was not told about the store video.
Police and about 200 protesters clashed late Friday. Just before midnight, some in what had been a large and rowdy but mostly well-behaved crowd broke into the same small store that Ferguson police suspected Brown of robbing and began looting it, Ron Johnson said.
The Justice Department and FBI are investigating Brown's death. Attorney General Eric Holder has said federal investigators have interviewed witnesses to the shooting.
Thanks for reading CBS NEWS.
Create your free account or log in
for more features.