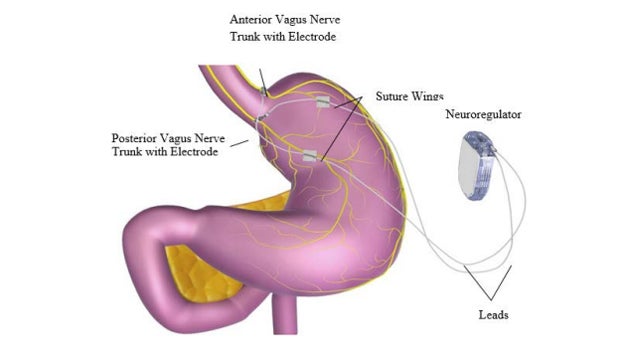 FDA panel to consider new weight-loss device
A Food and Drug Administration advisory committee meets Tuesday to consider the premarket application of a new surgically implanted weight-loss device for patients with severe obesity.
The device, called the Maestro Rechargeable System, works by delivering an electronic signal called VBLOC therapy to the trunks of the vagus nerve, a cranial nerve which extends from the brain stem to the abdomen and plays a role in transmitting feelings of hunger.
By suppressing neural signals carried by the vagus nerve trunks, the manufacturer says the device decreases hunger pangs, digestive enzyme secretion and calorie absorption, while increasing the feeling of fullness.
Its manufacturer, Minnesota-based EnteroMedics, Inc., says it could be an alternative for extremely overweight people who have failed at traditional weight loss programs but either can't or don't want to undergo more extreme bariatric surgery.
The system is currently under clinical investigation and it has not yet been approved for use in the United States. However, it is now available for commercial use in Australia, and doctors have successfully implanted the device in several patients at Hadi Hospital in Kuwait City, Kuwait.
The device works by delivering high-frequency (5000 Hertz), controllable electrical pulses to the vagus nerve trunks in the abdominal region. The system is powered by an internal battery, which can be recharged by an external mobile charger and transmit coil that a patient uses for a short time every week.
In a study involving 239 patients, investigators found that after 12 months, the patients who had undergone treatment with the device lost an average of just over 26 percent of their excess weight, which is higher than the minimum 10 to 15 percent at which patients usually experience positive health effects. The study also showed nearly 57 percent of patients with the device lost 20 percent or more of their excess weight.
The most common reported side effects were pain and gastrointestinal symptoms, including heartburn, difficulty swallowing, belching and nausea. About five percent of patients with the device ended up having it removed before the trial was over.
FDA advisory committees offer the agency expert advice in evaluating new drugs and medical devices, and make non-binding recommendations about whether they should be approved.
In the United States, more than one-third of U.S. adults are obese, the CDC reports. According to a study published in May in the journal the Lancet, almost a third of the world population is now overweight or obese.
Thanks for reading CBS NEWS.
Create your free account or log in
for more features.