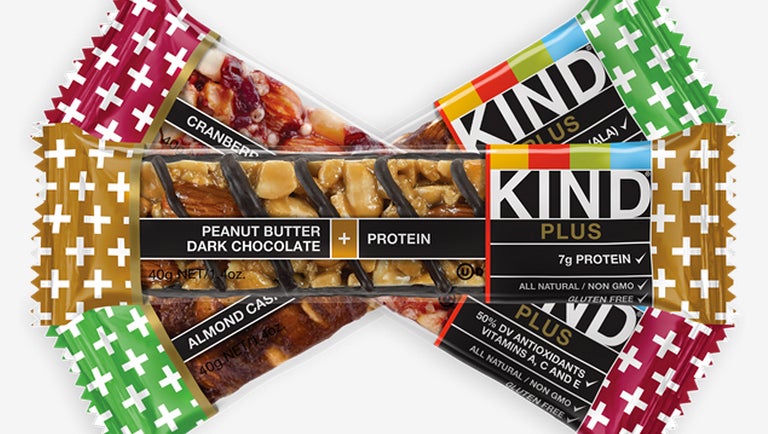 FDA: Some KIND bars not as healthy as they claim
Some popular snack bars will be getting a label makeover after the FDA accused the manufacturer of making false health claims.
A warning letter posted by the Food and Drug Administration said four varieties of KIND bars do not meet the standards for "healthy" foods because they contain too much saturated fat.
On their labels and website, KIND promotes the nut-based snack bars as "Healthy and tasty, convenient and wholesome." However, in order to be labeled as "healthy," the FDA requires a food to have no more than 1 gram of saturated fat per 40-gram serving, and no more than 15 percent of total calories from saturated fat.
In the warning, the FDA singled out these flavors of KIND bars as having too much saturated fat:
Kind Fruit & Nut Almond & Apricot (3.5 grams saturated fat)
Kind Fruit & Nut Almond & Coconut (5 grams)
Kind Plus Peanut Butter Dark Chocolate + Protein (3.5 grams)
Kind Fruit & Nut Dark Chocolate Cherry Cashew + Antioxidants (2.5 grams)
The FDA also said the bars do not qualify to be promoted as a "good source of fiber" because of the fat content, and said the dark chocolate variety does not contain enough antioxidants to support the claim that it's "antioxidant-rich." The agency also called for a number of other changes to the bars' labeling and ingredient lists, and gave the company 15 days to respond.
In a statement posted online, KIND says it is "working now to bring all items to compliance" by adjusting the language on its labels and website.
However, the company took issue with the FDA's definition of what makes a food "healthy," writing: "Nuts, key ingredients in many of our snacks and one of the things that make fans love our bars, contain nutritious fats that exceed the amount allowed under the FDA's standard. This is similar to other foods that do not meet the standard for use of the term healthy, but are generally considered to be good for you like avocados, salmon and eggs."
Americans have gobbled up more than one billion KIND bars since the brand launched in 2004. Founder and CEO Daniel Lubetzky recently told "CBS Sunday Morning," "I had a gut feeling that this product was magical and delicious, but I didn't think that it would be what it became."
He said the company's sales have doubled every year for a decade, making it the fastest-growing energy bar on the market.
"We couldn't be more proud of our snack foods and their nutritional benefits," the company said in a statement. "While we make these updates to our packaging and our website, please know that our recipes will stay the same."
Thanks for reading CBS NEWS.
Create your free account or log in
for more features.