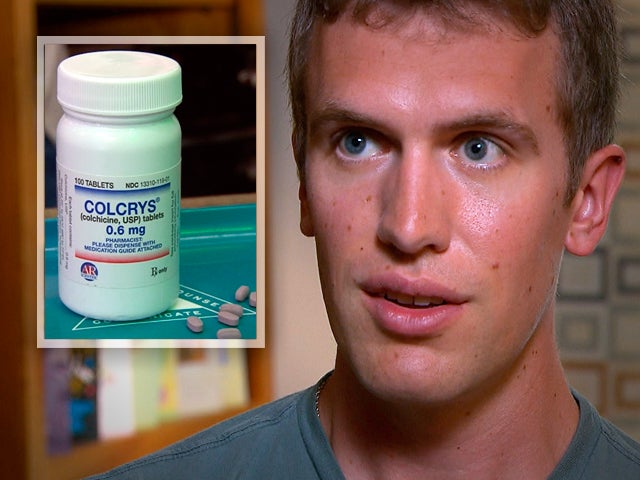 FDA approval of ancient remedy sends price soaring
SILVER SPRING, Md. - Scott McGrath, 24, suffers from a painfully inflamed lining of the heart. Four months ago, the price of his medication suddenly went through the ceiling.
Sixty tablets of Colchicine used to cost him $34.83, and cost his insurance company nothing.
CBS News medical correspondent Dr. Jon LaPook reports the medication is now called Colcrys, and costs McGrath $62.16. "Almost doubled the amount I paid, and it cost my insurance company $244.74," McGrath said.
"The drug is no longer being sold by anyone but a single company, and that explains the price increase," McGrath said.
VIDEO: Gout showing up in younger patients, study shows
Colchicine has been used to treat gout and other inflammatory conditions for thousands of years. How could one company gain a monopoly?
There are about 1,000 medications on the market that predate the existence of the Food and Drug Administration and therefore were never approved. FDA official Deborah Autor spoke to CBS News as head of the office of unapproved drugs. "Well, for me, unapproved drugs present current risks," Autor said. "We don't know what's in them. We don't know if they're going to work properly. We don't know how they're made and that's a real concern."
Hundreds of thousands of people take Colchicine each year. The FDA said over the past 40 years, 169 deaths have been linked to the medication. A company called URL Pharma decided it would take the ancient drug, sold for 10 cents a pill, and test it as part of an FDA program to either approve these drugs or get them off the market.
More about gout from the Mayo Clinic
"One company chose to seek FDA approval and they spent tens of millions of dollars in order to present data necessary for that approval and in the process, there were some important things that came out of the approval process," Autor said. "We discovered a lot of people were being excessively dosed with Colchicine."
Unlike companies that develop drugs from scratch and study thousands of patients for years, URL Pharma started with a pre-existing drug. Its research did clarify safety and dosing information. In return for the studies, the FDA granted URL exclusive rights to sell the medication.
"The reward that they got seems far out of proportion to the work that they did," said Dr. Edward Fundman, a rheumatologist who's been prescribing Colchicine for 30 years.
Fundman said the conversations among his colleagues was, "Just outrage that a company could take advantage of this FDA process and basically appropriate the drug for its own purpose. Even if a patient's not paying the full price out of pocket, their insurance company's paying it. Medicaid and Medicare have to pay for it. We're all paying for it."
Follow Dr. Jon LaPook on Twitter at @DrLaPook
How much are we paying? URL declined to speak about its sales so we went to a drug benefits manager called Prime Therapeutics. It told us the cost of an average 23-day prescription - including pharmacy charges - has risen from under $6.72 to $185.53.
IMS Health gave CBS News the number of Colchicine prescriptions nationwide. Add it all up and the cost of URL's price hike - over just one year - could exceed half a billion dollars.
With the higher price, URL has started a program to assist patients who can't pay. So far, 60,000 have asked for help. URL declined a request for an interview, but in a statement said its research "dramatically reduced adverse reactions" from Colchicine.
"Did you anticipate that the pricing was going to go up 50 times?" LaPook asked Autor.
"I think that companies have control over the pricing and we certainly hope that they would take into account the interest of consumers and not price them unreasonably."
So was the hike unexpected at the FDA?

"I think that is their decision," Autor replied. "I think we were surprised that they set the price that high."
Scott McGrath tried over-the-counter medications for his heart condition. But they didn't work as well as Colchicine.
"It's scary, it's a scary position to be in, to find myself in," McGrath said. "But ultimately I had to pay because I needed the drug."
URL's exclusive right to Colchicine for the most common indication - gout - expires next July. There are about 1,000 other unapproved medications currently on the market. Since the FDA does not control drug pricing, there's little to stop similar price hikes from happening again.
---
Statement from URL Pharma:
For 2000 years, people have been getting sick and dying from colchicine unnecessarily. But this wasn't known until URL Pharma conducted its ground-breaking research that dramatically reduced adverse reactions,identified many critically important drug-drug interactions, and showed how to minimize the risks of these adverse reactions. FDA issued press releases, a video, and a White Paper confirming the importance of these discoveries. The American College of Rheumatology (ACR) published our research papers in its journal. Congress established financial incentives for drug companies to make discoveries that benefit the public. Even with the financial incentives that Congress established through the Waxman Hatch Amendment, URL Pharma is the only drug company that answered FDA's request, conducted this novel research, and invested and risked the costs in money, time, and intellectual resources to bring these improvements in patient safety to the public, and thus deserves to receive the Congressionally-mandated reward for our contributions.
Through our patient assistance initiatives, we have assured that virtually every patient should be able to get FDA-approved Colcrys without any financial barrier. This is evidenced by the ratio of people who we help, versus those who register a concern about price, being over 12,000 to 1. The price of Colcrys is consistent with other innovator products for pain and chronic conditions, and should not be compared to the cost of illegal, unapproved versions of colchicine that did nothing to advance medical science for patient safety.
Thanks for reading CBS NEWS.
Create your free account or log in
for more features.