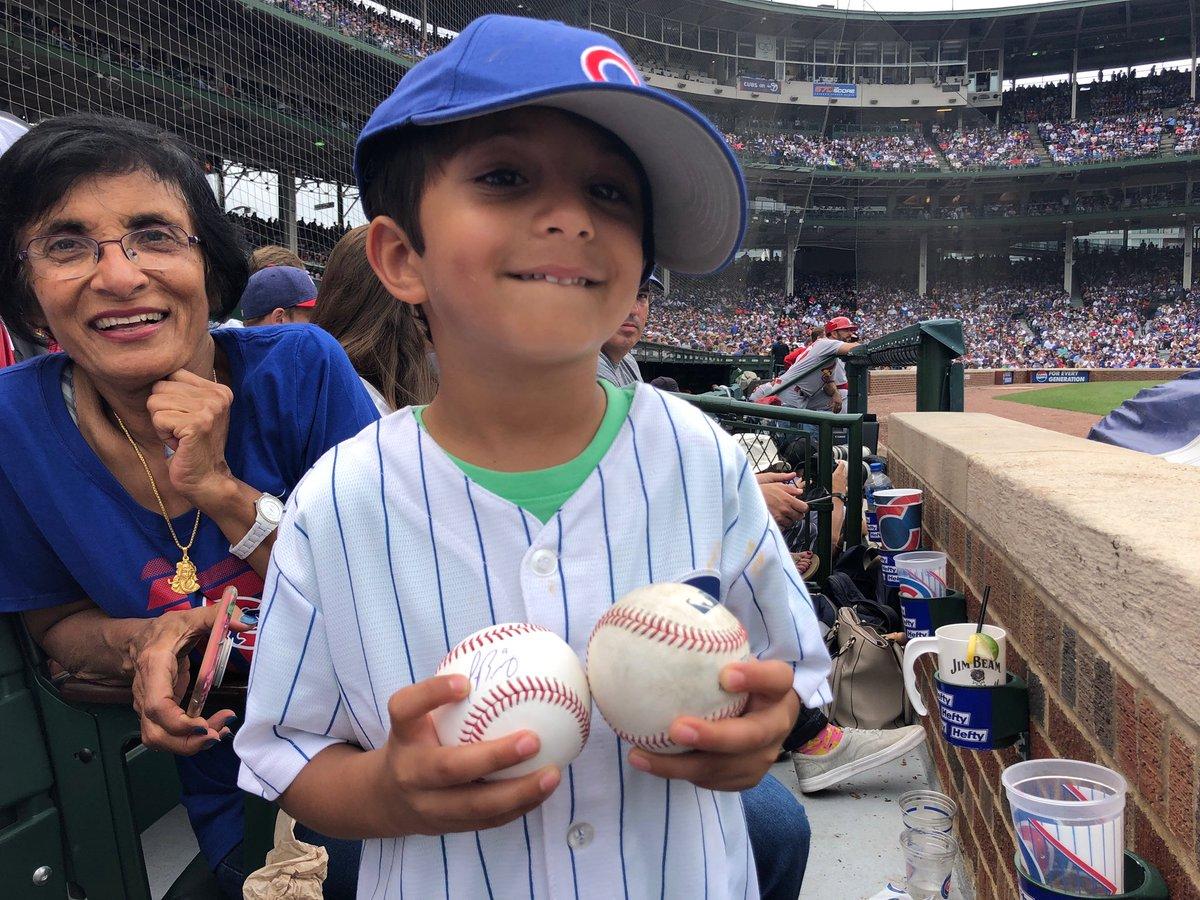 Fan at MLB game snags foul ball from kid, but the little boy ends up a winner
Catching a foul ball at a Major League Baseball game is something many fans dream of but very few get to experience. A boy at Sunday's Cubs-Cardinals game in Chicago thought he was going to get a coveted foul ball, but instead it was snatched by an adult fan sitting behind him. Twitter erupted in outrage over the man's conduct. Fortunately for the boy, however, that wasn't the end of the story.
Video shows the Cubs' first base coach, Will Venable, pick up a foul ball and lightly toss it to a boy who was sitting in the first row. The small boy tries to catch the baseball, but misses it and the ball rolls underneath his seat. Before the boy can even turn around, the man sitting behind him grabs the ball from the floor and proudly hands it to the woman he is with.
The video of the incident went viral, and many Twitter users blasted the adults in the video, publicly shaming them for appearing to steal the kid's ball. "The 1st unwritten rule of ⚾️ is that if a player/coach specifically throws a ball to a fan, they get the ⚾️ whether or not they catch it. ESPECIALLY if it's a kid," one fan wrote.
The Cubs tried to make it up to the boy by giving him a ball signed by All-Star infielder Javier Baez. "A @javy23baez signed ball should take care of it," the team wrote on Twitter.
As seen in the Cubs' photo, the boy actually had two baseballs at that point -- the signed souvenir and another, slightly dirtier ball.
Sports reporter David Kaplan says that's because the video clip of the "stolen" foul ball that sparked such an uproar online didn't tell the whole story.
"I spoke with people from the Cubs. The man who grabbed the ball on the widely seen video had actually already helped the little boy get a ball earlier," Kaplan wrote on Twitter. "The young man has a game used ball and a Javy Baez ball. All is well. Guy is A-OK so let it go people."
Kaplan says he spoke to the fan sitting next to the man who got the foul ball. "That guy did nothing wrong. He gave three balls out to people around him including the little boy in question. He was great," the fan said, according to Kaplan.
CBS News reached out to the Cubs but could not independently confirm Kaplan's account. Still, judging from the boy's smile as he held the two baseballs from his front-row seat at Wrigley Field, his day at the ballpark seems to have had a happy ending.
Thanks for reading CBS NEWS.
Create your free account or log in
for more features.