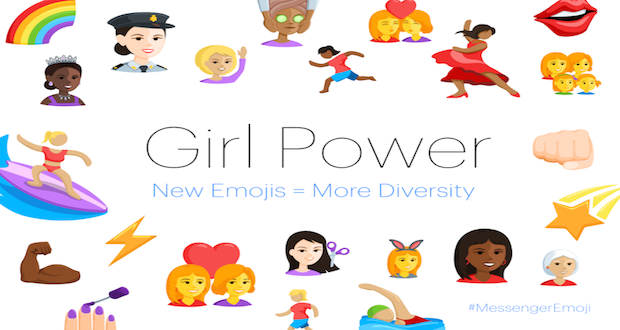 Facebook introduces more diverse Messenger emoji
Facebook Messenger users who have been waiting for emojis that are more reflective of the diversity in the world are in luck. In a post on its Messenger app page, Facebook announced that it has "redesigned over 1,500 emojis to better reflect the world we live in, while still helping you playfully express yourself."
The new emoji options rolled out globally on Thursday.
The social media company said that the new emoji designs include "gender-agnostic options" and "multi-colored emojis" as well as characters representing a wide range of activities and careers that will be offered on many Android devices and products for the first time. There's also new emoji representation for redheads.
"We're diversifying the genders to create a more balanced mix that's more representative of our world," Facebook said. "Now, using Messenger emojis, you'll see a female police officer, runner, pedestrian, surfer and swimmer for the very first time, and we'll keep rolling these out."
Users can choose the skin color of their choice for any emoji. To do this, just set the color you want as the default emoji when the Messenger app launches. This isn't set in stone -- it could be a one-time choice, or could be changed whenever you next sign in.
Facebook is also making sure this feature runs smoothly across devices. The emoji symbols will look the same no matter whether the recipient of your chat is using an Apple iOS or an Android device.
"In other words, no more broken-looking black boxes or emojis that just don't make sense," Facebook promised. "Our characters are consistent every time you use them, no matter what platform the recipient is on."
Of course, Facebook isn't the only tech company to develop a more diverse offering of emoji. In May, Google proposed 13 professional women's emojis that would show women in a more empowered, realistic light. The new symbols were proposed by Google developers at the Unicode Consortium, which is a non-profit that sets international standards for text and characters so that they appear uniformly consistent across all devices and computers.
Facebook has been tinkering with its greater emoji offerings lately. For Mother's Day, it introduced a special flower "Reaction" icon for a limited time only. The company said that it might test out other holiday-specific emojis in the future.
Last month, the company even received a patent for facial recognition technology that could potentially use your face in an emoji. The company has no current plans to use that slightly eerie technology. We'll have to wait and see on that one.
Thanks for reading CBS NEWS.
Create your free account or log in
for more features.