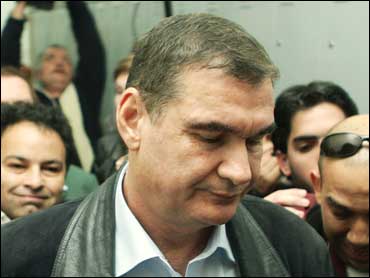 Ex-Israeli Official Convicted Of Sex Crime
Former Israeli Justice Minister Haim Ramon was convicted Wednesday of kissing a young female soldier against her will — a case that riveted the country's attention and added another layer of scandal to Israel's beleaguered leadership.
The verdict was expected to clear the way for Prime Minister Ehud Olmert to launch a major Cabinet shake up.
Meanwhile, Israel's attorney general has told President Moshe Katsav to move out of his official residence in Jerusalem while he takes a leave of absence to fight off accusations that he committed rape and other crimes, media reported Wednesday.
Ramon, 56, was charged with sexual misconduct after kissing the woman, 21, at a party at the Defense Ministry on the first day of Israel's war with Hezbollah guerrillas in Lebanon last summer. Ramon, who is divorced, said the woman had flirted with him and the kiss was consensual.
"There are some lines that cannot be crossed," said Judge Hayuta Kochan, who read out the unanimous verdict by a three-judge panel. "This was not a kiss of affection. This has all the elements of sexual crime."
Ramon could face up to three years in prison. He faces sentencing on Feb. 21, Israeli media said. Ramon, who left the courthouse without commenting to reporters, is expected to appeal.
In a statement, Olmert's office said the prime minister "expressed sorrow" at Ramon's conviction.
In other developments:
Israel will continue to abide by a two-month-old cease-fire in the Gaza Strip, despite a Palestinian suicide bombing in the Red Sea resort of Eilat on Monday that left three Israelis dead, reports
. Olmert has decided against a military response in Gaza, rejecting calls by the army to resume targeted killings of Palestinian militants. Political sources say Olmert felt that military action would unite warring Palestinian factions against Israel.
(AP)

Israel is considering a plan to move a section of its separation barrier deeper into the West Bank, to include two Jewish settlements. The plan, which needs Cabinet approval, would also isolate 20,000 Palestinians in an enclave between the fence and the Israeli border. Israel says the barrier is meant to stop suicide bombers, but Palestinians say the new plan is proof that it's a land grab.
Israel's Defense Minister has proposed erecting a fence along the Egyptian border to prevent Palestinian militants from infiltrating through Egypt's Sinai desert, reports
. The unfenced border has long been a haven for Sinai smugglers bringing prostitutes and drugs into Israel, but now the resort of Eilat has become a soft target for terrorists from Gaza. The problem is that a fence would cost hundreds of millions of dollars, and the government says it does not have the money.
A British parliamentary committee warned that the international boycott of the Hamas-led Palestinian government could set back the Middle East peace process and lead to further violence, in a report published Wednesday, and called it "questionable." The U.S. and the European Union have demanded Hamas renounce violence and recognize Israel's right to exist — conditions Hamas rejects.
An immigration judge ordered the U.S. federal government Tuesday to halt its 20-year effort to deport a pair of Palestinian men accused of terrorist ties. Los Angeles Immigration Judge Bruce J. Einhorn ruled the government had denied Khader Hamide and Michel Shehadeh, members of the so-called "L.A. Eight," due process by keeping them in legal limbo for so many years and being unprepared to prosecute the case. Einhorn called the proceedings "an embarrassment to the rule of law."
(AP)

A Tunisian Arab has been nominated as a Righteous Gentile, an honor bestowed on those who risked their lives to save Jews from the Nazis during World War II, reports
. The Yad Vashem Holocaust Memorial says Khaled Abdelwahhab (left) hid a group of Jews on his farm in a small Tunisian town, when the country was occupied by Nazi Germany. It's the first time Yad Vashem has conferred the honor on an Arab.

Ramon, a member of Olmert's Kadima Party, was a key political ally of the prime minister and served as justice minister until the indictment forced him to step down last August. He has remained a member of parliament.

Ramon arrived to a chaotic scene at the Tel Aviv Magistrates Court. Hordes of reporters and TV cameras swarmed around him as he made his way to the small courtroom. With photographers snapping his picture, he sat stone-faced ahead of the verdict.

As the half-hour verdict was read, a visibly anxious Ramon held his head in his hands. After the decision, his girlfriend hugged him in support.

The verdict said Ramon's defense was full of contradictions, and said it was obvious the young soldier was "authentic and trustworthy" and had suffered a "traumatic experience."

"We completely endorse the plaintiff's version," it said.

The conviction is expected to lead to a major reshuffle in the Israeli Cabinet, where Ramon's old job as justice minister is being temporarily held by the foreign minister, Tzipi Livni.

The shake-up could also cost Labor Party leader Amir Peretz his job as defense minister, with other politicians changing their portfolios. Peretz has been widely criticized for his handling of last summer's war against Hezbollah, and has poor relations with Olmert.
(AP)

Katsav's attorneys reacted to the eviction notice with anger, saying he was being intentionally humiliated by Attorney General Meni Mazuz, who said last week that he planned to charge Katsav with a series of crimes stemming from his treatment of female subordinates.

According to his lawyers, Katsav has not stayed in the president's residence in Jerusalem since parliament granted his request for a temporary leave of absence last week, returning there briefly Monday to organize his belongings. He has been staying at his private home in Kiryat Malachi in southern Israel.

Mazuz has not made a final decision yet on whether to indict Katsav.

The cases come amid a spate of scandals involving Israeli leaders. Authorities also have launched a criminal investigation into Olmert's role in the government's sale of a controlling interest in a bank in 2005, when he was finance minister. Investigators suspect that Olmert tried to steer the bidding in favor of a supporter.

Tzahi Hanegbi, another prominent member of Olmert's Kadima party, has been indicted on charges of fraud, bribery and perjury in connection with appointments he made as a minister.

Legal analyst Moshe Goral said that given the relatively minor charge in Ramon's case, Wednesday's verdict could be a sign of trouble for the other politicians. "It does not bode well for all the others," he said, noting that Ramon's credibility was "completely destroyed."

Thanks for reading CBS NEWS.
Create your free account or log in
for more features.