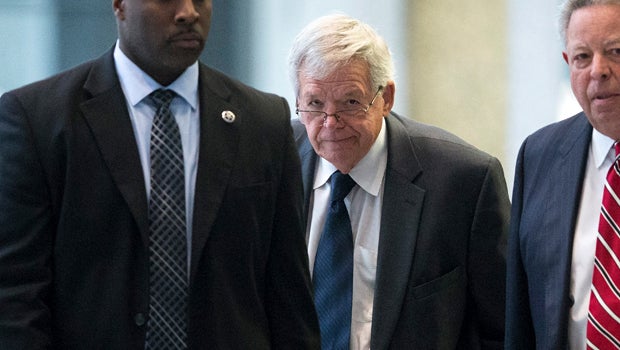 Ex-congressmen send letters in support of Hastert
CHICAGO-- Former U.S. House Majority Leader Tom DeLay, several other former congressmen and a onetime CIA chief were among 41 people who wrote letters asking for leniency for Dennis Hastert asthe former U.S. House speaker heads to sentencing next week in his hush-money case.
The names of people who wrote to support Hastert, 74, were made public Friday in a defense filing in federal court in Chicago that included copies of the letters. Hastert will be sentenced Wednesday after pleading guilty last year to breaking banking laws as the Illinois Republican sought to pay $3.5 million to someone referred to in filings only as "Individual A" to ensure that person didn't divulge past misconduct by Hastert. Prosecutors say the core of the misconduct is sexual abuse by Hastert when he coached wrestling and taught at Yorkville High outside Chicago from 1965 until 1981.
The letters are part of a defense bid to get probation for a man who was once second in line of succession to the U.S. presidency and who now faces up to five years in prison. Most were written in late February and early March, before prosecutors had fully detailed the sexual abuse allegations leveled at Hastert decades ago.
In his letter asking the judge to show mercy, Delay, also a Republican, emphasized Hastert's faith.
"He is a good man that loves the Lord," Delay wrote. "He doesn't deserve what he is going through."
DeLay has had legal troubles of his own over the years. The former House majority leader was convicted and sentenced to three years in prison for money laundering and conspiracy in a scheme to illegally funnel corporate money to Texas candidates in 2002. The case was later overturned.
Prosecutors have painted a disturbing portrait of Hastert that contrasts with the many letters that described him as fundamentally decent, pointing to accounts of how the then-coach often sat in a recliner chair in the locker room with a direct view of the boys shower.
Hastert abused at least four boys at Yorkville High, prosecutors said in an April 8 presentencing memo that detailed the allegations for the first time. Individual A says he was 14 when Hastert abused him in a motel room after telling the boy he wanted to check groin injury.
At least four other congressmen sent letters: former California Reps. John T. Doolittle and David Dreier; former Illinois Rep. Thomas Ewing; and former Connecticut Rep. Porter Goss, who also once headed the CIA.
Goss, in defending Hastert, pointed to the former House speaker's reputation in Congress as "Mr. Main Street, America."
Others who wrote letters included former Illinois Attorney General Ty Fahner; former Illinois state Rep. Doris Karpiel; retired Kendall County Sheriff Richard Randall; and Leo Kocher, a wrestling coach at the University of Chicago.
"I urge the court to permit him to live the rest of his life in freedom with his family and friends, and all those who love and admire him," Fahner wrote in his letter, where he called Hastert a "kind, strong, principled, and unselfish man."
Hastert's wife and children also submitted letters, including his son, Ethan Hastert.
"Many of the people who have known my father best over the years were shocked, like me, to learn of these allegations and the resulting plea," he wrote. "That is, perhaps, because we know my father as the man who has done so many wonderful things for so many."
In her letter, Hastert's wife of almost 42 years, Jean Hastert, cited her husband's deteriorating health. And she added: "This has taken a terrible toll on our family. Please consider us when determining an appropriate sentence."
Prosecutors have made clear that sex-abuse allegations will be the focus of sentencing. The hearing will include one accuser - a former wrestler referred to as "Individual D" in court papers - making a victim's statement.
Durkin said last week he wouldn't consider any of 60 letters filed under seal earlier unless they were refiled publicly. Defense attorneys had to go back to the letter writers to get their permission to make them public. Nineteen of the original letters weren't refiled.
Thanks for reading CBS NEWS.
Create your free account or log in
for more features.