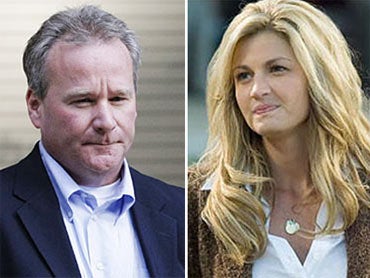 Erin Andrews Peephole Video (PICTURES): ESPN Reporter's Stalker Gets 2 1/2 Years in Prison
LOS ANGELES (CBS/AP) The man who secretly shot Erin Andrews' infamous nude peephole video was sentenced Monday to 2 1/2 years in prison after giving a tearful apology.
PICTURES: Erin Andrews Naked Peephole Video
Michael David Barrett pleaded guilty in December to interstate stalking after prosecutors accused him of following the ESPN reporter to at least three cities and shooting the videos through hotel peepholes.
Barrett, 48, of suburban Chicago, agreed to a 27-month prison sentence after pleading guilty but it was up to the judge to decide how long he would actually serve. Andrews urged the judge at the hearing for a harsher sentence and said she fears for her life every time she enters a hotel.
PICTURES: Erin Andrews Naked Peephole Video
"You violated me and you violated all women," Andrews told Barrett. "You are a sexual predator, a sexual deviant and they should lock you up."
After the sentencing, she said, "Thirty months isn't enough."
Barrett admitted renting hotel rooms next to Andrews three times and shooting two videos of her while she was naked. He was accused of posting the videos online and trying to sell them to Los Angeles-based celebrity gossip site TMZ last year.
PICTURES: Erin Andrews Naked Peephole Video
U.S. District Judge Manuel Real said he gave Barrett the maximum sentence under the law.
"The victim, Andrews, will be suffering with this problem for the rest of her life," Real said. "There is no life sentence that can be imposed upon him, except his own guilt."
Barrett cried as he addressed Andrews in court, saying he would spend the rest of his life regaining the respect of his friends and family and atoning for his mistakes.
"There are no words to tell Ms. Andrews how sorry I am for what I've done to her," he said. "I hope someday she can forgive me."
Andrews, visibly nervous as she spoke, said she had no sympathy for Barrett's claim he was publicly humiliated.
"It's my body on the Internet," she said. "I'm being traumatized every single day for what he did. ... This will never be over for me."
Barrett, who has until May 3 to surrender, was ordered to have supervised probation for three years after his release, during which he will be prohibited from contacting Andrews, her family or friends.
MEDIA
PICTURES: Erin Andrews Naked Peephole Video
MORE ON CRIMESIDER
November 24, 2009 - Erin Andrews Peephole Video: Alleged Hotel Stalker Michael Barrett Says He Has Regrets, Not Guilt
November 19, 2009 - Erin Andrews Nude Peephole Videos: There's More, Lots More, Say Court Docs
October 8, 2009 - Erin Andrews Alleged Naked Peephole Stalker Michael David Barrett Sure Was a Swell Guy
October 7, 2009 - Erin Andrews Nude Peephole Video Case Shows "Peepholes" in Hotel Security
October 6, 2009 - "Peeping Michael" Who Uploaded Erin Andrews Nude Video Has More Videos, Say Prosecutors
October 6, 2009 - Erin Andrews' Alleged Pervert Makes Bail, Loses Job
October 5, 2009 - Erin Andrews Peephole Video: "Stalker" Charged, Say Cops
September 12, 2009 - Erin Andrews Peeping Tom Video Helps Land Her On Oprah
July 30, 2009 - Erin Andrews Angry 911 Call - "I'm Being Treated Like (Bleeping) Britney Spears"
July 28, 2009 - Danica Patrick Sounds Off on Erin Andrews Naked Video Controversy
July 27, 2009 - New Battle Over Erin Andrews Naked Peephole Video
July 23, 2009 - Photos: The Real Erin Andrews
July 22, 2009 - Ciolino Speaks: Is Media to Blame for Erin Andrews Peephole Scandal?
July 22, 2009 - Erin Andrews Strikes Back! Posters of Naked Peephole Video "Act at their Peril"
July 21, 2009 - You're Busted! Watching Erin Andrew's Naked Video is a Crime
July 20, 2009 - Hackers Use Naked Video of ESPN Star Erin Andrews to Attack Your PC

Thanks for reading CBS NEWS.
Create your free account or log in
for more features.