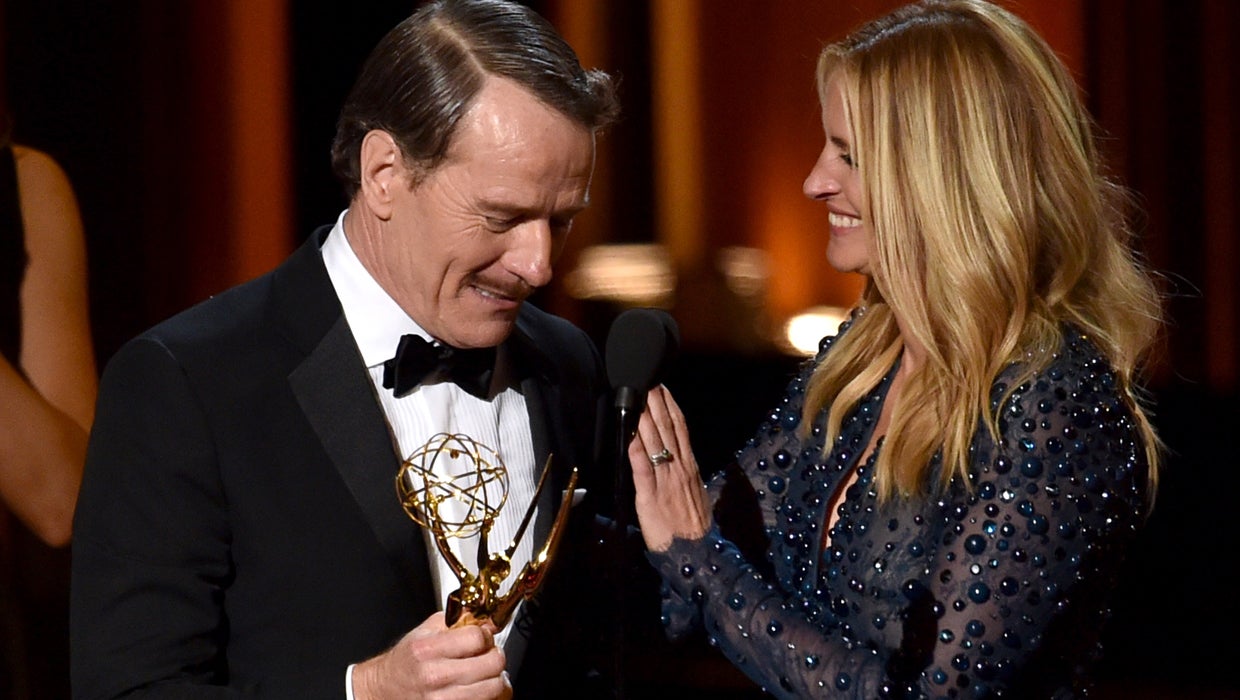 Emmys 2014: "Breaking Bad," "Modern Family" win top honors
Say their names: Nearly a year after the show's big finale, "Breaking Bad" and its stars were among the big winners at the Emmy Awards.
The AMC series picked up the award for outstanding drama series for the second year in a row at Monday's ceremony, while "Modern Family" won a record-tying fifth Emmy for outstanding comedy series.
There were few if any surprises in Monday's awards. (In this respect, the show often seemed a rerun from the past several years.)
Bryan Cranston, who starred as chemistry-teacher-turned-meth-kingpin Walter White, won for lead actor in a drama for "Breaking Bad." His victory ties him with four-time best drama actor champ Dennis Franz.
"I have gratitude for everything that has happened," he said, dedicating his Emmy to "all the Sneaky Petes of the world...Take a chance, take a risk. It's really worth it."
Cranston's co-stars Aaron Paul and Anna Gunn were honored in categories for best drama supporting acting. "Thank you for this wonderful farewell to our show," "Breaking Bad" creator Vince Gilligan said.
"The Good Wife" star Julianna Margulies won the Emmy for best lead actress in a drama series. "What a wonderful time for women on television," Margulies said.
The ceremony kicked off with a monologue from host Seth Meyers tweaking his home network, NBC, and other broadcasters for being eclipsed in the awards by cable series and online newcomers like "Orange is the New Black."
Noting that the Emmys were airing the night after the MTV Video Music Awards, he said that MTV doesn't really specialize in videos anymore. "That's like network TV holding an awards show and giving all the trophies to cable and Netflix. That would be crazy," Meyers joked.
Jim Parsons was crowned as best comedy series actor for his role on CBS' "The Big Bang Theory," giving him his fourth Emmy and putting him in league long with all-time sitcom winners Kelsey Grammer and Michael J. Fox. And Julia Louis-Dreyfus, who received her third consecutive best comedy actress Emmy for "Veep," drew big laughs as she stopped to exchange faux heated kisses with Cranston, who earlier was her co-presenter and who appeared with her on "Seinfeld."
Matthew McConaughey, bringing movie-star sizzle to the ceremony, was the object of too-handsome jokes by presenter Jimmy Kimmel and adoration by winner Gail Mancuso, honored as best director for an episode of "Modern Family."
"If you don't mind, Matthew McConaughey, I'm gonna make eye contact with you right now," she said from the stage, making good by holding the actor's gaze for much of her speech.
McConaughey and his "True Detective" co-star Woody Harrelson were given time to banter before announcing that British actor Benedict Cumberbatch was the winner of the best miniseries actor award for "Sherlock: His Last Vow."
"So you won an Oscar, (People magazine's) 'Sexiest Man Alive' and now you want an Emmy, too. Isn't that a little bit greedy?" Harrelson teased his fellow nominee. (Both lost out to Cranston.)
"Fargo" was named best miniseries, and the award for best miniseries actress went to Jessica Lange for "American Horror Story: Coven." The Emmy for best TV movie went to HBO's AIDS drama "The Normal Heart."
"Modern Family," which tied "Frasier" as the all-time sitcom champ with five statuettes, also captured a best comedy supporting actor trophy for Ty Burrell. Allison Janney was honored as best supporting comedy actress for CBS' "Mom," adding to the trophy she'd already picked up as guest actress on "Masters of Sex" at the Creative Arts Emmys earlier this month. Louis C.K. also won for outstanding writing in a comedy series for "Louie."
Although the Emmys are about celebrating the best of TV, they also included "in memoriam" tributes to industry members who died in the past year. Among those remembered: Robin Williams, with Billy Crystal honoring his longtime friend and fellow comedian and actor.
"He made us laugh. Hard. Every time you saw him," Crystal said. "Robin Williams, what a concept."
The ceremony moved from its usual Sunday home in September to avoid conflicts with "NBC Sunday Night Football" and MTV's Video Music Awards.
Thanks for reading CBS NEWS.
Create your free account or log in
for more features.