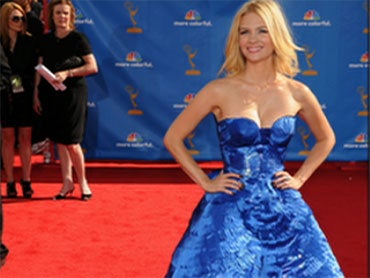 Emmy Fashion Hits and Misses
It's the morning after the Emmy Awards, and you know what that means: Time for a red carpet critique!
Who looked great and who looked like they got dressed in the dark?
Celebrity stylist Mary Alice Stephenson and Jay Manuel, creative director of "America's Next Top Model" discussed their top fashion hits and misses on "The Early Show."
Pictures: Emmy Show Highlights
Pictures: Emmy Awards Winners' Circle
Pictures: Emmy Awards 2010 Red Carpet
"Modern Family," "Mad Men" Receive Top Honors
New Faces in the Winners' Circle
"Top Chef" Scores an Upset
Emmy Voters Pick Team Stewart Over Team Coco
Bold Colors, One-Shoulder Gowns and Lots of Diamonds
Emmy Awards 2010: Complete List of Winners
Emmy Awards 2010: The Quotes
Emmy Awards 2010: What the Cameras Didn't See
Special Section: Emmy Awards 2010
"Mad Men"'s January Jones' Blue Versace Gown:
Mary Alice Stephenson: "I don't like this dress at all. It's just the wrong dress for her. She's a risk-taker and this is one risk that just didn't go over so well. It would probably look good on someone else, but not her. The black, chunky shoes are all wrong as well as her hair. This is a big miss."
Jay Manuel: "I love January Jones, normally. Mary's right, she takes risks. I loved that mint green dress that she wore at the Emmy's last year. It was cool and architectural. This dress...I just don't get it. There's way too much going on."
Tina Fey's Black and White Lace Dress:
Jay Manuel: "I usually get so mad because all Tina Fey ever wears is black. And usually the wrong black dress. This one is great for her. I love the lace over the white. It makes her look vintage and modern at the same time. I really do think it's the best she's ever looked."
Mary Alice Stephenson: "This dress is awful. She looks old. She looks like she is wearing a carpet or a tapestry. I can't figure out who would let her wear this on the red carpet."
Who Stood Out:
Mary Alice Stephenson: "Jon Hamm from 'Mad Men' just looked like the perfect movie star in his black tux and with his sunglasses on while outside. It was an Armani suit and it was fabulous. He looked so old Hollywood, so glam. I know every woman out there just wanted to eat him up."
"I also loved Neil Patrick Harris. Instead of doing plain old black and white, he went with gray. He really mixed it up and looked amazing. Some guys were wearing white jackets and black pants and I think that just made them look like waiters!"
Jay Manuel: "Most people think that men should just be in a black tuxedo. I'm here to say NO WAY. I loved the gray -- though I do think it washed Neil Patrick Harris out. But what I really loved was Ryan Murphy, the director of 'Glee.' He was in a blue velvet jewel-toned jacket, and jewel tones are just so IN this season!"
On the "Beachy, Messy" Hair Trend:
Jay Manuel: "A lot of stars like Lea Michelle, Juliana Marguiles, were staying away from updos and very "constructed" hairstyles. I think it's great. It makes them look younger and fresher."
Mary Alice Stephenson: "Kyra Sedgwick, January Jones and Christina Hendricks are two other great examples. Women are wearing very casual hair with these very glam gowns. It's a bit of a contradiction, but I think it has staying power. You don't want to seem too uptight or anything. Lea Michelle's hair looked great. You didn't want to distract from that dress too much."
Best Dressed: Nina Dobrev of Vampire Diaries
Mary Alice Stephenson: "Oh she looked wonderful. She was totally rocking the white nights trend that we saw so much of last night, and she did it better than most of the others. I mean, Kim Kardashian and Claire Danes pulled it off too, but Nina was just spot-on. I loved the top of that dress."
Jay Manuel: "I have to agree. I loved the fit. I loved the texture. I loved it all. Julie Benz did white also, and looked great. Jewel looked awful I thought. But Nina just nailed it."
Biggest Miss:
Jay Manuel: "Emily Deschanel from "Bones." She wore this purple pleated thing and it was just awful. Right color, WRONG PLEATING. It made her look really big."
Mary Alice Stephenson: "Anna Paquin from "True Blood." I appreciate that she took the biggest fashion risk of the night and I love McQueen but it was a bold move and the dress ended up wearing here. It was too much dress for such a petite girl."

Thanks for reading CBS NEWS.
Create your free account or log in
for more features.