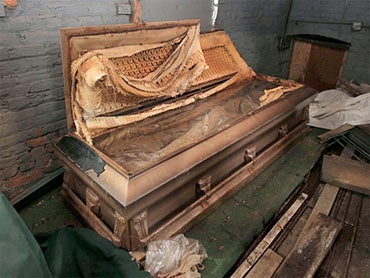 Emmett Till's Casket Headed to Smithsonian
A casket that helped trigger the civil rights movement and decades later was discarded like trash is now heading to the Smithsonian Institution.
On the very spot where in 1955 the brutalized remains of 14-year-old Emmett Till were put on display in Chicago, his family on Friday announced plans to give the casket to the Washington D.C. museum complex.
"Part of the responsibility of a national museum is to help people to remember, and through this donation we will ensure that future generations will remember how the death of a child, a mother's courage, helped to transform America," said Lonnie Bunch, the director of the Smithsonian's planned National Museum of African American History and Culture.
The news conference at the church on Chicago's South Side follows last month's discovery of the tattered, dented and rusty casket in a garbage-strewn storage shed at a suburban cemetery where former workers are charged with digging up corpses and reselling burial plots.
The former workers are not accused of disturbing Till's grave. However, while detectives were investigating the cemetery desecration, they found Till's casket that had been pulled from the ground when his body was exhumed in 2005 as part of an investigation into his death. Till's body was then buried in another casket and the family was told the original casket would be kept for a memorial.
Friday marks 54 years since Till, who was black, was beaten and killed in Mississippi for whistling at a white woman. His casket was put on display and photographed at the funeral. Photographs of his battered body in the coffin were shown around the world and became powerful images of the civil rights movement.
The Rev. Jesse Jackson has said that Till's killing and his mother's decision to show his remains helped convince Rosa Parks a few months later not to give up her seat in a public bus in Montgomery, Alabama - a decision that became one of the most significant acts of defiance in American history.
Bunch said the casket, with its clear glass top that allowed people to see Till's body is an important historical artifact.
"The casket itself was part of the story," he said. Further, Bunch said, there is no understating the importance of what Mamie Till-Mobley did when she put placed her son's open casket in Roberts Temple Church of God in Christ.
"This is partly a way to pay homage to Mrs. Mobley, her courage to demand that the world look at this," said Bunch, who came to know her when he was president of what is now called the Chicago History Museum. "And this is an incident that really reawakened the civil rights movement.
Bunch said he heard about the casket's damage the same way everyone else did: When news broke that it was found at Burr Oak Cemetery, a historic black cemetery in Alsip, just outside Chicago.
He said he initially called the Till family to offer any help. He soon realized that not only did the casket need to be preserved, but that the best place for it was the Smithsonian's African American museum that is scheduled to open in 2015.
Bunch said experts inspected the casket and told him it could be salvaged, but it would take months of work.
He does not know exactly how the casket will be displayed in the museum, but Bunch said he wants to be careful that it is not done in a way that turns it into just a curiosity.
"This should be an object that challenges us, it should be an object that makes us think (and) not just be seen as a spectacle," he said.
By Associated Press Writer Christina M. Wright
Thanks for reading CBS NEWS.
Create your free account or log in
for more features.